The Shubbak Festival of Arab Culture Dances Between the Historical and Personal
Across spaces in London, authors, artists and collectives from southwest Asia, north Africa and the wider diaspora fuse storytelling and performance to preserve personal histories
The sixth iteration of the UK's largest arts festival devoted to Arab culture, Shubbak 2021, opens with a focus on re-enacting points in history through text, performance and image. Initiated by Boris Johnson in 2011 while he was serving as mayor, the original festival aimed to present a window through which to see contemporary Arab culture and celebrate the accomplishments of artists, writers and composers from the region. Antithetically, since playing a pivotal role in launching the Shubbak Festival, Boris Johnson has come under pressure for approving the sales of UK-made weapons across the Middle East. Ten years on, this edition of Shubbak reflects on the fractured political landscape of the Arab world, a theme that has shaped the festival since its inception.
Borrowed Faces: Future Recall
The Mosaic Rooms, London
Until 26 September
Berlin-based collective Fehras Publishing Practices, composed of artists Sami Rustom, Omar Nicolas and Kenan Darwich, presents its first UK solo exhibition, 'Borrowed Faces: Future Recall'. The show shares the title of the artists' project 'Borrowed Faces' (2018–2020), which traces the globalized and politicized publishing practices that emerged from the eastern Mediterranean and north Africa while the region was in the grips of foreign encroachment during the Cold War.  Borrowed Faces Issue No. 1 (2020), a photo novel performed by the collective, follows the relationships between three women in 1960s Beirut, as they navigate the contradictory experience of interacting with the city's cultural life and US and Soviet institutions simultaneously. The show also features a library of books, magazines and archival documentation, including material from 1960s London, a period in which the capital became a meeting point for Arab thinkers, as well as photographic works reimagining the archive of the CIA-funded, anti-communist organization the Congress of Cultural Freedom.
Pipe Dreams
Online
Until 17 July
Pipe Dreams (2021) is an online zine exploring what shisha culture means to the Arab diaspora in London, focusing on Park Royal in particular, an entrepreneurial development from the previously well-known shisha hub of Edgware Road. Park Royal is a heavily industrialized part of London, nestled in between Harlesden, Acton and Alperton, replete with shopping outlets, food companies and warehouses, which tower above the smoking lounges that have since emerged. The zine documents the experiences of local businesses, telling their story of establishing a bustling cultural hub and night scene. Pipe Dreams sheds light on the impact that COVID-19 restrictions have had on this popular cultural pastime, as well as challenges faced by local businesses reckoning with increasing scrutiny from local authorities enforcing the smoking ban and in doing so displacing Black and brown cultural spaces.
The publication is a collaboration between British–Tunisian photographer Sana Badri, artist and filmmaker Nur Hannah Wan, writers Zain Dada and Nabil Al-Kinani, and graphic designer Walid Bouchouchi. It is available for download for the duration of the festival, with limited print copies.
The Distant Here 
Various venues
Until 17 July
A three-week walking exhibition around culturally significant sites for the Arab diaspora in West London, 'The Distant Here' is a bibliographical treasure hunt of sorts, with audiences searching for quotes from Heba Hayek and Yara Hawari's debut novels (Sambac Beneath Unlikely Skies and The Stone House, 2021) on billboards and posters in Shepherds Bush, Ladbroke Grove, Chelsea and Park Royal, with typography designed by Farah Fayyad.
Heba Hayek's Sambac Beneath Unlikely Skies is a collection of vignettes on girlhood in Gaza, in which the London-based writer remembers her birthplace and reflects on the distant world she now finds herself in. The Stone House by Palestinian writer and political commentator Yara Hawari is a novella set in the West Bank in 1968, invoking non-linear forms of memory that tie three family members together in collective resistance to the face of colonial occupation. A map to 'The Distant Here' is available to download for the duration of the festival.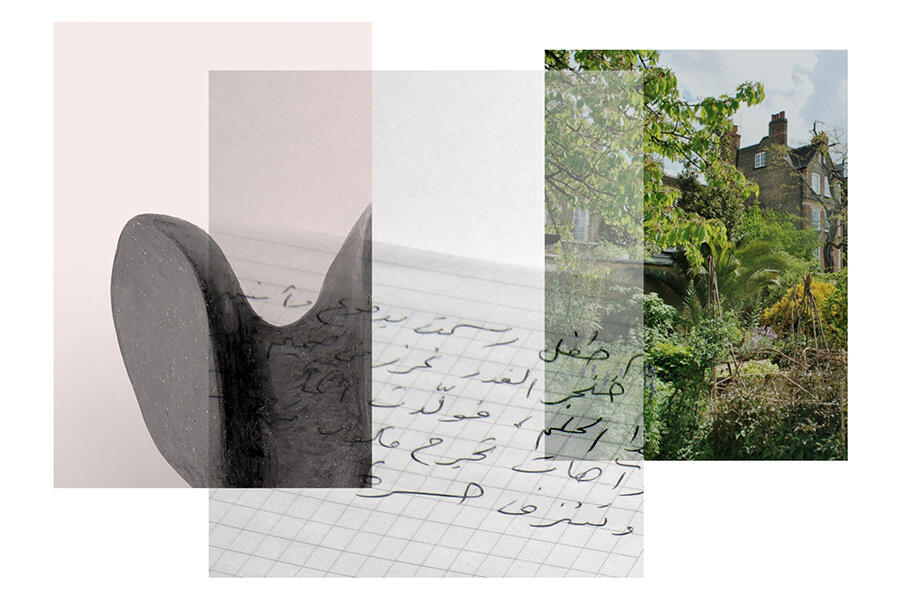 Every Act of Recognition Alters What Survives
Chelsea Physic Garden
Until 19 July
Over at Chelsea Physic Garden, multi-disciplinary artist Rand Abdul Jabbar also explores the process by which memories are preserved in the face of tangible and intangible destruction in Every Act of Recognition Alters What Survives (2021). Installations, performances and a digital archive – deriving from conversations with women from the Arab diaspora – reflect on how personal histories are shaped by the objects that give us meaning.   
Niqabi Ninja 
Tonybee Hall
Until 17 July
Niqabi Ninja (2021) is a graphic-novel-style immersive performance about a woman from Cairo, seeking retribution for the gendered violence that surrounds her. Written by Egypt-born, Glasgow-based Sara Shaarawi in reaction to mass sexual assaults in 2012–14 that precipitated during the Tahrir Square protests, Niqabi Ninja fuses street artwork, audio-story performance and a walk through London's East End to tell a visceral story of resistance against misogyny. Searing with dark humour, this play is a universal story about rape culture and a male violence that operates globally. Already staged in Kampala and Cape Town, Shaarawi's play is due to make its full UK stage premiere at the Shubbak Festival. Tickets are available for Thursday 8 July to Saturday 17 July at Toynbee Hall, but with limited capacity.
Return of Danton
Online
Until 17 July
A new collaboration between Syrian playwright Mudar Alhaggi and Palestinian–Italian theatre director Omar Elerian, Return of Danton (2021) is a multi-dimensional performance that follows a group of German-based Syrian actors rehearsing a modern adaptation of Georg Büchner's 1835 political tragedy, Danton's Death, which dramatized the events leading up to the guillotining of French revolutionary Georges Danton. As rehearsals develop, tensions arise between the cast, playwright and company director, with the characters unknowingly starting to resemble Büchner's originals. From the beginning, parallels are drawn between the French Revolution and the 2011 pro-democracy demonstrations in Syria at the start of the civil war – more increasingly as the metadrama shifts its focus to the group's frustrations at being Syrian artists trying to make theatre in Germany. Their bickering over roles, pronunciation and fag breaks leads them to question the Syrian revolution and how they can make sense of the past, now they've lived in Germany for ten years. Return of Danton will be receiving its international premiere as part of the Shubbak Festival. Tickets are available to book for on-demand viewing.
From a Syrian theatre company in Germany asking what has changed in Syria since the 2011 pro-democracy demonstrations to a futuristic, graphic-novel style performance that brings to the fore the mass sexual violence perpetrated against women in the Tahrir Square uprisings, this year's iteration of the Shubbak Festival explores how historical events and personal accounts collide to shape our existence, carving out a space in which identities can be reconsidered and new futures imagined.
Main image: Sana Badri, Pipe Dreams, 2021, photograph from zine. Courtesy: the artist, Nur Hannah Wan, Zain Dada, Nabil Al-Kinani, Walid Bouchouchi and Shubbak 2021