10 Works Under $5,000 on Frieze Viewing Room
From watercolours on paper to ceramic sculptures, discover and collect affordable contemporary art on Frieze Viewing Room
Frieze Viewing Room is now closed.
Opening Times
Wednesday Preview, May 5, 11am EST – Invitation only
Thursday Preview, May 6, 11am EST – Invitation & Frieze members only
Friday, May 7, 11am EST - Friday, May 14, midnight EST – Free access to all
Agustina Woodgate (Barro)
K13277993D, 2021
Price: $2,000
An eroded US dollar banknote deconstructing money as representational medium and cancelling its value. This work belongs to Woodgate's investigation into the role of automation and its consequences for labor and value. 
Alannah Farrell (Anat Ebgi)
Room 13, 2020
Price: $ 3,000
Neither celebratory nor heroic, Alannah Farrell's sensitive portraits portray their friends and queer community in moments of solitary contemplation, finding a productive space in reconstruction and the painful process of becoming.
Alex Katz (Allied Editions - Skowhegan School of Painting & Sculpture)
Skowhegan Costume Ball, 1969
Price: $500
Andrew Ross (False Flag)
Untitled #2, 2021
Price: $2,500
Andrew Ross is a New York-based multidisciplinary artist. His work has exhibited at The Drawing Center and at the Studio Museum in Harlem, among others.
Brenda Goodman (Sikkema Jenkins & Co.)
Did You Hear Me?, 2019
Price: $3,600
Spanning a career of over 50 years, Brenda Goodman has relentlessly explored the physical and psychological limits of abstraction and figuration. The series combines her expressionist tendencies with figuration to reveal the innate vulnerability and power within one's own mortality.
Damien Davis (Mrs.)
Invalid Prescription (Blackamoors Collages #497), 2021
Price: $3,000
These new works by Damien Davis consist of laser-cut acrylic panels interconnected using stainless steel hardware displayed as wall reliefs and as freestanding sculptures. Davis's practice explores historical representations of Blackness by seeking to unpack the visual language of various cultures and question how these societies code representations of race through craft, design, and digital modes of production.
Ina Archer (Microscope Gallery)
A Liberated Moor, Dolce, 2021
Price: $3,000
The work portrays a Nougatine candy from the brand Venchi currently still in production, acquired as a family gift from Rome. Archer changed the usual branding on the wrapping to "A Liberated Moor." This watercolor by Archer is one in a series of depictions of racially-charged objects the artist acquired from vintage stores. By removing the collectible from the market and the public exchange, the artist intends to "liberate" it from new cycles of ownership that prolong the effects of their intolerant symbology.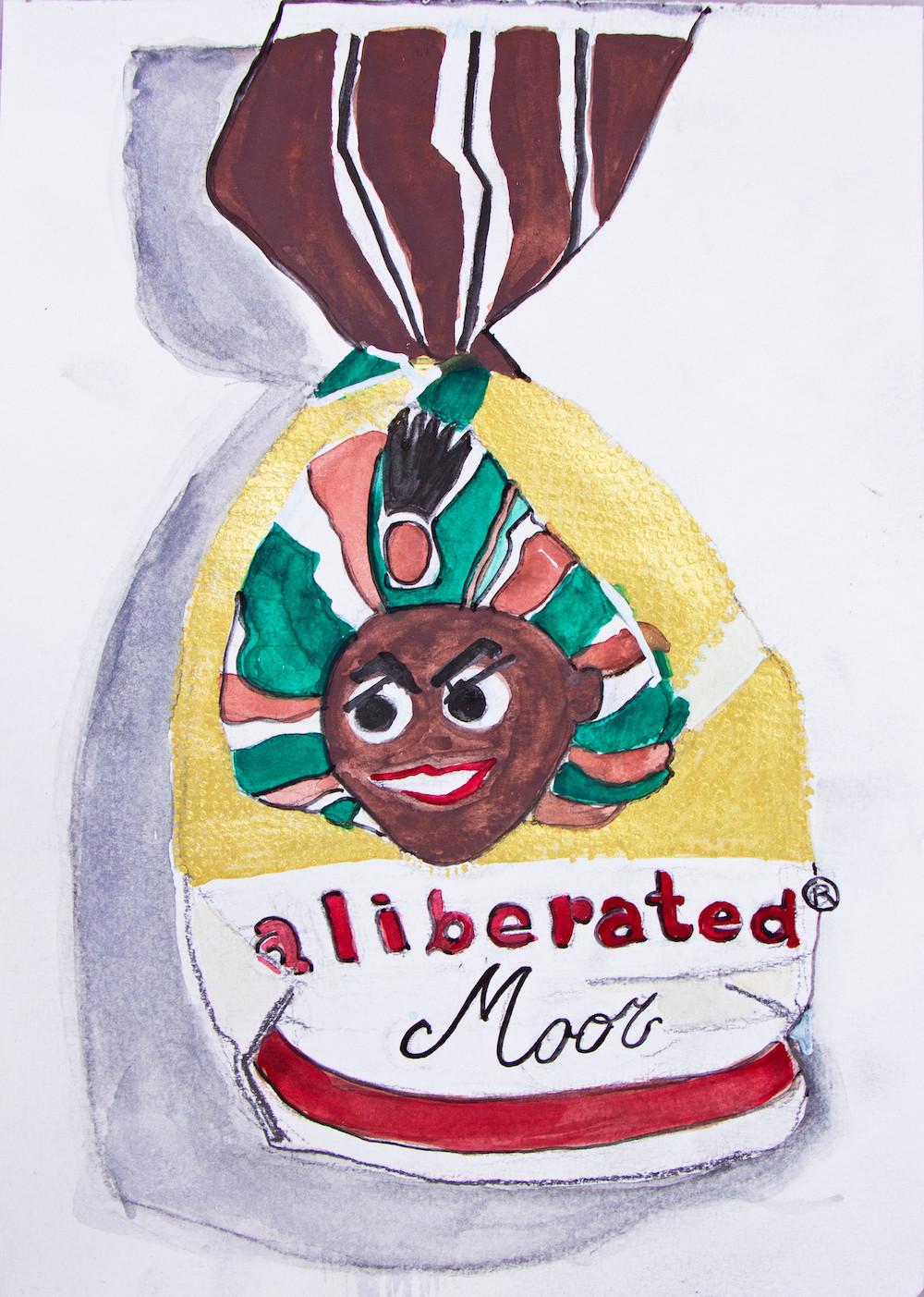 Otani Workshop (Kaikai Kiki Gallery)
TBC, 2020
Price: $2,440
Japanese artist Otani Workshop, works with wood, iron, and other materials in addition to ceramics. Otani's works maintain the rough texture of coarse-grained clay, which, together with their cute appearances, give them their distinct air as sculptures.
Ronny Quevedo (Allied Editions - Queens Museum)
no hay media luna / there is no half moon, 2020
Price: $700
This edition draws upon diagrammatic references to the various ball games played daily by local immigrant communities in Queens including basketball, soccer, volleyball, and handball. All proceeds from the sales of these QM Artists Editions support the Queens Museum's Education, Exhibitions, and Public Programs.
Zeinab Saleh (Château Shatto)
Do you know what I want to tell you?, 2021
Price: £1,400
Like her larger paintings on canvas, Zeinab Saleh's works on paper sublimate the artist's encounters with music and video, a process that captures the accumulation of the personal alongside the popular. Saleh works from stills plucked from family video archives and other motion pictures to isolate details within a frame, extracting line, gesture, and atmosphere. She translates not just the forms, but the frequencies and vibrational qualities from a moving image to one that is static.
Frieze Viewing Room is now closed. 
Opening Times
Wednesday Preview, May 5, 11am EST – Invitation only
Thursday Preview, May 6, 11am EST – Invitation & Frieze members only
Friday, May 7, 11am EST - Friday, May 14, midnight EST – Free access to all
Main image: Andrew Ross, Untitled #2, 2021, 76.2 cm x 60.95 cm. Acrylic, ink, graphite and chalk on gampi paper. Courtesy of the artist and False Flag