Featured in
The 23rd Biennale of Sydney Echoes the Realities of Climate Change
Opening at a time when severe flooding north of the city, the exhibition uneasily aligns with a state of national emergency
Titled 'rīvus' (Latin for 'stream' and the root of 'rivalry'), this year's Biennale of Sydney invokes flows across artistic, ecological, sociological and philosophical contexts, with Colombian artistic director José Roca and his Australia-based curatorium – comprising Paschal Daantos Berry, Anna Davis, Hannah Donnelly and Talia Linz – highlighting artists from 30 countries whose practices foreground sustainability perspectives. Across the biennial's five main sites, works touch on ancestral responsibility, pan-Indigenous mythology and slippages between subjects and objects, linking artmaking to practices of care.
Opening at a time when severe flooding north of Sydney resulted in the deaths of 20 people and caused property damage estimated at AU$2.5 billion, the exhibition's focus on climate change aligns uneasily with the harsh realities of a national emergency. Against this unintended backdrop, Roca's directorial statement set the biennial's Anthropocenic tone, informed by animist and new materialist concepts. The show valiantly attempts to come to grips with how life is being reconceived under the threat of climate crisis, suggesting that public domains are now more like ecosystems. 
In looking at how Indigenous cultures depict the reciprocity of spiritual and ecological practice, 'rīvus' builds on aspects of Brook Andrew's 2020 Sydney Biennale, 'Nirin', which made an impact by suffusing the traditions of First Nations artists with global art-activism. However, despite its apparent timeliness, 'rīvus' lacks 'Nirin's sense of political urgency – due, in part, to a curatorial emphasis on the porous, dispersive quality of entire locations, rather than dialogues between specific works.
Standout sites include Pier 2/3 at Walsh Bay and The Cutaway at Barangaroo. The latter is a cavernous, below-ground venue that caters to installation art as a form of landscape-making. For example, the forest environments depicted in Zheng Bo's video series Pteridophilia 1–5 (2016–21) – which shows people engaged in intimate sexual relations with forest ferns – are presented on screens surrounded by plants, perhaps to entice the viewers' own sexecological gratifications. Few works so explicitly revel in the idea of nature as a seducer, but Zheng's installation highlights a tendency amongst biennial artists to equate ecology with intimacy. 
'rīvus' is at its best when it shows the natural world as an enchanting, seductive guide – whether in Clare Milledge's shaman-inspired treatment of art-as-ecological-fieldwork (Imbás: a well at the bottom of the sea, 2022) or Jessie French's design objects made with algae-based bioplastics (The Myth of Nature – agaG1, 2021–22). Politically, the exhibition highlights how biological complexity could serve as a model for culturally diversified humanity. However, with so many of the works intentionally allowed to slip into harmonious backgrounds, individual politics are left murky, of lesser importance to the 'series of conceptual wetlands' outlined in the curatorial statement.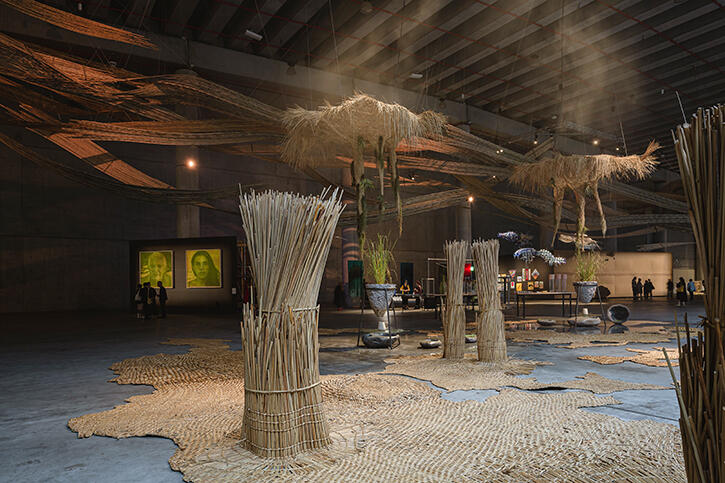 At the Art Gallery of New South Wales are Rex and Dean Greeno's transfixing Tasmanian Aboriginal Paperbark Canoe (2012) and Ningher (Reed Canoe) (2020) – two water vessels made by a father and son collaboration according to the engineering principles and artistic designs of the Palawa, the Indigenous people of Tasmania. Each work comprises meticulously layered paperbark and reed, faintly invoking Egyptian sarcophagi. Treating contemporary art as a living-history project, the Greenos offer a sincere response to the precarious ingenuity of Australia's Indigenous history. Although I was surprised that such historically demonstrative works could also be so beautiful, this in itself is instructive of a key tenet of the exhibition: to present objects of wonder as invitations to look beyond the divisions imposed on the world, and the limitations we impose on ourselves.
The Biennale of Sydney is at Museum of Contemporary Art Australia, Art Gallery of New South Wales, National Art School, Pier 2/3 and The Cutaway until 13 June.
Main image: Cave Urban, Transience, 2019, installation view for Sculpture By The Sea (2019), Bondi. Courtesy: the artists, Sculpture By The Sea and Transfield. Photograph: Juan Pablo Pinto.