25 Works under £25,000
From Song Dynasty porcelain to new painting by Ugo Rondinone, advisors from the APAA pick their highlight works from Frieze Viewing Room
The members of the APAA (Association of Professional Art Advisors) have chosen their favourite works priced under £25,000, from both the Frieze London and Frieze Masters galleries on the viewing room. 
Juan Antonio Olivares (ChertLüdde, Frieze London)
Fermi Paradox (Quarantine), 2020 
3 sea shells, sound
Dimensions variable
Price: $12000 USD (+ vat) *
Olivares had another Fermi Paradox installation in Bortolami's 55 Walker space recently and it was one of the most audio-visually memorable moments of my gallery-hopping that season. Like a kid at the seashore, one holds one's ear to each shell in an attempt to listen to the universe, and is presented with a simultaneously lulling and cacophonous litany of different sounds in each. The installation is the artist's take on the Fermi Paradox: the inherent conflict between our knowledge that life exists beyond our solar system, and our inability to communicate with it.
Edda Renouf, Barbara Mathes Gallery (Frieze Masters)
Signe du Desert - VI - Dies Saturnis, 1992
Acrylic on linen with removed threads and delicately sanded surface
70 x 70 cm / 27 1/2 x 27 1/2 in
Price Upon Request *
There is a quiet, meditative quality to this 1992 work by Renouf which seems poignant at this time.  The deep blue surface, interrupted only by the subtle pattern from pulled canvas threads, are signature elements of her work—her interest in the structure and energy of her materials, and the inspiration she derives from the natural elements, time, memory, sound, and music.
Chou Yu-Cheng (Edouard Malingue Gallery, Frieze London)
Water, Synchronous, Sediment, Substance, Flow, Diachrony series, 2020
Colour #9:
Acrylic on paper, Paper mounted on canvas 
200 x 150 cm 
Price: $26,000 USD * 
Color #4
Acrylic on paper,
Paper mounted on high hardness MDF (black)
97 x 205 cm
Price: $26,000 USD
I have been impressed with Chou Yu-Cheng's installations at Art Basel, Art Berlin, and elsewhere, so was intrigued by this work on paper from the artist's new series, Water, Synchronous, Sediment, Substance, Flow, Diachrony, Color. The work references the sedimentation of materials that occurs from a continual flow of water over time, with the resulting colors of those materials informing the earthly palette of the work.
Radhika Khimji (Experimenter, Frieze London)
I pull it over my head, 2020 
Oil and photo transfer on birch plywood 
18 7/8 x 23 5/8 in / 48 x 60 cm 
Price: €4,300 EUR *
These works by Khimji defy categorization: part abstraction, part representation,  part self-referential, they are both sculptures, paintings, and collages.  The deliberate ambiguity of Khimji's works is intriguing and mirrors her own resistance to being defined by heritage, culture, or the traditional identities of society.
Jaume Plensa (Galerie Lelong & Co., Frieze London)
STILL 04, 2020 
Mixed media on paper 
20.08 x 27.56 inches (51 x 70 cm) 
Price: £20,000 GBP *
Plensa's drawings always seem like private insights—intimate views into the artist's mind—a stark contrast with his monumental sculptural commissions.  This new series of drawings were created while the artist was in confinement during the pandemic this Spring. Working at home rather than his studio, the artist worked on this series which he titled "April is the Cruelest month, from T.S. Eliot's "The Waste Land." 
Grit Richter (Galerie Tanja Wagner, Frieze London)
The Long Breath Out, 2020 
Oil on linen  
210 x 160 cm / 82.7 x 63 in
Price: Under £25,000 GBP *
I'm intrigued with the way this sumptuous painting flows between figuration and abstraction, relating the artist's painting to her sculptures and installations.  The title, "The Long Breath Out" suggest the feeling so many have had this year: waiting to exhale.
Rare large Yingqing pillow (Gisele Croes, Frieze Masters)
China. Song dynasty (c. 960 - 1279)
Lg 41,7cm
Price: €8,500 EUR
Provenance and published: Sotheby's London, 1984 *
The simplified form and subtle glaze of this Song Dynasty porcelain pillow is covered in a complex web of delicately incised abstract patterns.  That these functional and ceremonial objects were so exquisitely rendered never ceases to fascinate.
Ana Mazzei (Green Art Gallery, Frieze London) 
Anjos I, 2019
Wood (cedar)
240 x 370 x 25 cm
Price: $25,000 USD Excl. VAT *
Like actors on a stage set, the wooden forms in this frieze-like installation seem poised to unfold a narrative.  In their reductive form, the elements appear as pure abstractions but arranged in sequence, the suggestions of architecture, figures, and trees take shape. 
Ellen Lesperance (Hollybush Gardens, Frieze London)
Stop Hate, 2019
Gouache and graphite on tea-stained paper
75h x 75w cm / 29.5h x 29.5w in
Price: $ 10,000 USD (excl. vat) *
Lesperence takes on facism, racism, sexism in this apparently delicate and beautifully rendered gouache painting which evokes the traditional women's craft of knitting.  Throughout her career, the artist has asserted her strong feminist voice using the visual language of knitting to separate her art from a traditionally male-dominated Western painting tradition. This work relates to the body garments worn by the women activists in the Direct Action protests.
Callum Innes (Ingleby, Frieze London)
Sapphire Blue / Opera Rose, 2020
watercolour on Arches 630gsm HP
57 x 76 cm (paper) 
Price: £8,800 framed GBP (+ UK VAT if applicable) *
These affordable works would be my pick for a collector starting out with a smaller budget, as Innes is, in my opinion, an immensely underrated artist. This watercolor on paper is highly indicative of Innes' broader body of work, namely the Exposed Paintings, in which he applies a dense layer of paint to a canvas and then removes it by slowly dragging a brush dipped in turpentine across the surface. The final work is an act of removal, an absence, revealing the underlying remains of color. 
Henni Alftan (Karma, Frieze London)
Open Book, 2020
Oil on canvas
25⅝ x 31⅞ inches; 65 x 81 cm
Price: $ 20,000 USD *
Henni Alftan's work has resonated with a number of my clients, and I suspect it is largely due to its ability to parlay a heightened awareness to and appreciation of the mundane moments of life, as we all pause during this time of introspection. Although the paintings highlight intimate objects or occasions in the artist's day-to-day, the psychological state imbued in them is universal.
Irma Blank (Luxembourg + Co., Frieze Masters)
Radical Writings 18 Exercitium, 1989
Acrylic on card
9 3/4 x 12 7/8 in. (24.9 x 32.8 cm.)
Price: €18,500 EUR *
These intriguing works by Irma Blank, part of her Radical Writings series, appear to be open books and yet the 'writing' that makes up the lines of 'text' are mark-making as a physical gesture rather than an expression of language.  The patterns of line in the 'book' are repeatedly drawn in rhythm with the artist's inhalation and exhalation.
Gabriel Rico (OMR, Frieze London)
IV -Because Nothing Is More Pleasant to the Eye Than Green Grass Kept Finely Short-, 2020
38 different knives 
52 3/4 x 57 1/8 x 1 1/8 in / 134 x 145 x 3 cm
Price: $ 13,000 USD *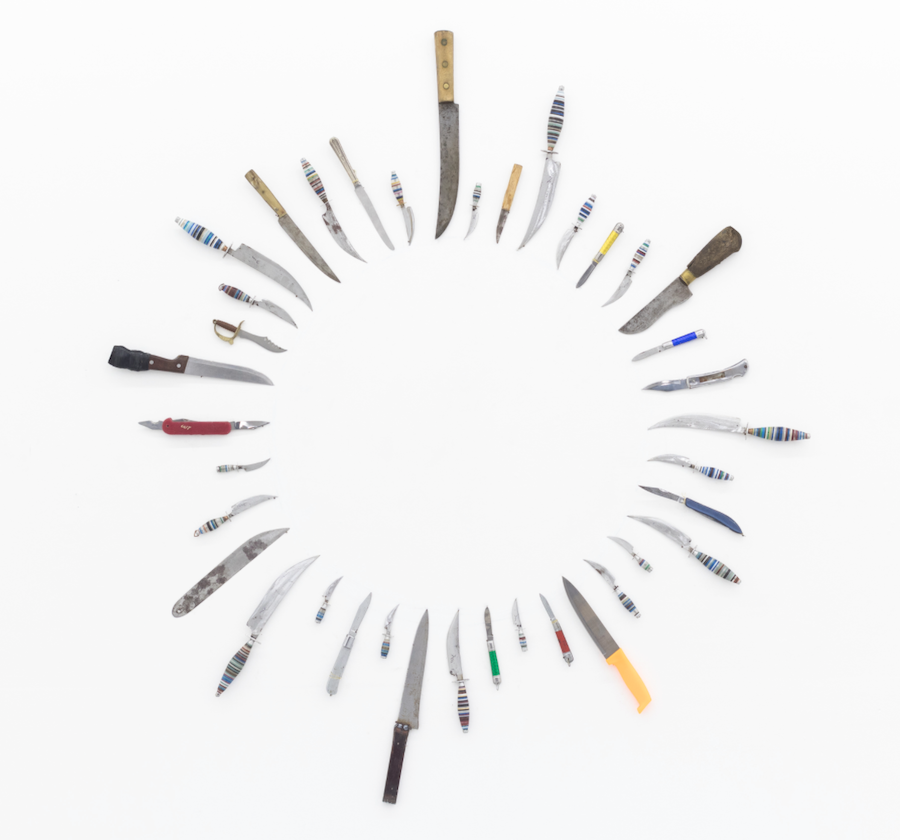 Perhaps fittingly, I became aware of Rico's work at the opening of Zona Maco last year, which happened to be just days before the work on view was unwittingly destroyed by a curator wielding a Coke can. The power of utilitarian objects! In the present work, Rico has collected an array of different types of knives, disparate elements that he placed specifically to form a perfect circle. Perhaps this alludes to a cycle of violence, or, as the title suggests, keeping people in line, not just in his own country, but in the world at large. 
MELIKE KARA (Peres Projects, Frieze London)
weaving words, 2019
Painting - oil sticks and acrylic on canvas
200 x 150 cm (79 x 59 in)
Price: Under £25k GBP
I love that this painting is so bold in its scale, so confident in its execution.  There is a complexity in both the relationship of abstract forms and the physical relationship of the figures in this painting that creates a dynamic tension that I've admired in other works by Melike Kara. Its apparent flatness seems to be a nod to Cubism, and the mask-like faces hinting at Expressionism.   
Kiki Smith (Timothy Taylor Gallery, Frieze London)
Cloudburst, 2017
Aluminium
11 x 11 1/4 x 11 1/4 in. / 27.9 x 28.5 x 28.5 cm Edition 6 from an edition of 13 plus 2 artist's proofs.
Price: $25,000 USD 
This small sculpture encompasses so many of the ideas that Kiki Smith has been working with over the last three decades: the fragility of the environment, the myths of creation, and ancient notions of the effects of magic and witchcraft on nature and weather.  The intricately etched surfaces of the sculpture recall her delicately rendered drawings and etchings and the stylized shapes representing clouds, sun, and streaming rain evoke the visual language the artist has employed throughout her career.   
Ugo Rondinone (Sadie Coles HQ, Frieze London)
marchfifteenthtwothousandandtwenty, 2020
Watercolour on canvas, artist's frame
25.4 x 38.1 cm / 10 x 15 in
Price: $25,000 USD *
At first glance, I admired the simplicity of this painting and how it relates to Rondinone's 3-color mountain sculptures.  Then the title tied this minimal landscape to the early weeks of the pandemic which was finally dawning on Americans and the U.S. government.Whether this sun is rising or setting on that March day is unclear: it seems to stand for both a beginning and an end. 
Dexter Dalwood (Simon Lee, Frieze London)
An Inadequate Painted History of Mexico XI, 2020
Oil on canvas
31.5 x 31.5 cm / 12 3/8 x 12 3/8 in.
Price: £ 20,000 GBP *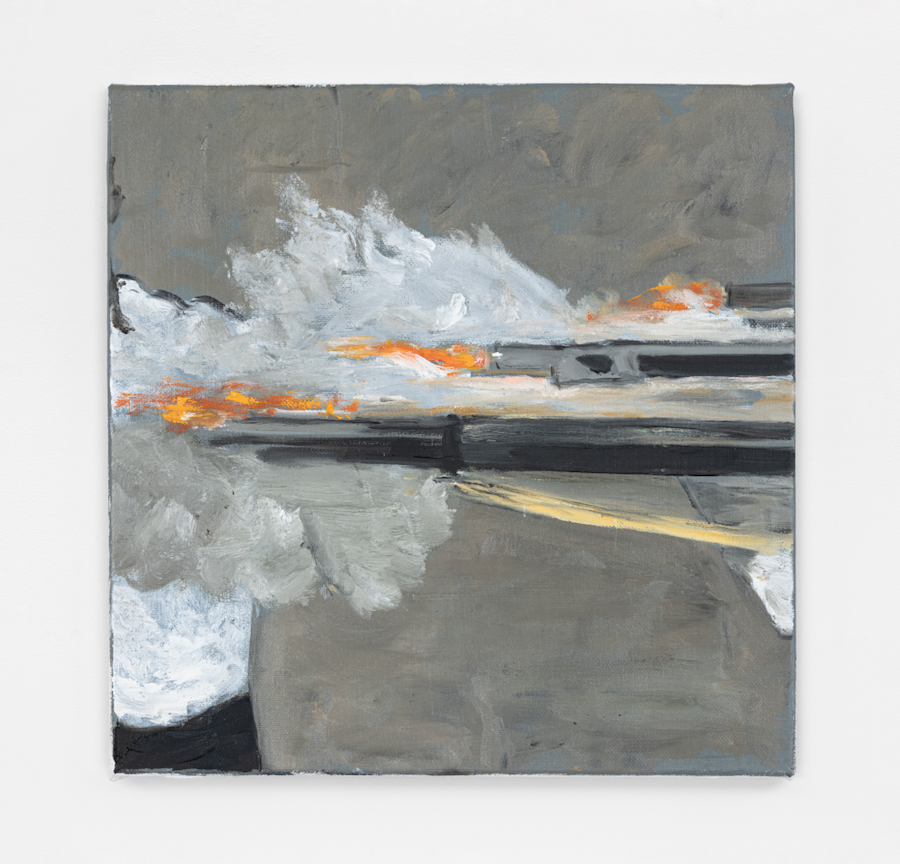 The left section of Manet's The Execution of Maximilian appears to be the subject of this Painted History of Mexico by Dexter Dalwood.  This is one of the many works at Frieze that I wish I could see in person at the fair this year—its rich grey ground setting off the dramatic Manet blacks and whites.  
Mika Tajima (Simon Lee, Frieze London)
Art d'Ameublement (Lednik Middendorfa), 2020
Spray enamel, thermoformed PETG
109.2 x 83.8 cm / 43 x 33 in.
Price: £16,000 GBP *
Mika Tajima (Kayne Griffin Corcoran)
Negative Entropy
The ethereal spray enamel paintings by Mika Tajima, shown at Simon Lee and the woven portrait series constructed of fabrics, felt and wood at Kayne Griffin Corcoran are part of the artist's conceptual practice which involves painting, sculpture, installation and performance.  A recipient of a grant from the Foundation for Contemporary Art and another from the Fabric Workshop, Tajima collaborates, investigates, creates, invents and continues to challenge. 
Davide Balliano (Tina Kim Gallery, Frieze London)
UNTITLED_0142, 2019
Plaster, gesso & varnish on wood
48 x 40 inches
121.9 x 101.6 cm
Price: $15,000 USD *
Since I first saw them several years ago, I have admired the solidity of Balliano's paintings and allusion to sculpture, their meticulous structure and the constant working and re-working of the surface.    
 
Benodebehari Mukherjee (Vadehra Art Gallery, Frieze Masters)
3PM PAPER COLLAGE 
7.48 IN X 10.04 IN / 19 CM X 25.5 CM
Collage on Paper 
Price: $30,000 USD *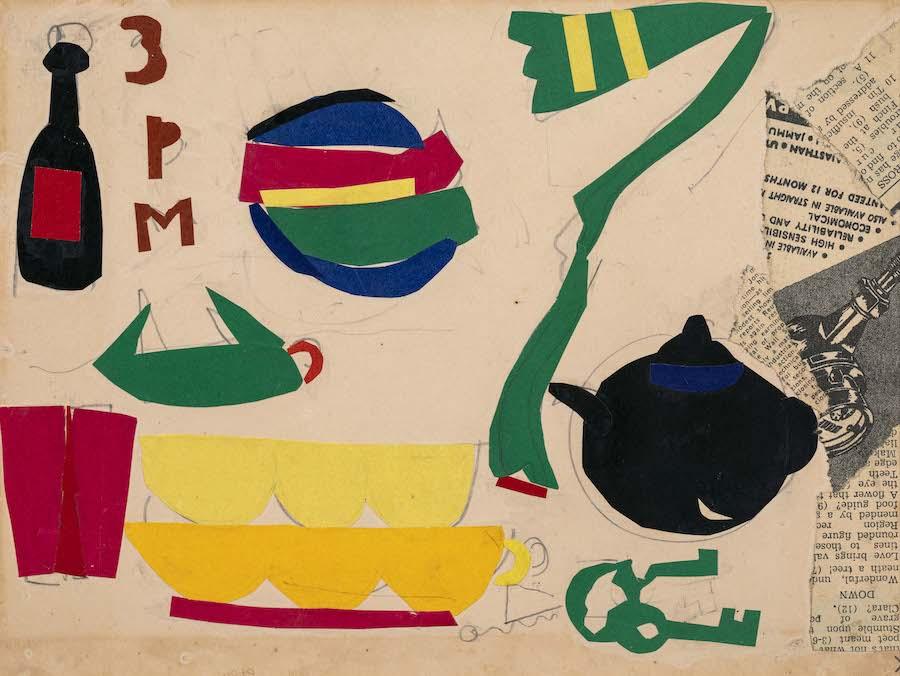 Indian artist Mukherjee began making paper collages in 1957 when he lost his sight. Unable to continue to paint as he had for decades, he began to work with artist Pushpa Kowshik who would cut out the shapes he drew on colored paper and help him assemble the works that he could visualize. Reminiscent of Matisse's late paper cut-outs of which Muckerjee was very much aware, these collages represent what he visualized in his mind's eye though he could not see. The dedicated collaboration of these artists allowed Muckerjee to live as an artist again.
Dóra Maurer (Vintage Galéria, Frieze Masters)
Hidden Structures II/2 , 1977-80
Graphite on paper 645x500 mm 
Price: Under £25k GBP 
Folding as an act of subversiveness. The mathematical forms created in Maurer's Hidden Structures illustrate the artist's interest in process: the movement is the art, a political nod toward personal autonomy, yet subtle enough to evade raised eyebrows in communist Hungary. 
On Kawara (Larkin Erdmann, Frieze Masters)
I Got Up at 10:27 A.M., 26.09.1976 , 1976
Ink on postcard Stamped with artist's name, title, and date
10.67 x 14.6 cm 20.8 x 25.8 cm (framed) 
Price: €12,500 EUR 
This conceptual work is part of a series that On Kawara created between 1968 and 1979 wherein the artist sent postcards to friends and colleagues alerting them to exactly what the title suggests. The recipient's address, as well as that of the artist, were also included. As arguably the most personal of On Kawaras works, the I Got Up postcards highlight the artist's nomadic existence, reflect on the notion of time, and act as the perfect intersection of art and life. 
Dike Blair (Karma, Frieze London)
Untitled, 2020
Gouache and pencil on paper
10 x 71⁄2 inches; 25.4 x 19.1 cm
Price: $ 15,000 USD 
To me, this work, typical of Blair's oeuvre, is our current "Corona Time" in a nutshell: a solitary cocktail sits alone in its so-called happy hour, with the insistence of the table in the foreground further indicating the isolation of its absent (but still looming) intended human recipient from the room and possibly the world at large. 
Corita Kent (Andrew Kreps, Frieze London)
daily, 1967
Screenprint 36 x 30 Inches 
Price: $10,500 USD 
Hybridity runs strong in this 1967 screenprint by Corita Kent: while made during the time when she was still a nun, it illustrates the artist's proclivity for Pop Art and politics. The overlapping bands of yellow and purple, and the saturated tones of each color relegating them to the era from whence they came. The juxtaposition of a quote from the classic Charlie Brown cartoon applied to a time of intense social change. A message that resonated then and continues to do so today. 
Adam Gordon (Chapter NY, Frieze London)
Untitled, 2020
Oil on canvas
20 x 16 inches / 50.80 x 40.64 cm
Price: $8,000 USD 
Although a photograph is often used as the point of departure in Adam Gordon's paintings, the final result is in no way a direct reflection of its source, as a Photorealist work might be. Rather, the work is fused with feeling, emitting more psychological state than specific place, the confluence of real vs. imagined, calm vs. dread. Something is about to happen in this room, but the table acts as a barrier to the viewer. We will never know the full story.
Find out more about the APAA here
    
Frieze Viewing Room, hosting Frieze London and Frieze Masters 2020 editions, opens Friday 9 to Sunday 16 October 2020, with Preview Days on 7 and 8 October. 
Register for Frieze Viewing Room here