Featured in
The 2nd Garage Triennial Asks Whether There's An Aesthetic of Corruption
The exhibition dedicated to contemporary Russian art looks at how the country's past two decades under President Vladimir Putin informed art production
'Anything but classification. Let it be blind, wandering in symbolic thickets and deranged patterns, but not classification.' This quote from Roman Mikhailov's novel Ravinagar (2016) serves as mission statement for the 2nd Garage Triennial of Russian Contemporary Art, for which the curatorial team invited every participant from the previous iteration to nominate an artist to create a work for this year's show. 
While the wall texts highlight some unexpected connections between the artists and their nominators, the majority fall into the unsurprising category of art-world friends. The show's official title is 'A Beautiful Night for All the People' but, as noted on the triennial's website, the exhibition also seeks to explore 'corruption and love', in terms of both our basic human tribal instincts and Russia's long-running history of corruption – generated by successive revolutions, institutional upheavals and legal vacua. The result at Garage Museum presents an uneasy triangulation of synaptic memories of Slavic paganism, Orthodox Christianity, Soviet trauma and the rampant materialism of the country's past two decades under President Vladimir Putin.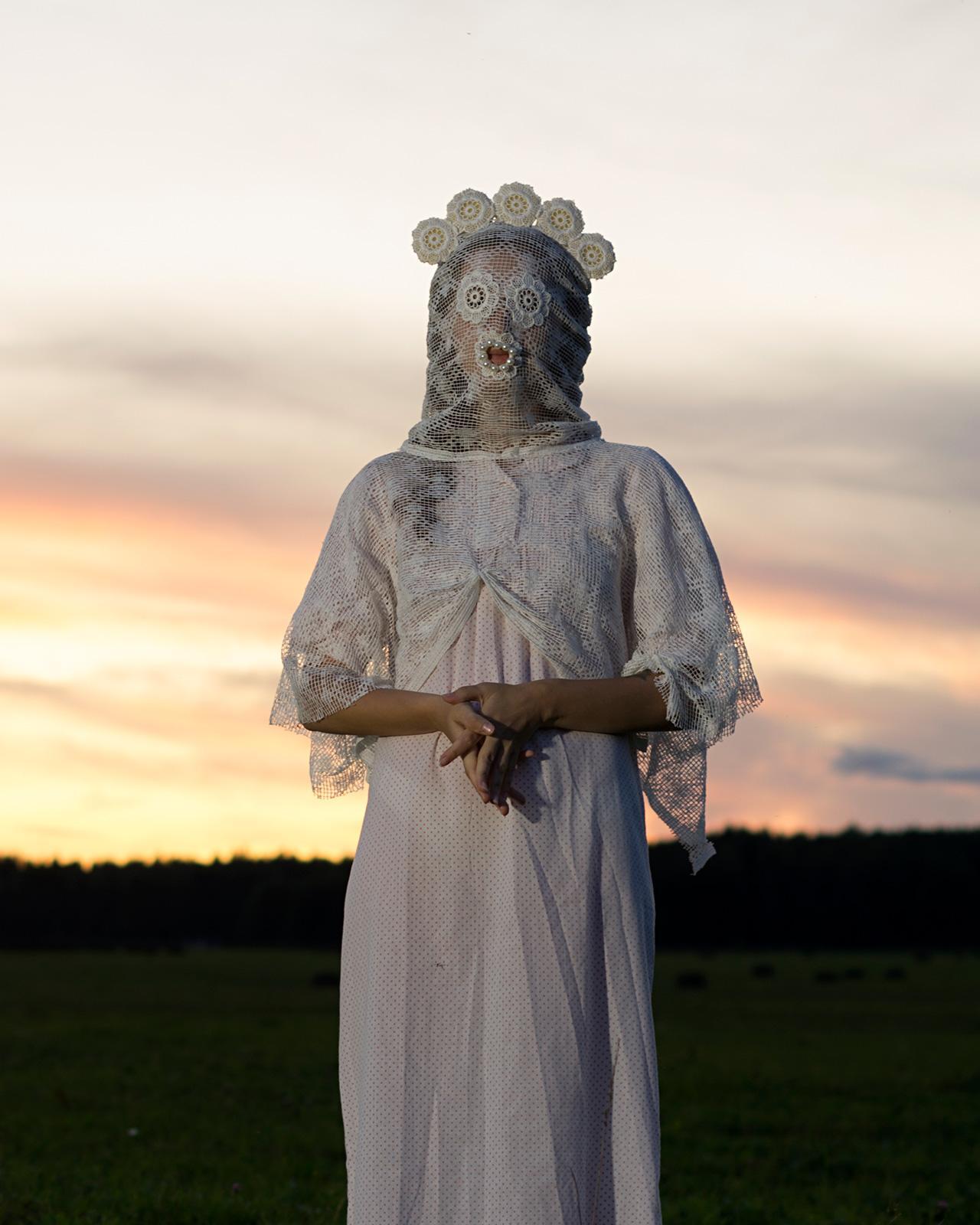 Among the show's standout works is 'Russian Alien' (2017–20) by Alisa Gorshenina (also known by her Instagram alias @alicehualice). This series of three ghostly female busts – faces rouged and adorned with lace and pearls – falls somewhere between horror-movie apparition and traditional folklore. Displayed within ornate frames, hinting at the distant kinship between commemorative portraiture and red-light-district window displays, these figures' curious distillation of femininity speaks to the historical evolution of Russian womanhood: from the mythologization of feminine purity in fin-de-siècle Russian literature to the normative self-gendering through consumerism – lipstick and stilettoes as symbols of both status and subordination – of the post-Soviet era. 
Elsewhere, Andrey Kuzkin's monumentally dramatic Prayers and Heroes (2016–19) is a tribute to the nation's hereditary anguish fostered by generations of cruelty and upheaval. The work consists of three tall, enclosing walls comprising more than 1,000 cells, each containing a figurine, posed in agony or prayer, composed of laboriously chewed-up breadcrumbs drenched in the artist's own blood; on six surrounding plinths rest sculptures of Kuzkin's hollow-eyed, bloodied head. 
While these works may sound gloomy, the show oozes typically sardonic Russian humour, especially in those contributions that draw on contemporary quotidian life. Pavla Markova's mosaic of gravestone plaques with zany, Punkish engravings (Punk's Not Dead, 2020) – whose medley of pop-culture protagonists, domestic kitsch and ironic references to art history replaces the expected dignified visages and epitaphs – is genuinely funny. Vladimir Abikh's interactive video Waiting Room (2020) invites visitors to celebrate wasting time anticipating 'the end of Russia' or to simply enjoy an escalator ride to nowhere. Shamil Ahmed's self-portrait tapestry, Idem (2020), wryly scrutinizes the Dagestani tradition of commemorative carpets as well as the stigma of its stereotype of provincial masculinity. Reflecting on Russia's materialist dystopian present, Misha Buryj's transformer-like sculptures, Clot #33 (2020), are assembled from advertising detritus. Stretched to full height in an apparent paradoxical fulfillment of their medium's dejected nature and evacuated significance, they rise up against their creator and refuse any possible constriction of form.
In presenting a concise snapshot of the diverse Russian art terrain, the exhibition succeeds in fulfilling its curatorial proposition to avoid classification. Holding up a mirror to the country's corrupted infrastructure, the triennial makes space for a certain degree of inevitable navel-gazing and repetition yet leaves little room for genuinely new narratives or outlying ideas. The generosity of its shambolic eclecticism, however, has the strangely welcoming feeling of a whispered secret: it might not offer a bullet-point oratory, but it's all the more instructive as a result.
The 2nd Garage Triennial of Russian Contemporary Art is on view at Garage Museum for Contemporary Art, Moscow, until 17 January 2021.
Main image: Albina Mokhryakova, Maybe Therapy, 2020, video still. Courtesy: the artist