Preview of the 2022 Venice Biennale Part Two: 'The Milk of Dreams'
The frieze team selects the projects they are most looking forward to at the Giardini's Central Pavilion and the Arsenale
This April, the Venice Art Biennale returns after a three-year pandemic-related hiatus (preview days 20–23; first public opening day 23 April; runs until 27 November). In the second of our five-part preview, frieze editorial staff name the artists they're most looking forward to seeing in the central international exhibition. To read part one of 'The Milk of Dreams' preview, click here.
Akosua Adoma Owusu
I first became aware of Akosua Adoma Owusu in 2013, when the Ghanaian-American filmmaker spearheaded a campaign to save The Rex, one of Accra's oldest arthouse cinemas, which had fallen into disrepair after years of neglect. Her film output consists mainly of snappy experimental shorts, including Kwaku Anansi (2013), a vivid retelling of a popular story in West African and Caribbean folklore, with Anansi being a shape-shifting character: half man, half spider. Owusu tackles the complexity of living between multiple and, at times, differing cultures as a migrant or person born in the diaspora by deconstructing what it means to be consistently viewed as 'othered'. It is the mythical elements in Owusu's film practice, however, that truly make her an artist to look out for in the main exhibition.
– Vanessa Peterson, Associate Editor
Elle Pérez 
In 2002, at age 12, Elle Pérez began photographing punk nightclubs in the Bronx, New York, making flyers for a venue in exchange for free access to events. Although nightlife and crowds formed a large part of Pérez's identity, the photographer now prefers the subtle details of human relations to illustrate the queer experience: visceral moments of emotion, intimacy and power. Since then, they have shown in New York at 47 Canal, MoMA PS1 and the Whitney Museum of American Art. In a 2019 interview for Art21, Pérez said that photography 'has so much to do with identity and how surfaces have the ability to contain the traces of an experience'. In t (2018), a hand clutches a vial of testosterone; in Dick (2018), a bloodied hand rests upon a shadowy crotch. Pérez's photographs may initially seem ambiguous but, at their heart, they ask us to reflect on our relationships with ourselves and others, whether platonic, sexual or abstract.
– Ella Slater, Editorial Assistant
Joanna Piotrowska
The residual feeling after viewing Joanna Piotrowska's black and white photographs is one of unease. The London-based Polish photographer tends to explore what lies under the surface, with the subjects of her photographs often seeming just out of grasp or contorted into positions where facial expressions are hard to read: hands covering eyes; fingers placed over closed eyelids; arms and limbs wrapped around each other or grasping for the unreachable. Piotrowska's view of the domestic is far from comforting and familial – everything seems to rest on a knife edge. One body of work, 'Frowst' (2013–14), depicts a form of therapy commonly used in Poland in which people lie on top of one another. Devised by psychologist Bert Hellinger, the practice purportedly helps solve conflict and poor relationships between family members or workplace colleagues by encouraging empathy and unravelling hidden dynamics. I look forward to seeing how Piotrowska will continue to deconstruct our bodies and our relationships to the world in Venice.
– Vanessa Peterson, Associate Editor
Marianna Simnett 
When Marianna Simnett had her larynx injected with Botox to deepen her voice, she had initially prepared for the change to be permanent – it is an operation usually performed on men. Luckily, her surgeon managed to develop a temporary solution, but the procedure, which she filmed for The Needle and the Larynx (2016), is nevertheless excruciating to view, shot in painfully slow motion. To watch the twisted fairy tales of Simnett is akin to experiencing a strange dream, less terrifying than deranged. Simnett's films are gut-stirringly difficult to watch but magnetic in their obscenity, drawing heavily on the body as a site of transformation, mythology and technological development. They are thick with commentaries on physical threat, the hyperactivity of contemporary life and the body politics of feminism.
– Ella Slater, Editorial Assistant
Emma Talbot 
'The Milk of Dreams' takes its title from a children's book by the British surrealist Leonora Carrington. (First published in 2012, it was originally written in the 1950s.) A contemporary equivalent to Carrington could be Emma Talbot, whose profile has been on the ascent since winning Whitechapel Gallery's Max Mara Art Prize for Women in 2020. Talbot's topic is faceless female characters in space, exploring modern life's anxieties and peculiarities. Her works, which often take the form of tapestries, exist in a lineage of female textile practitioners that includes Louise Bourgeois and Tracey Emin. Unlike her artistic predecessors, however, Talbot creates images that cannot so easily be read as confessional. Instead, she offers up proxy bodies onto which we can project our own experiences, spun through with a folkloric sense of wonderment.
– Sean Burns, Assistant Editor
Tourmaline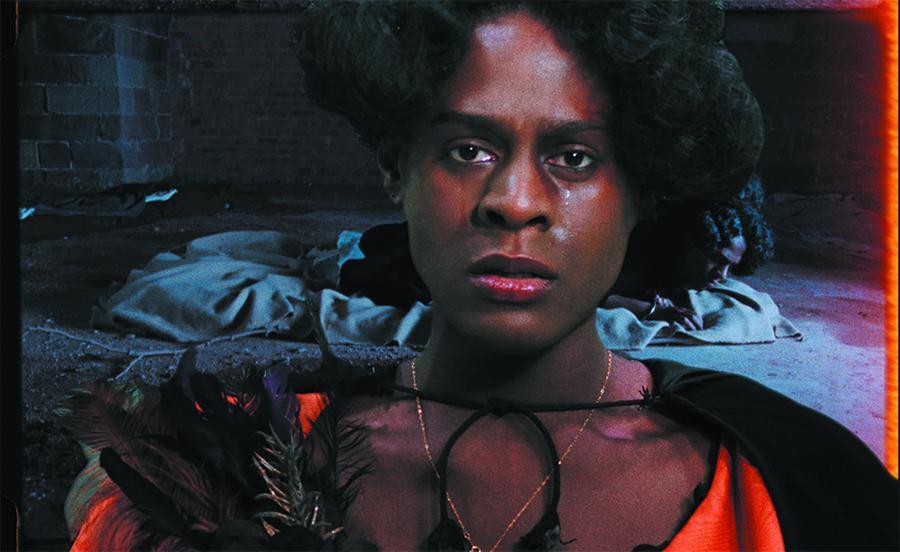 The experimental filmmaker, archivist, political organizer and spiritualist Tourmaline creates dream-like films chronicling Black, queer and transgender people and their histories, often through spiritual practice. In a 2020 profile for this magazine, she explains that it is 'ancestral stewardship, a way to reconnect to my elders and my own spirituality'. Her work references trans activists, such as Marsha P. Johnson and Sylvia Rivera (Happy Birthday, Marsha!, 2018), and Mary Jones, a Black trans woman and sex worker from the 19th-century free Black landowning community Seneca Village, which authorities cleared to make way for New York's Central Park (Salacia, 2019). These lush films foreground the importance of pleasure and explore the idea of absence through archival research and salvage. 
– Ella Slater, Editorial Assistant
Kaari Upson
Kaari Upson was perhaps best known for The Larry Project (2005–12), an investigation into her parents' neighbour, whom she never met but whose identity she pieced together from ephemera in his abandoned McMansion and translated into paintings, drawings and sculpture. Like with many of the subjects of her later work – her mother, her furniture – 'Larry' became an extension of the artist herself, an exploration of self-identity, but also of identity more broadly. She told Even magazine in 2017 that she 'started to realize that [she] was merging with him'. When Upson tragically passed away in August of last year, she had recently completed a new series of paintings, 'Portrait (Vain German)' (2020–21), ten of which will be on display at this year's Venice Biennale. With its title hinting at 16th-century Dutch vanitas paintings, Upson's series of skull-like faces are painted with colourful and thickly applied urethane. For an artist who trained as a painter, before developing a practice that spanned many disciplines with a deft and innovative eye, this series marked a return to where she began.
– Marko Gluhaich, Associate Editor
For additional coverage of the 59th Venice Biennale, see here.
Main image courtesy: Jan Sandvik / EyeEm via Getty