Alan Phelan's work proceeds, as Descartes might have, with an attitude of larvatus prodeo: advancing whilst pointing to its own mask. The Irish artist's solo exhibition of 16 new and recent works at the Irish Museum of Modern Art, which drew its title 'Fragile Absolutes' from Slavoj Žižek's 2001 eponymous book, sought to build a delicate agitprop vocabulary of toothpicks, papier-mâché and exhaust pipes.
Clubbed Baby Seals (he is not aware how Jews really seem to him? this is not how things really seem to you) (2009) looks like it was a lot of fun to make. Taking its title in part from a sentence in Žižek's book Organs Without Bodies: Deleuze and Consequences (2004) and reflecting on what he refers to as 'the ontological scandal of the notion of fantasy', the work is a forceful manifestation of how concept can cluster into object to use imperfection as a formalistic vocabulary. Two mashed papier-mâché seal corpses, with cute black-button eyes, loll on white plinths to expose their red-painted entrails. The work refers to a 2007 action by People for the Ethical Treatment of Animals (PETA) in which activists 'clubbed' papier-mâché seals with baseball bats. This action demonstrates, somewhat idealistically, Žižek's understanding of fantasy as an 'ontological scandal', albeit a horrific fantasy, but no less complete in its scope. Phelan's action of displacing the quasi-seals through shifting them from demonstration to fetishism rounds off Žižek's notions with a deft subversion of the subjective (protest) to the objective (art): or is that the other way round?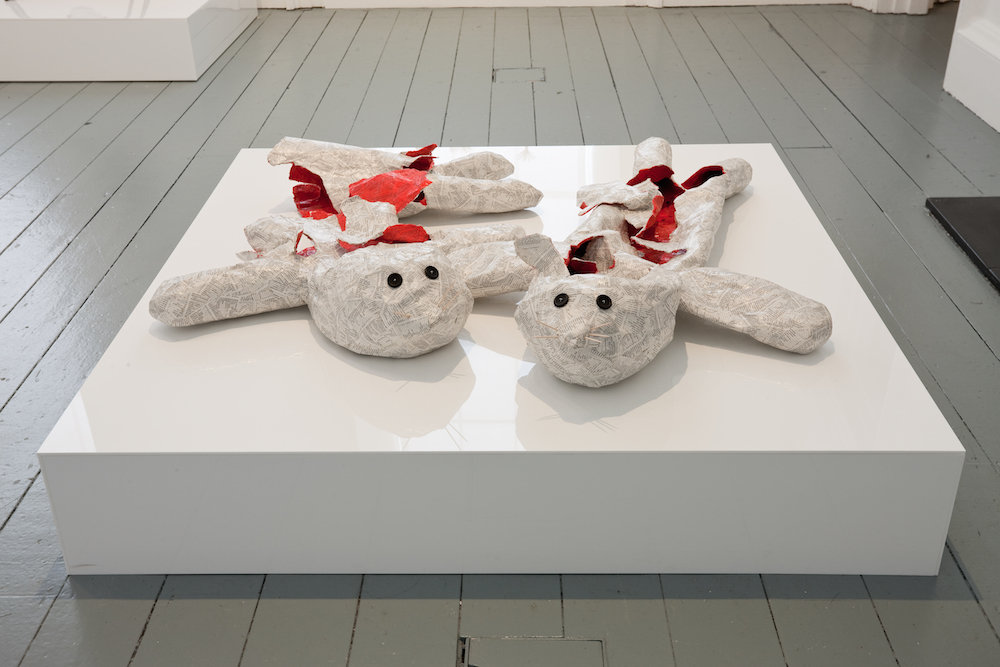 Mosquito Man Arthur (2007) is a grotesque chimera tied to a political history of printed subversion. Phelan grafts the head of Arthur Griffith onto to the hollow body of a mosquito, complete with useless balsa wood wings. (Griffith was the founder of Irish political party Sinn Féin and propaganda officer for the IRA in the early 20th century; a typesetter by trade, he produced a plethora of underground nationalist publications, nicknamed 'the mosquito press' by British authorities due to their annoying yet highly transportable printing and dissemination techniques.) As with a number of the works in this show, Mosquito Man Arthur slows down the viewer's relationship to the work by using layers of dense text. We are visually instructed to read the surface of the work in an extremely direct manner, and that can take time.
This slow method of observation encourages an inscriptive relationship with Phelan's sculpture, which, at times, can extend to the over-use of interpretive materials on the gallery walls, often heavily layered with socio-political history. In spite of this, Mosquito Man Arthur demonstrates just how mutable 'mythological' constructs can be: the work can be understood as an abstract re-presentation (or perhaps re-telling) of the paradigm of the Irish nationalist guerrilla – Ireland is a very small country, but for the resourceful, there is always somewhere (or something) to hide. It is this obfuscation that bolsters Phelan's formal vernacular, drawing together a wide range of cultural subject matters and permitting them to coalesce into process.