Alison Chi's Top 5 Works on Frieze Viewing Room
The designer picks works by Alex Da Corte, Tracey Emin, Yayoi Kusama, Günther Förg and Glenn Kaino from the Frieze New York 2022 edition

 
Alex Da Corte
A Modern Love, 2022 
neon, vinyl siding, laminate, plywood, house paint, velvet, hardware 
$ 150,000 
Presented by Sadie Coles HQ
I find Sadie Coles HQ's curation of contemporary art to be incredibly original and speaks to an internationalism that resonates with me. Alex Da Corte's work makes me curious because, how it appears is so different than what it could mean. I think it really showcases the state of our world today and although it feels "fast", it makes you want to linger a little bit longer to see what it's all about. 
Yayoi Kusama
Stars in the Boundless Universe, 2010 
Acrylic on canvas 
Sold
Presented by Victoria Miro
How people see differently truly fascinates me. There is so much to see physically and metaphysically. Kusama's work reminds me that each of our life experiences are deeply personal and it is a reminder to find the people who see you and to appreciate this beautiful life that we live, together.
Günther Förg
Untitled, 2007 
Acrylic on canvas 
€ 415,000 
Presented by White Cube
This quality of this work is important to remind me of how fortunate I am to have learned from world-class designers, artists and professionals at a very young age. I thank my parents for giving me that.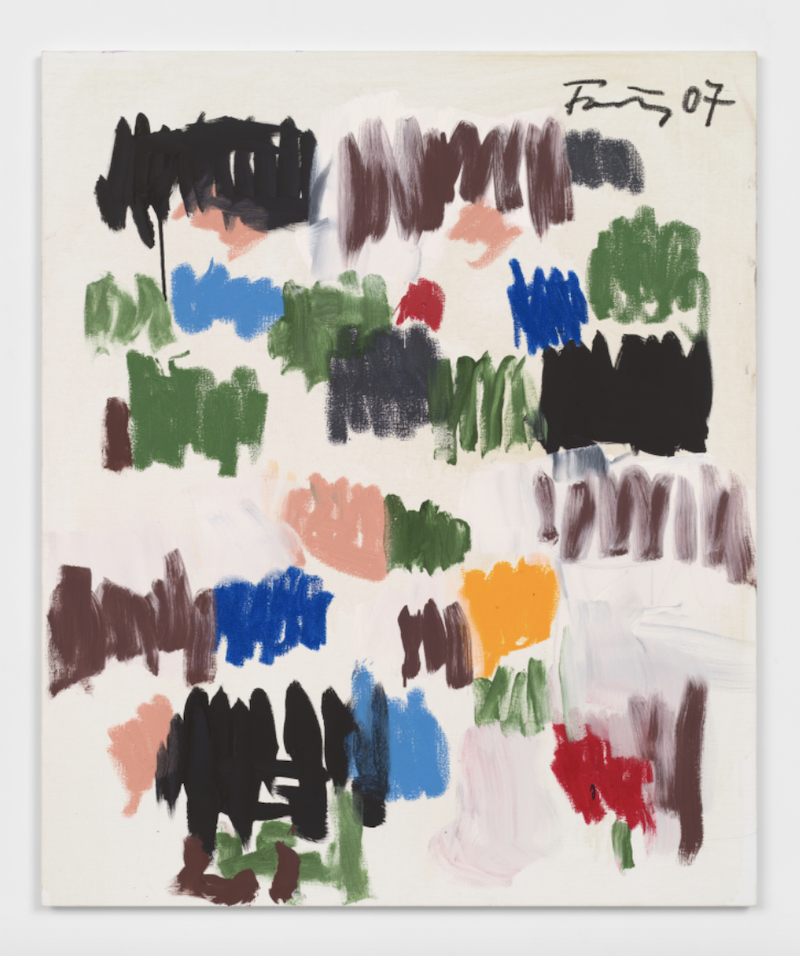 Tracey Emin
You Never Should have Loved Me The way you did, 2014 
Neon 
Edition of 3 
£ 80,000 
Presented by White Cube
Whenever I have encounter Emin's work in person during my travels to London or elsewhere, it becomes a deeply-rooted memory. There is a rawness about the work that I find inspiring. Though I have never met Emin in person, I do follow her on instagram, and whenever I do see her work, in a way, I feel proud… Perhaps we are meant to be friends in another universe.
Glenn Kaino
Pass the Baton, 2021
NFT
Under $5k
Presented by Pace
This is interesting and feels like it's the right way to engage in the world of NFTs and the Crypto-giving structure. 
About Alison Chi
Chi is Creative Director of tonychi studios, a Frieze 91 Committee Member and designer of the first Wristband Project making its debut at Frieze New York 2022. Upholding the thoughtful discipline that has positioned renowned tonychi studios as a heritage design house, while continuing to cultivate bold creative visions, Alison drives her team to operate holistically, as a collective at the forefront of their disciplines and fields.
About Frieze Viewing Room
Frieze Viewing Room is a free digital platform bringing Frieze New York's galleries, artworks and programming to online audiences across the globe. From Friday, May 13, 11am EST until May 22, 6pm EST, visitors to the Frieze Viewing Room will be able to...
Preview all gallery presentations ahead of the official opening
Search artworks by artist, price, date and more
Chat with galleries
Explore new immersive 3D rooms