All Under Heaven: Hayward Gallery Returns With Andreas Gursky Retrospective
Reopening after a two-year hiatus, London's brutalist landmark is more than a match for the photographer's blockbuster capitalist realism
In Andreas Gursky's Mülheim, Anglers (1989), hobby fishermen gather on the banks of the river Ruhr. As verdant forest collapses into the curl of the water, the epic romance is broken by the emergence of the Autobahn in the distance. Part of Gursky's 68-work retrospective at the newly reopened Hayward Gallery in London's Southbank Centre, it is as if the motorway's appearance in Mülheim, Anglers has begun to resonate with the gallery's own forceful framing of exposed concrete.
This survey of the 63-year-old Dusseldorf School photographer's blockbuster illusions – his first major show in the UK – is packed with his early masterworks, including a study of the visual density and postwar modernist architecture of Paris's Mouchotte Building in Paris, Montparnasse (1993). Here Gursky used two different perspectives to photograph the 750 flats designed here by Jean Dubuisson in 1959, and then pulled them together in post-production to create a smooth mosaic, with their vanishing points erased. Or in the equally eerie Rhine II (1999, reworked 2015), Gursky took on the romantic icon, and stripped out all signs of life and construction (including the presence of a coal plant), digitally reducing the photograph to horizontal bands of grass, pathway and water, shimmering in minimalist abstraction.
The Hayward's imposing brutalism amplifies the rigour in Gursky's work, the gallery's director Ralph Rugoff says. Gursky's reflections on images 'not just as representation, but meditation', are now allowed to breath in an enlarged gallery setting, under natural light, he tells me. Marking its 50th anniversary this year, the Hayward has been on hiatus since September 2015 for a period of essential renovation works. But now, Rugoff says, the grandeur of its upper galleries has been restored to its original proportions.
At first glance, it's difficult to work out to what extent the architects, Feilden Clegg Bradley, have changed the space, originally designed by architects Norman Engleback, Ron Herron, Warren Chalk and John Attenborough with the brief of providing five gallery spaces, two levels of indoor galleries and three outdoor sculpture courts to house the Arts Council collection. The changes are undeniably subtle: the concrete feels freshly polished (using a latex cleaning treatment normally applied to ancient artefacts), a new terrazzo floor has been set in, and there is all the invisible renovation too (of electrical equipment dating back to the '60s). But the Hayward's in-between spaces are still as convoluted as ever: with the gallery's two levels conjoined by the same duo of concrete stairwells there are always multiple and confusing ways of walking between its galleries.
Major work has been carried out on the Hayward's iconic 66 pyramidal roof-lights, allowing natural light to finally fill the upper galleries. These roof-lights were originally a request of Henry Moore, acting as an advisor to the Arts Council, who demanded that 'God's good daylight' be allowed to enter the space. But poorly executed, they have been an unused feature since their inception in 1968, replaced by artificial lighting and a false ceiling which further concealed the galleries's original volume. Now the drop Perspex ceiling has been done away with, and the gallery's height raised another metre, Rugoff tells me. The galleries can respond to the shifting daylight, which is filtered through double-glazed coffers with blind controls.
The Hayward drew attention to its saw-tooth roof last November with a new commission by David Batchelor, Sixty Minute Spectrum (2017), turning the skylights into a softly glowing timepiece at night, cycling through the full colour spectrum every 60 minutes (the piece will run until the end of March 2018). And in May, the refurbished Hayward will celebrate its 50th anniversary with a survey show of the South Korean artist Lee Bul, which will extend from documentation of her earliest performances to monolithic installations. The show will include a piece, Rugoff says, which will engulf the Hayward's facade. Lee Bul's artworks will spread across the Hayward's interior and exterior space, including its under-used terraces: 'everything is going to be open, which will be revolutionary for the gallery', Rugoff tells me.
The airiness of the gallery spaces offers a light counterpoint to the Hayward's brooding concrete, and both prove the perfect partner for Gursky's pursuit of 'the encyclopaedia of life' carried across his images of finely tuned artifice. In Kamiokande (2007), Gursky enters the Super-Kamioka Neutrino Detection Experiment housed in a subterranean watery vault beneath Japan's Mount Ikeno, and his image of boats gently bobbing under a series of golden light detector hemispheres holds the glimmer of a Grecian afterlife. Gursky sets the world in motion: from the twisting Formula 1 racetracks in the desert in 2005's Bahrain I which curve through the sand like calligraphic ink, or the French countryside cloaked in a threatening armour of black solar panels in Les Mées (2016) through to the oily reflections of the Chao Phraya River in his 2011 'Bangkok' series. Gursky's viewers are forced into all kinds of poses and motions across the gallery floor, as they walk back and forth to work out the microscopic details and cells of repetition that fill his manipulated images. Each speck of Gursky's photographs is rendered in equal focus, and so a Dortmund rave in May Day IV (2000/14) is extended into a ceaseless swarm, and the human figures in his 'Stock Exchange' series become an aggressive crush.
Lately, Gursky has demonstrated a more painterly attention to temporal atmosphere, capturing the glitches and blurs of Tokyo's residential landscape as seen from a passing Shinkansen bullet train. But there is shallowness in his universalizing impulse too. I have an empty feeling when I confront Nha Trang (2004), a factory floor of Vietnamese labourers producing furniture for Ikea who are clothed in orange outfits (at the photographer's request). Or consider the series of photographs Gursky took in Pyongyang in 2007 at North Korea's Arirang gymnastic games. His drone-like gaze from the heavens, often taken from cranes or helicopters, too easily lends itself to moments of hollow spectacle. The faceless masses of people beneath him are orchestrated and exploited, caught between states of submission or competition.
Gursky's early anti-pastoral hybrids in the Ruhr valley make for melancholic projections of loss when set aside the eyeball searing ambitions that saturate his images of 'non-places'. In his mission to document the fabric of global capitalism, Gursky has returned repeatedly to its holding pens of 'supermodernity' as described by the anthropologist Marc Augé – airports, docks, warehouses – to make its stitching visible. Gursky began in 1990 with Salerno I: while holidaying with his family around Naples, he snapped a few frames of an Italian port at sunset, and later mapped it out into an impenetrable grid of multiplying shipping containers and cars. The following year he was commissioned by Siemens to photograph their industrial park (Karlsruhe, Siemens, 1991), in which wiry coils and cables envelope and appear to suffocate the very presence of factory workers.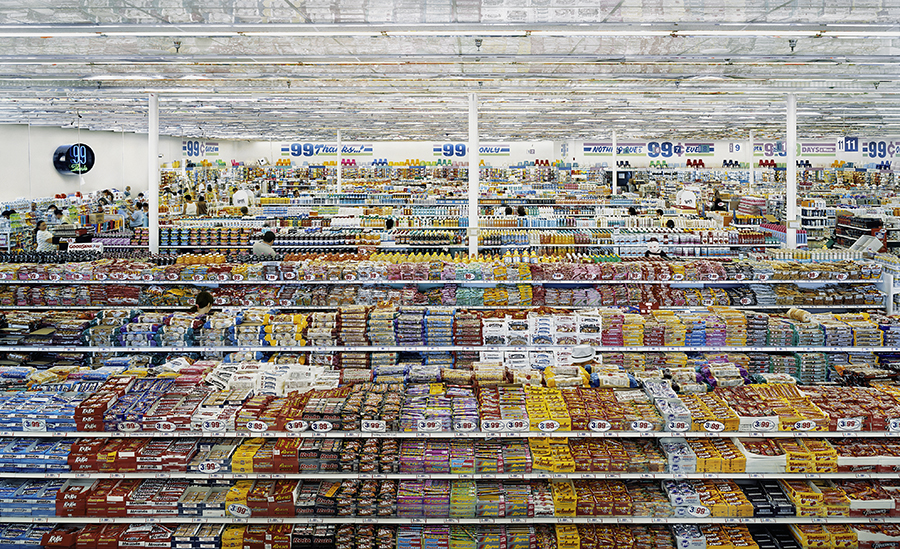 In the budget consumerism of 99 Cent (1999/2009), a bargain store in California is chopped up and repeated into an endless claustrophobia of shelves. And now look at the chaotic sprawl of goods for despatch in Amazon (2016), taken in the eponymous online retailer's warehouse in Phoenix, Arizona. What can Gursky's hypnotic mash reveal? You can read it as critique, and equally its opposite; the tension is always accentuated by the extent to which his top-dollar photographs are both detached and immersive. Exhausted by his visions of a hyper-capitalist world on steroids, I prefer to take refuge in the words of the late Ursula K. Le Guin: 'We live in capitalism, its power seems inescapable', she once said, 'but then, so did the divine right of kings.'
Andreas Gursky's exhibition at London's Hayward Gallery is on view from 25 January 2018 to 22 April 2018.
David Batchelor, Sixty Minute Spectrum, 2017, installation view. Courtesy: Hayward Gallery, London; photograph: Morley Von Sternberg