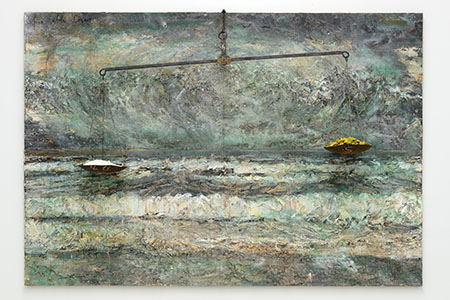 Anselm Kiefer has been ruffling a few feathers in the Parisian art world of late. When his New York representative, Gagosian Gallery, and his Paris gallery, Thaddaeus Ropac, both decided to open new premises in the banlieues within the same week, each one leading with an exhibition dedicated to the German-born painter and sculptor, eyebrows were raised and tempers flared. But, in truth, there is no comparison to make. Everything about Gagosian's presentation, from its airport-side location to the work on offer (one massive showpiece – the Morgenthau Plan, from 2012, which gave its name to the whole display – and a scattered few small paintings), speaks of a gallery targeting collectors; Ropac's airy ex-industrial space with its lavish new commissions, on the other hand, has set its sights on something quite different, more like a public museum.
It is somehow appropriate that Kiefer's latest works would find themselves in a former factory, as, amongst the oils, charcoals and acrylics that adorn his canvases, we find materials usually associated with more lumpen tasks: iron, lead, wire, electrolytic sediment. Yet works like Die Kinder Abrahams (Abraham's Children, 1988–2012), with its rocks and preserved foetuses made of synthetic resin displayed in mildewed vitrines, and the tremendous painting die Ungeborenen (The Unborn, 2011–12), from which hangs a rusty balance weighing salt against sulphur, seem to gesture towards pre-industrial concerns: the proto-science of alchemy and the proto-museum of the Wunderkammer.
Kiefer's canvases make good use of the wide, open halls of the gallery – works like die Ungeborenen, for instance, or the equally expansive die bösen Mütter (The Bad Mother, 2007–11) and Mütterkorn (2011) would have felt cramped in the smaller rooms of Ropac's city centre space (or Gagosian's Le Bourget anterooms). It is necessary, with such works, to be able to stand five or ten metres away in order to grasp the image from out of the storm of swirling paint. The sculptural appendages jutting out of the canvas – chairs, branches, scales, the wing of an aeroplane – produce an effect of trompe l'oeil as they seem to alternately sink back into the image and leap out of it, depending on how close you stand.
The title, Mütterkorn – which is given not only to the painting but also to a paired coupling of much smaller watercolours, matching blackened gold maize stalks with a voluptuous, almost Socialist Realist, female bust – refers to a disease that blighted crops throughout the Middle Ages but ultimately provided a medicine given to mothers in labour. This essentially romantic coupling of the proximity between death and new life is one of the overarching themes that links the various works here, providing an image of Kiefer as an artist who was born amongst the ruins of postwar Germany.
Images of ruins, collapsed concrete forms amidst scarred landscapes on sprawling strips of film, spill from the depths of Rabbi Löw: der Golem (2012), the vast sculpture that dominates one hall of the gallery. At some ten metres tall and of a similar depth, the work reaches out in every direction, drawing its spectators in with a tentacular grasp. Built around the burst frame of an antique printing press, not just strips of film spring forth from its spastic innards but also a petrified forest of aluminium sunflowers, around their feet a scattering of iron filings: the seeds of a possible new life. With a long history in the fine arts, from Van Dyck's self-portrait to 19th-century aestheticism, these sunflowers ossified by Kiefer remind us that every still life is already a nature morte. Yet it is here that Kiefer's exhibition is at once more personal and more optimistic than its cousin in Le Bourget. Where the centrepiece at Gagosian, Morgenthau Plan, presents a scorched and scarred Eden encaged in rusted iron, the cluster of master signifiers around which the present show circulates – the golem, the unborn, the ergot fungus which both nurtures and infects – collectively suggests something quite different: new life, the possibility of hope sprung from horror.
These petrified sunflowers recur elsewhere. In die Ungeborenen, we find resinous foetuses around their roots, numbered with tags like those found on corpses, hexadecimals evoking the victims of the Holocaust. These unborn infant exhibits are themselves repeated in Die Kinder Abrahams, where we find them housed with misshapen rocks within a larger vitrine – seemingly referencing Kiefer's former teacher, Joseph Beuys. But Kiefer's symbolism is more explicit. The work's title refers to St John's promise in Matthew 3:9 that 'God is able of these stones to raise up children unto Abraham.' What, after all, is a golem, but a man fashioned from stone, as evoked in the Weimar films of Paul Wegener? This ring of interlocked references reminds us that if ruins might be the soil of a new birth, then the reverse is also true: that creation itself – whether that of the artist or of the various grotesque mothers that hang here – brings a terrible responsibility, the threat of untold destruction.