Anthea Hamilton and Nicholas Cullinan | Frieze Masters Podcast
Mapping the trajectory of Hamilton's work, the roots of her identity as a 'Londoner' and how what she terms the 'fourth dimension' shapes her practice. Presented in partnership with Studio Voltaire
Frieze Masters will present this conversation with Anthea Hamilton & Nicholas Cullinan in partnership with Studio Voltaire (@studiovoltairelondon). Their conversation explores the trajectory of Hamilton's work, the geopolitical basis of her identity as a 'Londoner' and how elements from the 'fourth dimension' shape her work. 
For me, the fourth dimension is things – our emotions, power, wealth. They are the kinds of things, I think, which are shaping the practice as it goes forward as well – Anthea Hamilton 
Anthea Hamilton (@hamiltonanthea) was born in London in 1978, where she lives and works. Her approach has often focused on extended study into archives, scientific research and popular culture combining these with resonant images and objects in unusual and surreal ways. Nicholas Cullinan (@nicholascullinan) is an art historian, curator and Director of the National Portrait Gallery in London.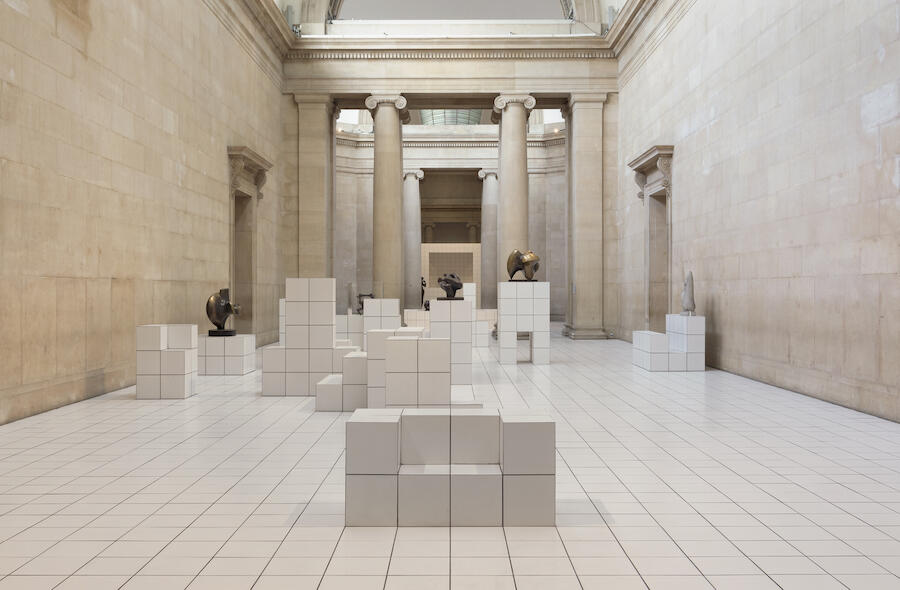 About the Frieze Masters Podcast 
Exploring themes of identity, originality, geopolitics and Blackness through a historical lens, the new Frieze Masters Podcast is now available. Bringing together some of today's most celebrated artists, art historians and curators, the podcast launches with the Talks programme from the 2022 edition of Frieze Masters – one of the world's leading art fairs – and offers compelling insight into the influence of historical art on contemporary perspectives and creativity. Subscribe now on Spotify and Apple Podcasts.
--
Anthea Hamilton was born in London in 1978, where she lives and works. She was one of four shortlisted artists for the 2016 Turner Prize. Hamilton consistently considers aspects of presentation beyond her objects and images, applying wallpapers, carpets, vinyls and painted surfaces to the walls and floors and introducing costume and performance within her work. 
Her solo exhibition Cold, Cold Heart is currently on view at kaufmann repetto, Milan. Recent solo presentations include: Mash Up, Museum of Contemporary Art Antwerp, Belgium (2022); Primetime, a commission by Hayward Gallery, London, England (2022); The Prude, Thomas Dane Gallery, London, England (2019); The New Life, Secession, Vienna, Austria (2018); The Squash, Tate Britain, London, England (2018); Anthea Hamilton Reimagines Kettle's Yard, Hepworth Wakefield, Wakefield, England (2017); Lichen! Libido! Chastity!, SculptureCenter, Long Island City, New York NY (2015); Kabuki, The Tanks, Tate Modern, London, England (2012); Sorry I'm Late, Firstsite, Colchester, England (2012); Les Modules, Foundation Pierre Berge — Yves Saint Laurent, Palais de Tokyo, Paris, France (2012), and Gymnasium, Chisenhale Gallery, London, England (2008). Her work has been presented as part of the 58th Venice Biennale in 2019, the British Art Show 8 and in numerous international venues including the Schinkel Pavilion, Berlin (with Nicholas Byrne), the 13th Lyon Biennale, and the 10th Gwangju Biennale.  
--  
To keep up to date on all the latest news from Frieze, sign up to our newsletter at frieze.com, and follow @friezeofficial on Instagram, Twitter and Frieze Official on Facebook.
Main image: Anthea Hamilton, 'Mash Up', 2022, installation view. Courtesy: the artist and Thomas Dane Gallery, with special thanks to LOEWE; photograph: Kristien Daem / M HKA Antwerp