From the Latin vulnus, meaning wound, comes the word vulnerability, the quality of being exposed to attack or harm – of being weak. But isn't it possible to be vulnerable and strong? The recent exhibition 'Anu Põder: Be Fragile, Be Brave!' at Kumu Art Museum, Tallinn, which centres around the work of late Estonian artist Anu Põder, while bringing it into conversation with that of Katrin Koskaru, Ursula Mayer, Ana Mendieta, Alina Szapocznikow and Iza Tarasewicz, asks this very question.
Põder's early works – abject, hybrid renderings of the female anatomy – were overlooked in a 1980s Soviet Estonia that prioritised realist depictions in bronze. But while many of her pieces foregrounded wounded and fragmented bodies, Põder's strong visual language constantly rebutted accusations of weakness. Very Old Memories (1985), for instance, is a rough amalgam of burlap, wood and rope that suggests a leaning head, tenderly being caressed. A series of 1980s compositions see a number of freestanding torsos either penetrated by wooden frames (Composition in the Frame, 1986), spilling their cotton entrails (Composition with Plastic and Synthetic Wool, 1986), or reduced into an amorphous heap (Composition, 1988). While her figures from the early 1990s are suspended by hands or strings, at times anxious, at others fed up, those from the later years become increasingly contorted, before breaking into fragments: boots and tongues are rendered in soap (Clodhopper, Stride of a Man of the 20th Century and Tongues, both 1998); cut garments resemble flayed bodies (Pattern as Sign. Furcoats, 1996).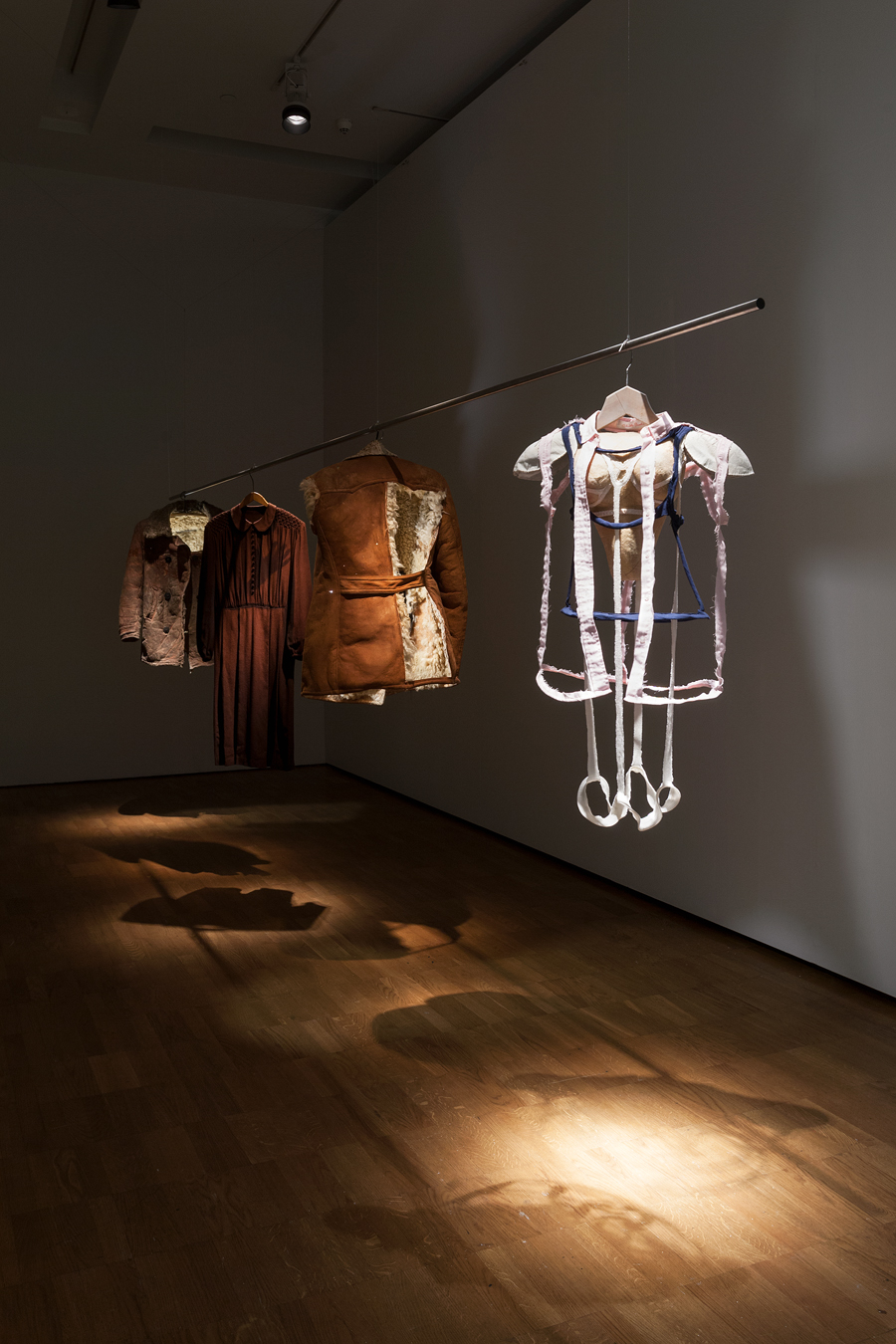 In the neighbouring rooms of Kumu, the supporting artists continue this exploration of the female body's subjection to violence – be it by war, sexual abuse or illness. The brutal effects of the latter are given form in Szapocznikow's tragic Tumors Personified (1971), which sees the artist's face cast in polyester resin and fibreglass to produce heads deformed by tumours. Elsewhere, Mendieta's 'Silueta Works in Mexico' (1973–77) documents a number of land art interventions in which the artist's body leaves its trace on the landscape in blood.
Mayer's immersive installation But we loved her (2014) includes the Austrian artist's earlier films Gonda (2012) and Medea (2013), which star post-gender icons Valentijn de Hingh and JD Samson and muddy the traditional masculine/feminine gender binary. Surrounding them are hybrid glass sculptures, as well as books and papers referencing complicated examples of female fortitude such as Ayn Rand and Margaret Thatcher. The body is absent in Tarasewicz's The Means, The Milieu (2014-15), but can be summoned through a collection of reishi mushrooms, which have been used to treat both anxiety and cancer and here rest within a hanging network of hexagonal wires. In another room, Koskaru's site-specific acrylic paintings draw upon the sensitivity of human skin. Accordingly, the monochromatic layers of I Eat Sky, I Excrete Sky… (2017) look different depending on the intensity of the falling light.
'Anu Põder: Be Fragile! Be Brave!' situates the late Estonian artist's work within an broad geographical and somewhat more contemporary context, in which debates surrounding gender politics remain urgent and widespread. But the fact that Põder's line of questioning feels so comfortable here, with her aesthetic at ease alongside the more contemporary examples of hybrid abjection, should not detract from the fact that it came from a very individual place. While it should be praised, the show's overarching 'feminist' slant should not conceal the specifics of  Põder's work and overlook the fact that it was produced within a very particular position of precarity: a single mother-of-three, toiling against an unfavourable Soviet Estonia. Telling, perhaps, is the fact that Põder herself refused to use the term 'feminism' in reference to her work, as she considered it to be a western import. Rather, she let her work speak for itself – both fragile and brave.
Main image: Anu Põder, Tongues, 1998, soap and water. Courtesy: Art Museum of Estonia, Tallinn; photograph: Hedi Jaanisoo