Featured in
The Art, Poetry and Disco that Influence Luke Fowler
From the BBC and the films of Robert Beavers to the poetry of Margaret Tait, the artist reflects on his formative experiences
An influence can be elusive – fragile and fleeting, often something we prefer to keep private, lest it fade or crumble under scrutiny. Then there are the influences we rehearse in public: the grand myths that reinforce the artistic identity we'd like to portray to the outside world. I won't write about the smaller, everyday moments that I enjoy: the clicking of gorse in the summer, patterns of light on a wall or voices and footsteps reverberating under a bridge. Instead, I will write about family, friends, cinema, music and the local. Most of my influences are not remote but stem from the people I am fortunate enough to call collaborators and friends. It is these encounters that continue to nourish my work in a myriad of ways.
My mother taught sociology at Glasgow University; when I was at primary school, she was writing a book about working-class women's reading interests. I remember her foisting questionnaires into my hand and asking me to get my schoolmates' mothers to fill them in. I have an ingrained image of her at the kitchen table late at night, reading, writing and smoking roll-ups. It was a pretty bog-standard Marxist upbringing; on the weekends, we were dragged to either art galleries or to protests. There was a general attitude of interest and urgency for those who had fallen through the cracks – the disaffected and marginalized. I also remember a lot of walking and foraging; after her experience of postwar rationing, my mum couldn't walk past a skip without having a look inside. This was my basic conditioning as a child growing up in 1980s Glasgow: looking for things and engaging in the fast-changing world around us.
Last year, I made a film titled Mum's Cards about my mother's handwritten index card archive. I was keen to make an equivalent homage to my dad. He was an émigré from Australia in the 1960s. He taught politics at Glasgow but spent most of his free time at the theatre and cinema and, if he could afford it, the opera; occasionally – if allowed – we would accompany him. When he wasn't at a show, he would invariably be watching television with us. It was only when I went to art school at 18 that I began to identify and appreciate some of the formative experiences I'd been exposed to through my dad: plays by Samuel Beckett, Joe Orton and Harold Pinter; films by Lindsay Anderson, Derek Jarman, David Lynch, Andrei Tarkovsky and Andy Warhol and, of course, the constant stream of creative documentaries on BBC2 and Channel 4 programmes, such as Arena and The South Bank Show. This was my film school and, in many ways, I have to thank my parents for lodging these first artistic influences in my subconscious.
I recently went to Australia and New Zealand to do a show and I met up with my dad's best friend, Dan O'Neill. Dan had kept years of correspondence with my dad, written in his semi-legible, Robert Walseresque microscript. It struck me that these letters are like archival photographs, documenting not just people and places but thoughts, ideas and feelings, often on a microsocial scale. It's thanks to Dan that this treasure trove will be the starting point for a new film.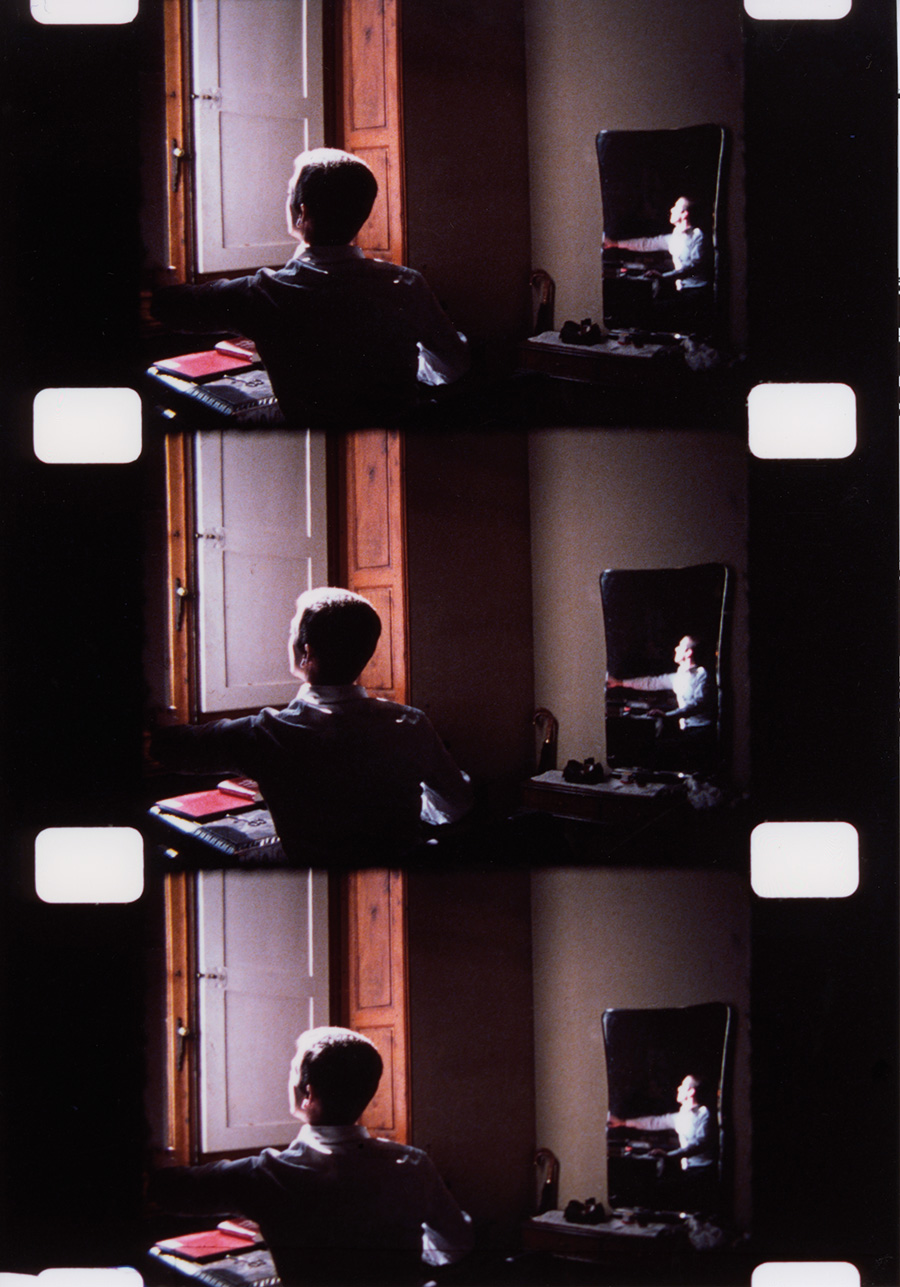 It was pointed out to me recently that texts – hand-written or otherwise – have become something of a motif in my work. One of my favourite films that features text is Robert Beavers's From the Notebook of... (1971/98). He made this extraordinary film during a stay in Venice, drawing on locations or events described in Leonardo da Vinci's notebooks (studies of human anatomy, the releasing of a caged dove), which are then rhythmically edited. This far-sighted, reflexive film – a masterpiece of editing – documents Beavers's own methodologies, from his notes to his technique of placing masks and filters in-between and in front of the camera lens. Like his mentor Gregory J. Markopoulos, Beavers worked incredibly precisely, both filming and editing on an atomic level. Whilst Markopoulos only occasionally used sound or music in his works, Beavers's films build into a rich montage – a highly crafted matrix of sound-and-image units brimming with visual and sonic metaphors and associations. Arguably, like Jarman's Blue (1993), From the Notebook of... stands as a sonic work in its own right.
I can't write about influences without sketching an ode to my hometown of Glasgow. My two loves have always been film and electronic music. When I returned to Glasgow from art school in Dundee in 2000, I decided to start a DIY record label to release the electronic music my friends and I were making. Shadazz came out of the vitality of that moment in Glasgow's art and music scenes – it seemed that everyone I knew was in a band or producing music – but it spread to the art community. Duncan Campbell, Alex Frost and Mark Vernon launched an artists' project called Radio Tuesday (which evolved into the art radio station Radiophrenia on 87.9 FM across Glasgow, now run by Mark and Barry Burns). Anne-Marie Copestake was doing her brilliant Trigger Tonic television project: she filmed interviews between local and visiting artists and musicians in egalitarian and informal encounters. Optimo redefined what a club could be and broke down the boundaries between live bands and DJs; it hosted some of the most memorable gigs I've ever witnessed. There was also a thriving experimental music scene, which often operated out of one of the punk entrepreneur Craig Tannock's venues. More unofficial DIY spaces like Le Chateau or Lucy McKenzie's Flourish nights were also active. I don't want to come across as nostalgic for a mythical past but, in those pre-internet days, there did seem to be more collaboration and exchange between artists, in part due to necessity and in part by choice. We all shared and pooled the limited resources and different skills that we had to make our art – limitations brought people together and friendships formed.
I co-ran a very short-lived club night, with people who went on to form the Glasgow institution Numbers. Some of the tracks I used to DJ with included an extended remix of Donna Summer's 'I Feel Love' (1977) and the budget Domino re-issue of Sylvester's 'You Make Me Feel (Mighty Real)' (1978). Recently, the San Francisco label Dark Entries released an incredible compilation of electronic soundtracks to gay porn videos composed by Patrick Cowley – the penny quickly dropped that these were by the same producer who had pioneered those proto-techno, hi-energy, euphoric disco tracks that we played in the club. When I was in San Francisco on a residency, I explored if it was feasible to make a film about Cowley. Unfortunately, in the limited time I had, I didn't get past the research stage, but the energy and inventiveness of his music – the way he combined galloping arpeggiated synthesizers with self-played drum parts, Maurice Tani's basslines and DIY synth-percussion – continues to be a huge influence on our disco-inspired group AMOR.
Richard Youngs has been an abiding influence on my musical life since we met in Glasgow's Hillhead Library in the early 2000s. Singing in AMOR is a fraction of what he does; having released over 130 albums, he's a bit of a one-man cottage industry. I first saw Richard perform at the Queen Margaret Union around the same time – it was a wall of noise that sounded like a swarm of bees. The next time I saw him live was at a much bigger festival, Instal, where he performed one long song called 'Life on a Beam' (2005) that started with a single Casio drone and built up and up until it became a euphoric, psychedelic chorus. 
Even though I've been playing music since I was a teenager, I still consider myself a non-musician who makes music. I don't see it as a problem – some of my favourite
music is made by amateurs or people who have no formal musical training. When I'm approaching a musical project, what I take from Richard is to do it with openness and judgement. Openness in order to explore, take risks and re-consider what could constitute music; judgement to put it down, no fussing, as a recorded statement.
I've been working with a Bolex 16mm camera for about 15 years now and am still mastering its idiosyncrasies. There is something magical about filming with a Bolex that can't be reproduced in any other medium and, in the right hands, it enables virtuosic composition. An important inspiration when I started out using the camera was one such virtuoso: the former merchant seaman and teacher Peter Hutton, who I was introduced to at Bard College. We ended up striking up a friendship which, in 2012, led me to collaborate with him and the filmmaker George Clark on a film (The Poor Stockinger, the Luddite Cropper and the Deluded Followers of Joanna Southcott) about the British socialist historian Edward Palmer Thompson's Workers' Educational Association classes in the 1940s and '50s.
The core of Peter's films is observation but not in a cinéma vérité sense: his works are too ephemeral and spontaneous to be classified as such. Rather like the farmers and mariners he filmed, Peter would diligently look at the sky, watching and waiting to see how the light would alter the landscape. He would wait for what seemed like an interminable amount of time before he shot a single frame. He waited because he didn't want to waste valuable film and because he knew that, when he started, he would hold the shot for some time – watching as patterns of movement slowly emerged. Peter believed that there is an incredible film happening constantly around us – and our job is to capture a few of its moments, as we live out our lives.
I don't have to know what it's all about.
That's not what I'm trying to know.
It's the looking that matters,
The being prepared to see what there is to see.
Staring has to be done.
That I must do.
From Margaret Tait, 'Seeing's Believing and Believing's Seeing' (1958)
When she was explaining why she favoured hand-held cameras, Margaret Tait – who was born in 1918 in Kirkwall on the island of Orkney – noted: 'I peer at things […] I use the camera to help me see the thing.' I love this sentiment; it really chimes with how I employ the Bolex. For me, it's a combination of looking closely, encircling the object and recording its multiple perspectives. In-camera editing both economizes on film and makes watching the rushes seem far closer to the finished thing. When I was in Orkney recently, researching a film about Tait, I was struck by how sublime the scenery is: the cliffs of Yesnaby, the white beaches, the ancient standing stones. Yet, very rarely do you see these types of awe-inspiring views in Tait's films. In a 1979 interview for the BBC series Spectrum, she mentions that she is far more interested in 'filming the landscape – even if it's a minute landscape – than shooting the scenery'. Her films focus on looking, looking and gathering the distinctness of things in her immediate vicinity: children, the walls of her studio, wild poppies growing by a roadside, the streets she lived on in Edinburgh, her mother unwrapping a sweet. She then edited these moments together into films that she offered back to the very people she had shot.
Structural and experimental filmmakers of the 1960s and '70s drew on their available surroundings. At times, process-based works have a lyricism to them – a good example is Guy Sherwin's beautiful untitled series of short films (1975–2014) – but, for Tait, perception and experimentation were not ends in themselves. She was an unusual artist, being both a poet and a filmmaker, yet she refuted the categories of documentary and the avant-garde. Her contemporaries John Grierson and Norman McLaren are giants of Scottish film, yet Tait is hardly known outside of her native Orkney: how can that be? The Tait centenary events (organized by Sarah Neely) have done a huge amount to address this blind spot – but still only a fraction of her completed films is available to hire on 16mm with no definitive restoration project planned. If Tait came from a place that valued its cine culture, this would have happened years ago. The intention of my film is to look more closely at her work and how it was perceived at the time. I hope to do this without ignoring the challenges she faced as a woman making independent films in Orkney and Edinburgh. In many ways, Tait's unorthodox, one-woman films make her the natural mother of artist filmmaking in Scotland – and beyond.
This article first appeared in frieze issue 206 with the headline 'My Influences: Luke Fowler'.  
Main image: Margaret Tait on the set of 'Blue Black Permanent', 1992. Courtesy: the estate of Margaret Tait and Orkney Library and Archive