Featured in
The Art World Finally Wakes Up to Caroline Coon
A new exhibition at Tramps reveals 40 years of hidden painting
Two years ago, Caroline Coon contemplated giving up painting. At 72, no one wanted to exhibit her works and her studio in London's Ladbroke Grove was becoming so full of canvases, amassed over 40 years, that she considered putting them out on the street. Like many female artists of her generation, Coon had been overlooked by a patriarchal art establishment that canonized men and ignored women. 
Last year, after a recommendation from an artist friend, Duggie Fields, The Gallery Liverpool offered Coon her first-ever solo exhibition, 'Caroline Coon: The Great Offender'. The title spoke to Coon's counter-cultural roots; in both art and life, she has consistently railed against injustice, protesting the criminalization of sex work and racist 'stop and search' police policies, amongst other issues. The exhibition led to an interview in the Guardian newspaper that, in turn, prompted Peter Doig and Parinaz Mogadassi, the owners of Tramps gallery, to offer Coon a show at their east London space.  
Retaining 'The Great Offender' title, the Tramps exhibition presents 14 exquisitely rendered figurative paintings from Coon's extensive back catalogue, many of which have not previously been shown. At the entrance to the gallery, hangs a seemingly innocuous depiction of a familiar sweep of terraced houses, disappearing into the distance over the brow of a hill. In the lower right-hand corner, a suited man descends through a doorway carrying a briefcase. I was surprised to learn that Cambridge Gardens: On Anywhere Street He Slips Unnoticed … (2013/14) is, in fact, a work from Coon's 'Brothel Series' (1987–ongoing), the impetus for which she tells me is 'stopping violence against women'. Here, the violence is inferred, but other works in the series, such as Choosing – Before the Parade (1998), are more explicit. Inhabiting brothel interiors, spaces traditionally depicted by male artists, the paintings offer a rare female perspective on the sex industry.
Combining autobiographical references with art-historical and biblical motifs, Coon's paintings can be seen as meticulously considered allegories. In The Family (1996), she turns the old-fashioned notion of the nuclear family literally on its head. The canvas is legible on both horizontal axes: one way up, it depicts a typical domestic scene, with frazzled parents and bickering children; inverted, an empty, upright chair sits beneath a distant window. Here, Coon exposes the myth of the traditional 'happy family', conjuring the home as a site of raw sadness for many people. 
In Self with Delphinium Age 70 (2016), Coon stands naked, clasping the titular tall blue flower in her hand, staring defiantly out of the painting. The delphinium is a tribute to her friend, the actress Julie Christie, an early fan of Coon's work. In the background, a prepared canvas gives some indication of the geometric skeleton that underpins her compositions. In this staggeringly honest work, Coon positions herself in a lineage of great female artists. The finely detailed hand is redolent of Robert Mapplethorpe's 1982 photographic portrait of Louise Bourgeois (1982), while her stance recalls Thérèse Bonney's photograph of Tamara De Lempicka at her easel (c.1928).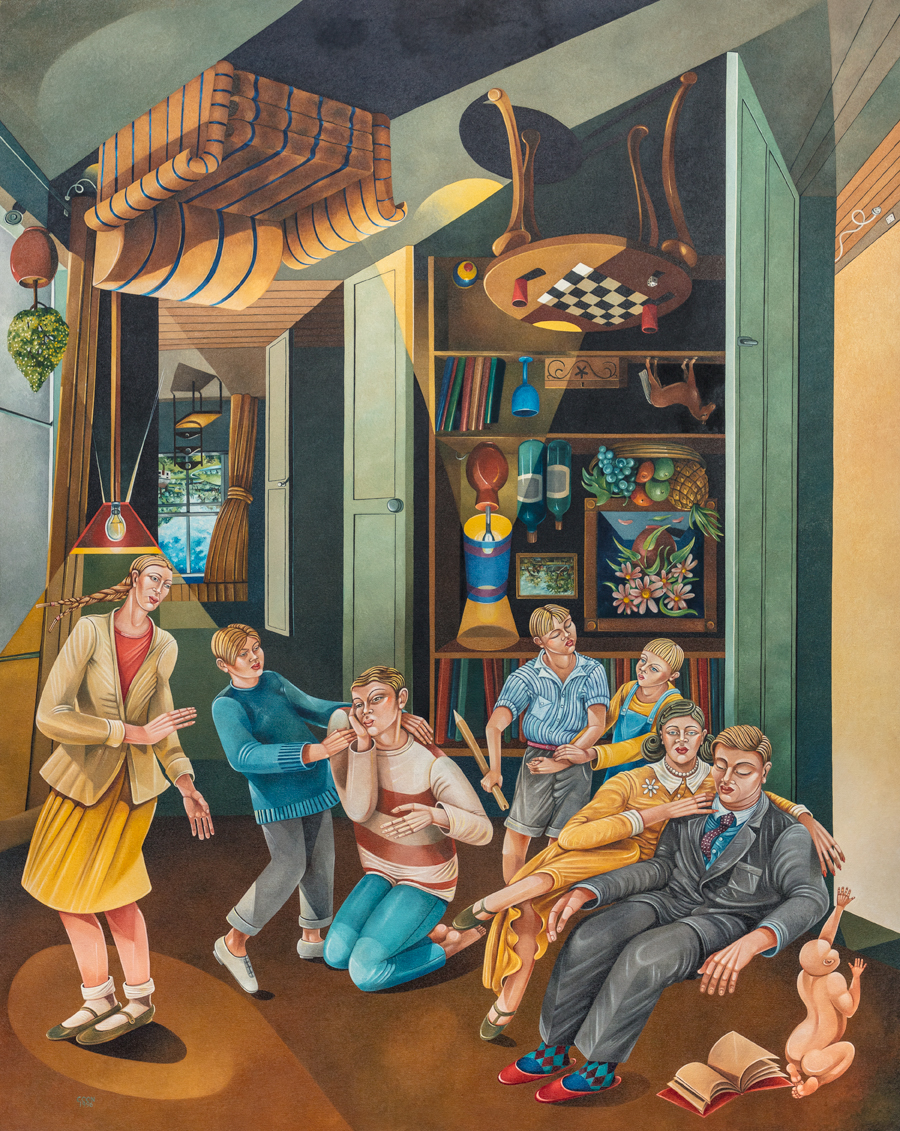 In her introduction to the exhibition catalogue, Mogadassi celebrates how Coon's paintings transcend her illustrious biography. Although this is true, the artist's historical activism adds to the sense that the paintings are tactical, conceived with deep empathy towards the female experience and a desire to smash oppressive patriarchal structures. As institutions attempt to correct the erasure of women in art history, many older artists have experienced a renaissance of interest in their work. As Coon tells me, the experience of finally revealing her intimate images is both exhilarating and daunting. 
Main image: Caroline Coon, Choosing – Before the Parade, 1998, oil on canvas 1.2 × 1.5 m. Courtesy: the artist and Tramps, New York and London; photograph: Richard Ivey