An Artist's Guide to the Best in Berlin, Basel and Beyond in 2018
The Berlin-based artist Veit Laurent Kurz shares his favourite shows of the year
'Bruce Nauman: Disappearing Acts' at Schaulager, Basel
Bruce Nauman's retrospective included more than 150 works from the mid-1960s until today. The exhibition, which travelled on to New York's MoMA, gathers drawings, photographs, sculptures, videos and sound pieces as well as most of Nauman's monumental installations. The concluding work, in which Nauman repeatedly attempts and fails to arrive at a contrapposto, continues his morbid trajectory towards the reality of his aging body.
'Carona', curated by Oskar Weiss and Arthur Fink at Gallery Weiss Falk, Basel
This exhibition brought together drawings, recording, videos, texts and books that were connected to the communal life and scene around Carona, Switzerland, in the 1970s. Throughout the 20th century, the small Ticinese village of Carona was an artistic and counter-cultural node where figures such as Hermann Hesse, Meret Oppenheim and David Weiss spent important parts of their working lives. The exhibition – which included works by Anton Bruhin, Hesse, Matthyas Jenny, Urs Lüthi, Oppenheim, Markus Raetz, Iwan Schumacher, Peter Schweri and Weiss – composed a narrative and homage to this 'mystical' place and the utopian longings that were released in this environment.
Ellen Cantor's 'My Perversion is the Belief in True Love' at Isabella Bortolozzi Gallery, Berlin
The exhibition gathered drawings, sculptures and photographs of Ellen Cantor, who lived between New York and London. Cantor, who died in 2013, wove sexuality, violence, innocence and obsession – often humorously – into intimate tales. Concerned with the themes of female representation, she resonates with a generation of young artists who continue to find excitement and inspiration in her feminist work. Visceral and direct, through its curation the artist's voice was strongly present. 
'Forschungen an den Rändern der Schrift' – Michael Oppitz at Galerie Buchholz, Berlin
This ambitious exhibition was dedicated to the life, studies and research of anthropologist Michael Oppitz, who from the 1960s researched local communities in different geographic regions of the Himalayas from the 1970s. The exhibition concentrated on material that gathered over 50 years around four societies of the region, the Sherpa (in northeast Nepal),  Magar (in northwestern Nepal), Naxi (in Yunnan, China) and Qiang (in Sichuan, China). The exhibition – which opened before an exhibition that concluded this month at Cologne's Kolumba Museum – took a departure from questions of text and writing, showing how these groups struggle against the standardized writing systems imposed on them from Nepal and China. But it encompassed, too, the utopian vision of paradise that emerged in the Tibetan Plateau, all while providing primary experience with Oppitz's notes, drawings and various collected objects.
'Memories of Utopia: Jean-Luc Godard`s "Collages de France" Models' at Miguel Abreu Gallery, New York
In 2003, Jean-Luc Godard began making models for a large exhibition he was to stage at the Centre Pompidou, called 'Collage(s) de France' – the show never took place, but the models were realized by Godard between 2003 and 2005 as a fictional walkthrough of the exhibition that never took place. This exhibition at Miguel Abreu displayed the models: 18 maquettes, dollhouse-like miniatures capturing political and artistic views of his life, thoughts and oeuvre, from Freud, the cinema and media and onward. The maquettes offered a surprising view of how the filmmaker maps ideas beyond the medium through which we mostly know him.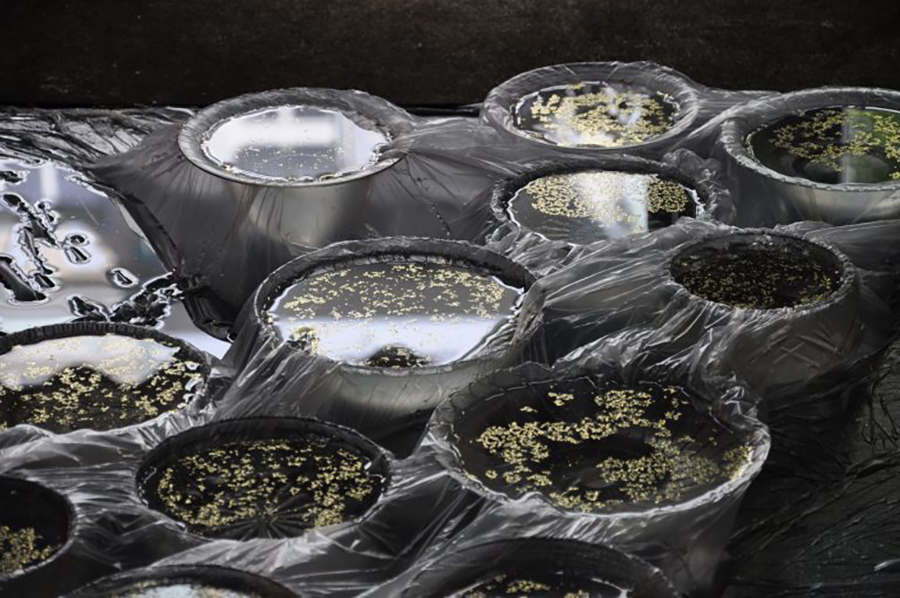 'Pétroleuse' by Rochelle Goldberg at Éclair, Berlin
At Éclair, a young non-profit space in Berlin, artist Rochelle Goldberg created a cavernous installation out of glass bowls, rotten root vegetables, bronze-cast matches as well as a guarding Mary figure. The installation extended the architecture of Éclair into an unravelling and necrotized landscape, creating a poetic narrative that resembled, to quote the artist in an earlier exhibition, an 'underground grotto protecting its fire' or a 'corridor which goes up (or rather goes down) out of the cave toward the sight of day'.
 'True Stories, A Show Related to an Era – The Eighties: Part II' curated by Peter Pakesch at Max Hetzler Gallery, Berlin
The 1980s was a decade full of contradiction and change, also with regards to artistic individuality. The era released energies that were productive for artistic practices and defined the end of 'the end of art'. The exhibition included works by Werner Büttner, Günther Förg, Isa Genzken, Robert Gober, Felix Gonzalez-Torres, Mike Kelley, Cady Noland, Albert Oehlen, Richard Prince, Cindy Sherman, Rosemarie Trockel and many others.
Main image: Bruce Nauman, Model for Trench and Four Buried Passages, 1977, installation view, Glenstone Museum, Potomac. Courtesy: © Bruce Nauman, and ProLitteris, Zurich; photograph: Tom Bisig