Featured in
'Artists in a Time of War' Alleviates Despair
A group show at Castello di Rivoli explores the cultural impact of conflict via the works of artists who have witnessed it
Presenting more than 140 works by 30 artists born between 1746 and 1995, 'Artists in a Time of War' traces how artists have historically transformed the traumatic experience of conflict into works that serve not only as testimony but as catharsis. Curated by Carolyn Christov-Bakargiev and Marianna Vecellio, the exhibition goes beyond the economic and political implications of war to address the lingering cultural, psychological and philosophical dimensions of combat through both artworks and a dense array of archival material.
In the first room, Francisco de Goya's engraving series 'The Disasters of War' (1810–20) – famous for the artist's unsparing depiction of the monstrous reality of the Peninsular War – is juxtaposed with harrowing drawings made secretly in Dachau concentration camp during World War II by Zoran Mušič ('Dachau', 1945), who told Michael Peppiatt in a 1995 interview that he only understood Goya after what he saw while imprisoned in the camp. Focusing on the devastating effects of fascism and World War II, this section of the exhibition continues with Dora Maar's photographs of Pablo Picasso painting his anti-war masterpiece Guernica (1937) during the Spanish Civil War, and Lee Miller's photographs of the liberation of the Buchenwald and Dachau camps, as well as her infamous self-portrait taken in Adolf Hitler's bath on the day of his suicide on 30 April 1945. Nearby, a semi-abstract painting by artist and psychoanalyst Bracha L. Ettinger similarly deals with trauma and transference. Medusa – Rachel – Pieta (2017–22) layers a series of haunting events across generations: from the murder of Ettinger's Jewish aunt in the Baltic Sea at the hands of Nazis during World War II to her own near-death experience aged just 19, when the 1967 Arab-Israeli War broke out during her military service.
Although the exhibition predominantly focuses on conflict in Europe, there are some exceptions. These include Iraqi-American artist Michael Rakowitz's stop-motion film The Ballad of Special Ops Cody (2017), in which a toy action-figure in US military uniform – voiced by Iraq veteran Gin McGill-Prather – encounters Mesopotamian votive figurines in the Institute for the Study of Ancient Cultures, West Asia & North Africa. Suffering from PTSD, the soldier apologizes to them eye-to-eye for crimes committed against the Iraqi people in a heart-wrenching monologue, before joining them in their vitrine.
While Rakowitz speaks through surrogates as an attempt to cope with and heal the atrocities committed in his ancestors' homeland, the show also features two new works commissioned by artists that reside in or have fled active war zones. Nikita Kadan, who works between Kyiv and Bucha in Ukraine, presents the two-storey installation Shelter II (2023), which draws on news photographs from the artist's war-torn homeland. Every Tiger Needs a Horse (2022–23), by Afghani artist Rahraw Omarzad, is an installation of six, large-scale, black and white canvases created in a controlled explosion at a military base in Piedmont, where paint-filled balloons were blown up with dynamite. Despite being created by a weapon of war, the resulting dynamic abstract paintings resemble galaxies of breathtaking beauty. Here, Omarzad – who fled Afghanistan in autumn 2021 with the help of Castello di Rivoli and the Italian government – continues a trajectory of artists employing chance and destruction as both creative and therapeutic devices, from Gustav Metzger's auto-destructive art of the early 1960s to Niki de Saint Phalle's series of 'Shooting Paintings' (1961–70).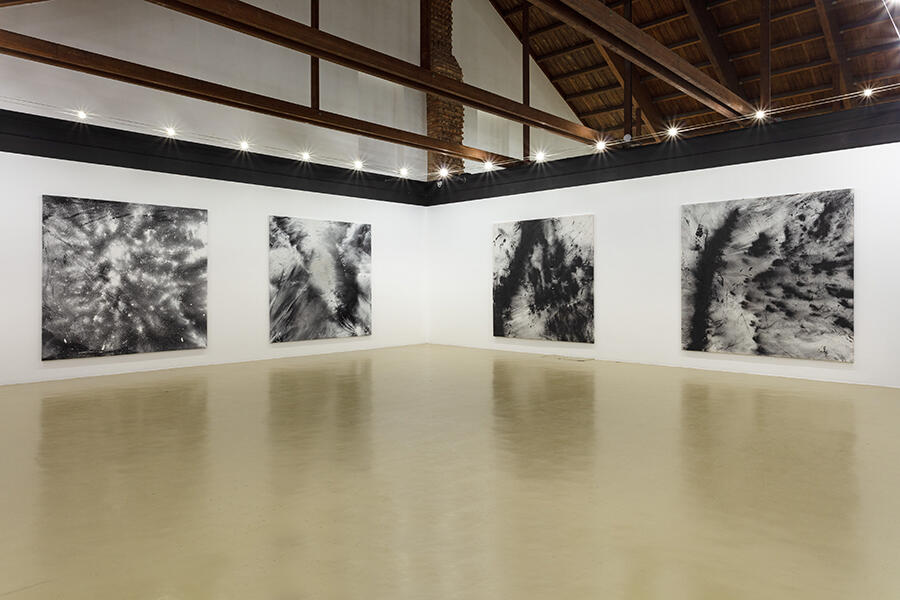 'Artists in a Time of War' is by no means a completist attempt to catalogue all the conflicts that have shaped the past 250 years but, by drawing intuitive connections and unearthing marginal histories, it explores war as a cultural phenomenon beyond politics and as a force that has driven artists to produce their most powerful works. The implication is that, regardless of the severity of the conflict, art can offer a path to healing.
'Artists in a Time of War' is on view at Castello di Rivoli Museum of Contemporary Art, Turin, until 19 November.
Main image: Francisco de Goya, 'The Disasters of War', 1810–20, installation view. Courtesy: the artists and Castello di Rivoli; Photo: Sebastiano Pellion