Featured in
Bárbara Wagner and Benjamin de Burca's Five Views of Brazil
The duo's solo exhibition at the New Museum, New York, shows multiple facets of Brazilian identity
Bárbara Wagner and Benjamin de Burca's first moving-image work, Faz que vai (Set to Go, 2015), is titled after the Brazilian expression Fas que vai mas nao vai, which refers to a fundamental dance step in frevo, a form of dance from Recife, Brazil, where the performer suddenly interrupts a forward movement and jumps in the opposite direction. It could translate to something like 'Do as if you go, but don't', or 'Pretend you are going', though the impossibility of properly expressing the phrase in English speaks to the limits of translating culturally specific forms of expression across languages, classes and geographies.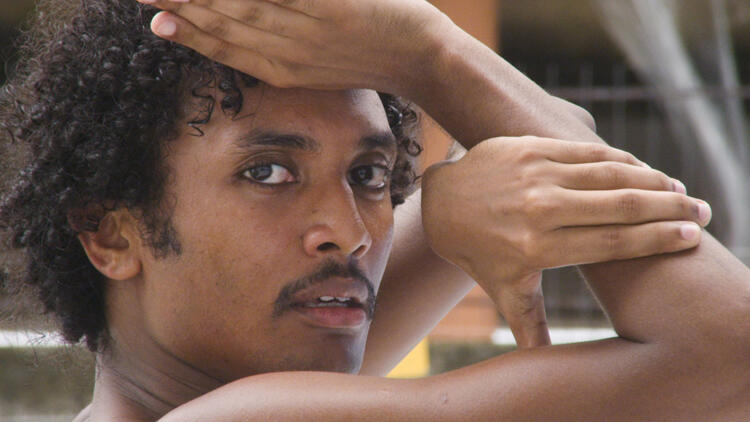 Wagner and de Burca have been creating films and video installations about cultural production specific to Northeast Brazil for almost decade. The duo collaborates with dancers, singers, preachers and other performers to create portraits of modes of resistance by historically disenfranchised communities. Though their works share common threads of community and kinship, the five films on view in 'Bárbara Wagner and Benjamin de Burca: Five Times Brazil' do not produce a single narrative of Brazilian identity but instead show an entanglement of lived experiences across various kinds of performance.
Faz que vai focuses on four dancers – each of whom were invited to select their own wardrobe and music, and come up with a unique frevo dance. In the resulting film, the dancers don outfits ranging from simple brown slacks to bright-pink carnivalesque drag as they perform to an instrumental experimental frevo score composed by Orquestra Bomba do Hemetério. Beyond depicting frevo as a living, constantly transforming art form, the strength of Faz que vai lies in the way it centers the self-representation of its subjects. Each of them moves with hypnotizing precision to a vocabulary the audience lacks the tools to decode. This dissonance is heightened when the dancers freeze in position at the end of each sequence, holding the viewer's gaze with the implication that our view of them is necessarily mediated and partial.
During their research for Faz que vai, Wagner and de Burca came into contact with swingueira, a popular dance tradition in Recife for which groups of ten to 50 people train rigorously to perform in annual competitions. In the two-channel video work Swinguerra (2019), theatrical red lighting illuminates two screens that offer dual perspectives of three dance collectives rehearsing for the competition. Oscillating between courtship and competition, the movements of the predominantly Black trans performers in the video feel like a vital means of being seen, sexualized and empowered – particularly under the growing conservatism of president Jair Bolsonaro's militaristic regime.
The exhibition's chronological midpoint and the most controversial of Wagner and de Burca's works, Terremoto Santo (Holy Tremor, 2017), explores how labour, politics and spirituality are intermingled. Although set in a Pentecostal evangelical church in the predominantly working-class Brazilian state of Pernambuco, as the duo has said repeatedly, the film is about class rather than religion. Disrupting the commonly held view of evangelicals as naïve receptacles of neocolonialist indoctrination, it portrays gospel singing as a form of empowerment for a historically vulnerable community, as an economic alternative to the manual labour that constitutes the predominant form of employment in the region.  
Manual and creative labour converge in the final sequence of the film: a construction worker pauses his work on a half-finished church, removes his hard hat and proceeds to sing on the pulpit he has presumably been building. The emotional intensity of his performance either coincides with an earthquake or causes one, proposing, as do all of Wagner and de Burca's films, that music can be a disruptive shock – an opening for alternate ways of thinking and feeling.
'Bárbara Wagner and Benjamin de Burca: Five Times Brazil' is on view at the New Museum, New York until 16 October 2022.
Main image: 'Bárbara Wagner and Benjamin de Burca: Five Times Brazil', 2022, exhibition view, New Museum, New York. Courtesy: New Museum; photograph: Dario Lasagni