Bergen Assembly's Second Triennial
The latest projects from the long-duration edition, including Lynda Benglis and Marvin Gaye Chetwynd
Though it's known as one of the rainiest cities in Europe, Bergen's history is inextricably linked with a series of fires that has repeatedly destroyed the city's historic wooden buildings between 1702 and 1955. As one of the oldest port cities in Northern Europe and the second largest city in Norway, tales of fierce fires and chilly Nordic weather have not deterred the citizens of Bergen and its city council from establishing an international contemporary art exhibition. In 2009, the Bergen Kunsthall convened the Bergen Biennial Conference to examine proposals for a new Norwegian biennale. The conference's title was its own bold statement: 'To biennial or not to biennial?' The result was the decision to adopt a flexible, triennial format, as well as the publication of The Biennale Reader, which has since become a sort of 'bible' among curators.
Though Bergen Assembly's First Triennial in 2013 – curated by Ekaterina Degot and David Riff – was well attended, it apparently left the local press with some doubts about whether a second triennial would be warranted. That may be why this year's team has opted for a community-based approach, featuring a year-long programme of events (which will culminate with the triennial's opening in September). This February, the Assembly programme opened with a workshop by Glasgow-based artist Marvin Gaye Chetwynd and a concurrent exhibition of Lynda Benglis's works from the mid 1970s. Both events were curated by the Berlin-based duo PRAXES (Rhea Dall and Kristine Siegel) – one of the three 'conveners' appointed for this year's Bergen Assembly, along with Lebanese artist and composer Tarek Atoui and the collective freethought (comprising curators, writers and theorists Stefano Harney, Adrian Heathfield, Massimiliano Mollona, Louis Moreno, Irit Rogoff and Nora Sternfeld).
The projects found a lively, receptive and attentive local audience. Art students from Bergen's University animated the party following Chetwynd's workshop at Landmark, a space devoted to live music and cultural events in the small arts district in the city centre. The artist originally designed Iron Age Pasta Necklace Workshop (2002–ongoing) for her mother, the Oscar-winning production designer Luciana Arrighi. Here, Luciana sat atop an altar, playing the role of deity. Participants who wished to offer her their handmade 'jewels' queued in a colourful procession, whilst Luciana's 'Discerning Eye' judged what they had produced. Throughout the year, Chetwynd plans to collaborate with the local elderly community, whom the artist considers crucial to the city's history and the founding of its art scene. She plans to produce two new performances with her collaborators, to be presented at the end of the month and in September.
On the night of Chetwynd's pasta workshop, the exhibition 'Lynda Benglis: Primary Structures (Paula's Props)' opened at KODE Art Museum, in the first of a series of six exhibitions devoted to Benglis. This first show was based on Benglis's 1975 exhibition at Paula Cooper Gallery in New York. The gallery featured a 'stage' presenting various objects – velvet cloth, broken columns, a toy car, ficus trees – a suggestive constellation that reminded me of the influence of Benglis's object-based works on today's contemporary artists. From 9 April, Benglis's new ceramic works will also be exhibited for the first time in Europe in a former grain storage at the Bergen School of Architecture. 
Throughout the Assembly, the collective freethought will be investigating the term 'infrastructure' and the ways it can be used in creative and critical contexts. On 19 February, the group hosted a conversation with novelist Tom McCarthy, who was invited to reflect on the idea. Their 'Museum of Burning Questions' and 'The Partisan Café', both sited in the former Brandstation in Bergen, host a series of public conversations and meetings. Today, the building is occupied by retired firemen who are fighting to realize a Fire Museum – a plan that has been in the works since 1916. The Museum of Burning Questions is only one of the frames within which freethought is working on the Bergen Assembly. The collective is also working on a summit to take place in September. 
Concurrent with freethought's year-long programme, musician and electro-acoustic composer Tarek Atoui is working with local hearing-impaired people, in collaboration with local educational and music local institutions, the Bergen Deaf Center, and Paris-based curatorial duo Grégory Castéra and Sandra Terdjman. Together, they will expand the idea of Atoui's project WITHIN (2013): a multipartite musical composition first produced for the Sharjah Biennial, and originating from the artist's residency in the UAE. The work follows a series of conversations with music students and teachers. By dealing with the ways people with disabilities can rethink their experience of music and sound, the collaborators will build customized electronic instruments and perform ultra-low frequencies that are made audible through bodily sensations or vision, for example.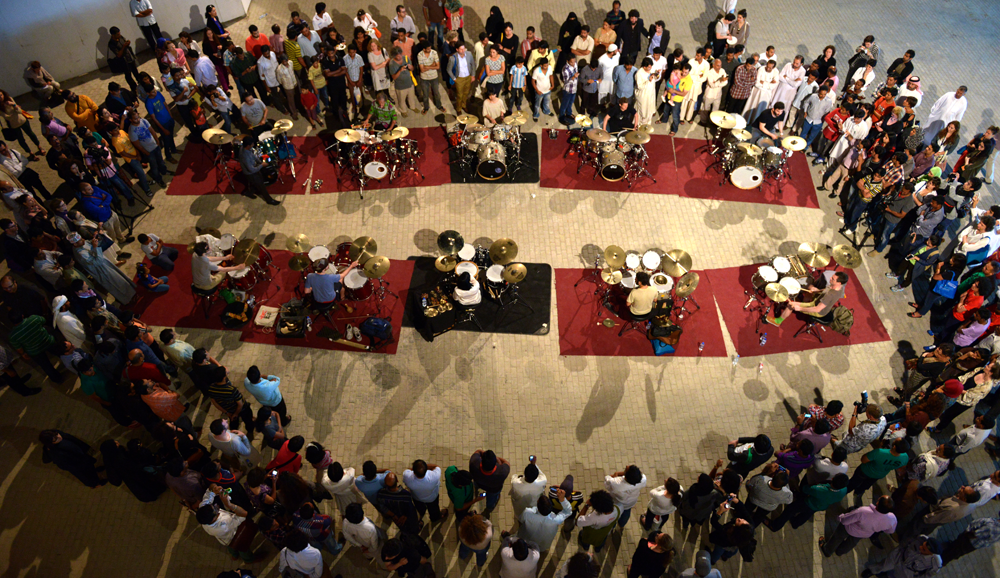 For more than 365 days, these three different groups of artistic directors will shape the Bergen Assembly's Second Triennial programme, spreading across an increasing number of venues, gathering more 'assembled' participants. Though visitors may find it difficult to keep up with the generous list of events, taken together, the elements merge to form something like a single work in progress. The events are meant to unfold in a continuous discourse, initiated by the artistic directors and delivered to the public, ideally to be sustained by their participation. Ultimately, they will determine how and whether the events develop and take place.