Briefing
The National Endowment for the Arts is safe for now; Vito Acconci has passed away aged 77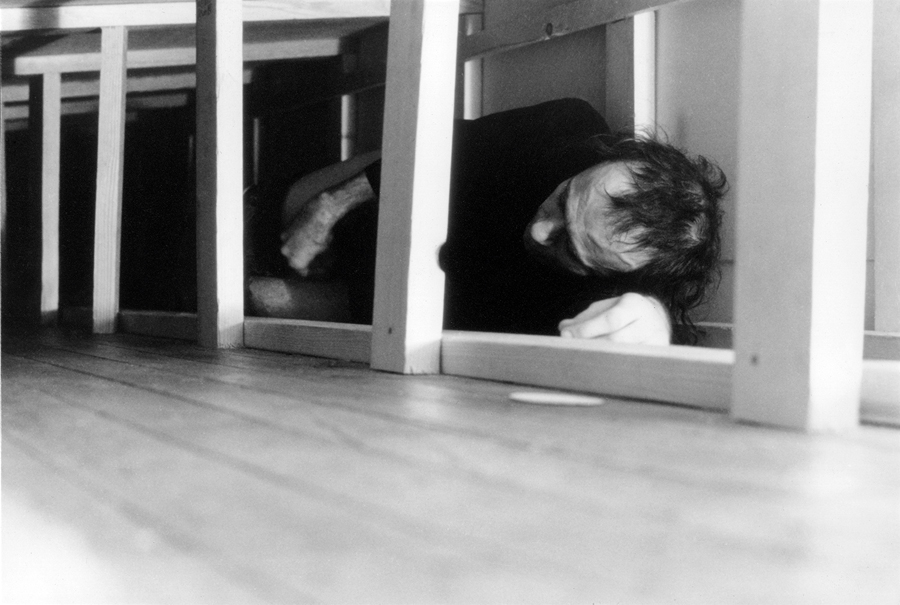 Vito Acconci has died aged 77.  Born in the Bronx in 1940, over the course of his mainly performance-focused career he explored themes of the human body and its relationship to public space. In the 1970s he created works reflecting his interest in architecture, landscape and furniture design, and in the 1980s he began making sculptures that required viewer activation. Acconci is perhaps best known for his work Seedbed a piece he first performed at Sonnabend Gallery in New York in between 15–29 January in 1972. For the duration of the show Acconci installed himself underneath a low wooden ramp which merged with the floor and proceeded to masturbate while voicing fantasies about the visitors walking above him which were heard through loudspeakers in the gallery. Other notable works include Following Piece, 1969, in which he followed pedestrians on the street until they entered private spaces; Information, 1970, for which Acconci had his mail delivered to New York's MoMA and went there every day to open it; Openings, 1970, a video framing the artist's stomach as he pulls out his body hair; and Trademarks, 1970, a performance during which Acconci bit every part of his body he could reach. Acconci has received multiple fellowships from the National Endowment for the Arts, as well as from the John Simon Guggenheim Memorial Foundation and the American Academy in Rome. He was also awarded an International Sculpture Center's Lifetime Achievement Award in 1997 and two New York City Art Commission Awards for Excellence in Design in 1999 and 2004. From the frieze archives read an interview with Acconci here and a profile of his practice here.
Good news for the NEA. Under the US budget agreement passed by Congress yesterday, both National Endowment for the Arts (NEA) and National Endowment for Humanities NEH) funding will continue, for the time being – and even enjoy a modest increase compared to 2016 levels. Despite President Donald Trump announcing his intentions to defund both the NEA and the NEH in his proposed budget for the federal government in March, the new budget allocates USD$150 million each for the NEA and NEH, which marks a $2 million increase respectively from 2016. Congress is expected to pass the budget on 5 May. The arts community was outspoken in its opposition to Trump's efforts to defund both bodies with artists including Jasper Johns, Marina Abramović, and Julian Schnabel among the hundreds of thousands who signed a petition from PEN America calling on the government to save the two organizations. Frieze, along with a number of other arts organizations, has supported the Americans for the Arts Action Fund campaign which advocates for continued arts funding in the US.
Cornelia Parker has been named Official Artist of the 2017 UK General Election for which she will observe the election and produce a unique work of art in response to her experience of the campaign. Her final artwork will join the Parliamentary Art Collection later in 2017. Alison McGovern MP, Chair of the Speaker's Advisory Committee on Works of Art, said: 'I am delighted that my Committee has chosen Cornelia Parker as Parliament's official 2017 election artist. She's the first woman artist to take on this role and it'll be really exciting to see how her ideas for this artwork develop over the campaign period.' The role of election artist was created in 2001 by Tony Banks, the then chairman of the parliamentary arts advisory committee. Mr Banks said in 2001 that recording an election on canvas was something that had not been done recently. 'It just occurred to me that we have war artists, so why not have an election artist?' You can follow Parker on Instagram @electionartist2017.
Gabi Ngcobo, the curator of the 10th Berlin Biennale for Contemporary Art, has invited Moses Serubiri, Nomaduma Rosa Masilela, Thiago de Paula, and Yvette Mutumba to form her curatorial team. Graphic designer Maziyar Pahlevan will create the visual identity for the biennial. According to the biennial's website, each member of the team has 'ongoing, malleable, and open-ended research interests' and their creative output 'continuously reflect historical and current shifts and their uneasy entanglements.' They have also worked previously with Ngcobo on various initiatives. Opening in June, 2018 the biennial 'proposes a plan for how to face collective madness.'
Francesco Manacorda has been announced as the new artistic director of V-A-C in Moscow. Currently artistic director of Tate Liverpool, which he joined in 2012, Manacorda will join the Foundation founded by billionaire oil tycoon Leonid Mikhelson and 'dedicated to the international presentation, production and development of Russian contemporary art', in September. V-A-C is currently restoring a palazzo in Venice, which will become a permanent exhibition and education space for the foundation from Spring 2017 and work is underway in Moscow to build V-A-C's new headquarters, GES-2, designed by Renzo Piano and due to open in 2019.
Hauser & Wirth will represent Romanian artist Geta Brătescu in collaboration with her longtime dealer Marian Ivan of Ivan Gallery, Bucharest. The 91 year old Romanian conceptualism often explores themes if identity, gender, and dematerialization in her works and is representing Romania at this year's Venice Biennale. Hauser & Wirth will present an inaugural exhibition of her works at its 22nd Street space in New York in November.
Gladstone Gallery announced it will represent the estate of Robert Mapplethorpe in New York. An exhibition of his works will be presented by the gallery at its 515 West 24th Street location in the spring of 2018. 'Robert was one of my closest friends, and we worked on a series of portfolios together in the 1980s,' Barbara Gladstone said in a statement. 'His work and his personality made a profound and eternal impact on my life, and we are thrilled to support the efforts of his foundation to ensure his spirit is kept alive and that he remains one of the world's most influential artists of the twentieth century.'
The Smithsonian's Archives of American Art has been awarded a USD$575,000 grant from the Henry Luce Foundation in support of a three-year collecting initiative that aims to increase its holdings of African American art. 'We are delighted to receive this generous grant from the Henry Luce Foundation to bolster our collections by and about African American artists and make them available to the world at our headquarters in Washington and digitally,' said director Kate Haw. The grant will fund a new three-year term position for a full-time African American art collector who will work with the archives to secure new acquisitions as well as paid summer internships.