Featured in
Children of the End: Daniel Lie's Cycle of Life and Death
At Casa Triângulo, São Paulo, a fully biodegradable installation highlights society's wasteful patterns of consumption
I was first struck by a pungent smell upon entering Daniel Lie's second solo exhibition, 'Filhxs do Fim' (Children of the End), at Casa Triângulo: a two-part installation that celebrates the power of ritual transformation and the cycle of life and death. While not entirely unpleasant, the enigmatic scent was an unexpected by-product of the show's perishable, immersive environment, fashioned from suspended jute sacks held together by hemp ropes to form soft, thick tubes filled with earth and germinating line seeds, which drape from the ceiling to a stretch of floor fringed with palm fronds. Bunches of flowers, foliage and spices have been hung to dry from the organic folds. Fungi have begun to sprout on large, water-filled earthenware vases, in which some of the jute-tubes dip. Batik flags in warm, earthy tones, boasting figurative images, rustle in the breeze that occasionally blows through the gallery doors. Hung up high, they appear in close dialogue with the red, yellow and orange stripes painted on the top half of the otherwise white gallery walls. Bales of hay have been provided for visitors to sit upon and contemplate the installation's simultaneous bloom and decay. Unlike earlier works by Lie, in which he used crystals or placed live plants in plastic casings, 'Filhxs do Fim' contains no manmade fibres; at the end of the exhibition, its biodegradable materials will be discarded, generating no waste.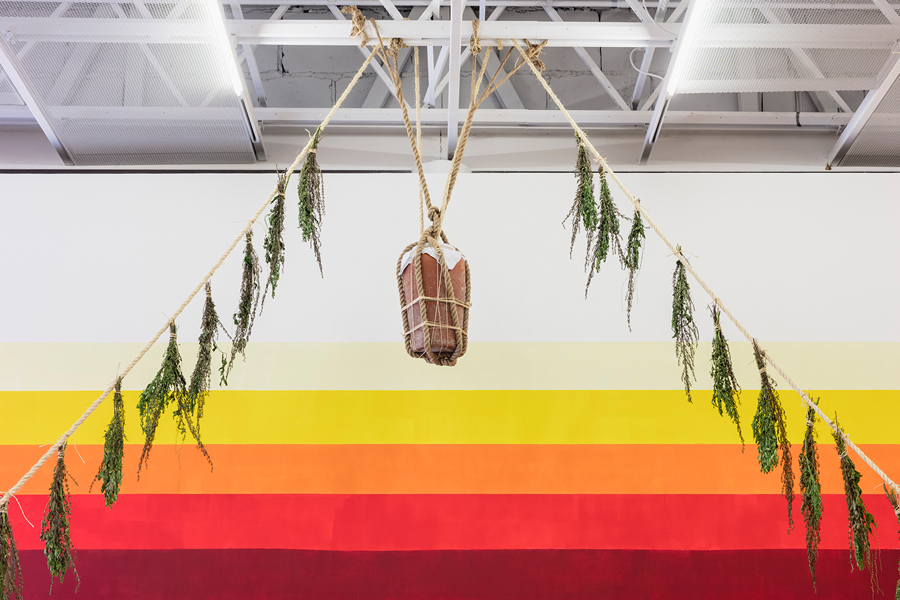 A dark batik flag bearing the circular image of an ouroboros – a mystical serpent devouring its own tail, representative in different cultures of life, death and renewal – hangs above a large bunch of roses and other flowers, behind which the four soft tubes gather, sheltering another earthenware vase bearing a single white rose that wilts atop a white cloth. Often offered in celebration of life, roses are also a symbol of mourning. Lie plays with the symbolic ambiguity of these flowers to highlight his biodegradable environment's role as a monumental altar. Lie is known to lace his work with references to his ancestry and different faiths: he has familial roots in Indonesian, Chinese and Brazilian cultures and is heavily influenced by Hindu, Buddhist, Candomblé and Catholic traditions, some of whose symbols appear on three other flags. The work also recalls the performative installations by a generation of formative Brazilian artists, such as Tunga and Ernesto Neto, as well as the subversively participatory aspects of work by Lygia Pape and Lygia Clark from the 1960s and later. In an adjacent gallery, a table covered in spices, foliage and ceramic vessels, custom-made with ceramicist Sofia Oliveira, explores these interests on a more intimate scale.
Lie's alluring work, presented here in a commercial gallery, leaves little behind for purchase or later display. On view during Brazil's Carnival celebrations and the beginning of Lent – a time when traditionally Pagan follies preamble Catholic abstinence, contrasting vice and virtue, life and death – the show seems to draw on these paradoxical unions to comment on contemporary society's excessive and wasteful patterns of consumption.
Main image: Daniel Lie, 'Filhxs do Fim' (Children of the end), 2018, installation view, Casa Triângulo, São Paulo. Courtesy: Casa Triângulo, São Paulo