Featured in
Cindie Cheung Captures Childhood Between Pose and Picture
At TG, Nottingham, a selection of photographs from the late 1990s raises questions about self-portrayal in a time before Instagram 
Aged ten, in the late 1990s, I won a Blue Peter badge as a runner up in a photography competition. I never knew which of the three photographs I entered to the long-running children's television show garnered the accolade. I still remember two of them clearly: a proto-constructed-photography set-up of Premier league football stickers on the back lawn, their oblong flatness shot from ground level, surrounded by blades of grass; and my younger sister, willowy, practising ballet poses in the garden. In my head, it is evening, gloaming, and her raised arms cast long shadows across the patio.
Cindie Cheung was born in 1984, a few years earlier than me. The dreamy, sun-kissed girls that appear in soft focus in 'a Selection of Photographs from 1995 to 1997' at TG in Nottingham are cooler, more self-possessed than my sister and I, playing at primas, in the pictures I was taking at roughly the same time. On the cusp of teendom, they are trying out different roles. Julie 3 (1997/2018), lying on a butterfly-strewn turquoise duvet cover, gazes into the distance as if practising the uncertain wait for the return of a lover; Siggie 1 (1996/2018), striking in black and white, looks away from the camera. Lips parted, eyebrows plucked; soft shadows fill the hollows of her collarbones. She looks like a movie star.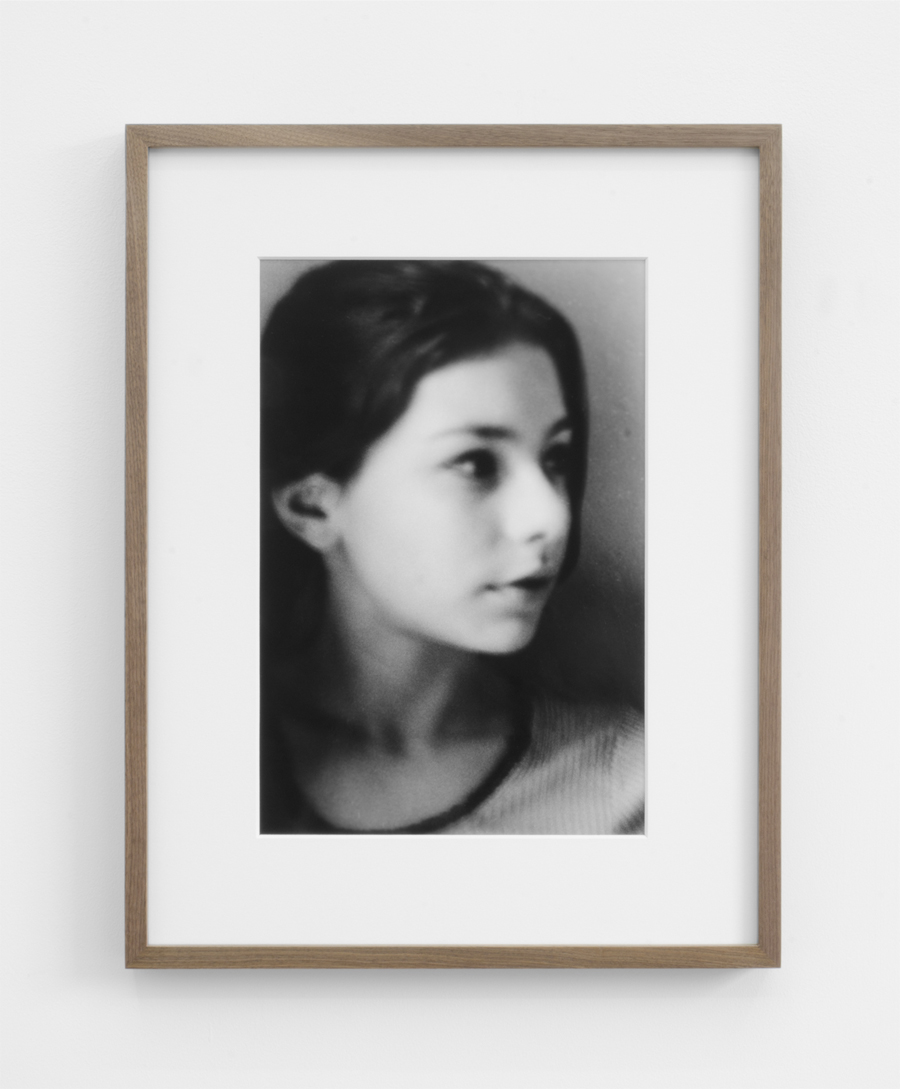 The four girls who recur in the nine small, framed prints at TG are childhood friends of Cheung, who took the photos while playing outside or at sleepovers in the Aarhus suburbs where she grew up. The images, which have been handprinted by the artist using a darkroom, are from a much larger archive of negatives. (Cheung taught herself to colour print in a darkroom specifically to produce this series.)
They capture, in both the poses of their subjects and the precociously skilled composition of the shots, girls becoming aware of the importance of their images. If, as Craig owens wrote in 1984, 'to strike a pose is to present oneself to the gaze of the other as if one were [...] already a picture,' these are girls learning to make portraits, on both sides of the camera.
In one extraordinary image, Laura 1 (1997/2018) is shot from above, her head and torso floating in a pool of saturated blue. With her smudged eye make-up, she recalls in equal parts the mysterious Inconnue de la Seine and Jacques-André Boiffard's 1930 photograph of Renée Jacobi, laid out naked, like a morbid Medusa. This is a show of echoes and passing resemblances – largely unconscious, sometimes anachronistic: Collier Schorr's androgynous, glowing young things from the late 1990s; the stiff pose of Man Ray's solarized Sleeping Woman (1929); Andy Warhol's screen test of Nico (1969); a 2016 Gucci fashion campaign. Perhaps what they serve to underline is the proliferation of images of young women in culture – then and now and always. The young girl – something not yet formed, a cipher for possibility and desire – can be infinitely re-imagined; her image circulates endlessly, in abundance.
Perhaps that's truer now than ever. My first thought on seeing these gorgeously saturated, luminous prints, was: are teenagers still taking photographs like this? Could a similar exhibition exist in 20 years' time? Now that Snapchat and Instagram have closed the feedback loop between pose and picture, we grow up with a different awareness of our images. It seems harder than ever to tell whether we produce them or they produce us. Cheung's pictures are of their time and their technology – which is also mine. And they make me a little nostalgic for a period when growing up could happen unwatched. In the earliest image in the show, Christina 1 (1995/2018), her back to camera, strides away into a  field of tall grass. in front of her, everything is open.
Cindie Cheung 'A Selection of Photographs from 1995 to 1997'was on view at TG, Nottingham from 15 June until 28 July 2018.
Main image: Cindie Cheung, Julie 2, 1997/2018, hand-printed c-print, 22 × 33 cm. Courtesy: the artist and TG, Nottingham