Featured in
City Report: Cape Town
With a host of new private museums opening in Cape Town, Sean O'Toole considers the impact on the local arts scene while Amie Soudien explores the city's burgeoning grassroots arts spaces
AMIE SOUDIEN
Since its establishment as a European colony in the 17th century, Cape Town has been at odds with its own beauty. The city's urban plan is defined by its dramatic geography between mountain and sea, but its social infrastructure is the imprint of successive oppressive regimes. With the city's wealthiest citizens concentrated near the base of Table Mountain, the area's most recognizable geographical feature, and those with fewer means pushed outward to what is known as the 'Cape Flats', navigating Cape Town offers a close read of the grand apartheid scheme.
The arrival, in September, of Zeitz Museum of Contemporary Art Africa (Zeitz MOCAA) on Cape Town's historic harbour has put a spotlight on the city's exisiting art scene, which remains relatively small. The magnitude of the Thomas Heatherwick-designed space – heralded as the largest museum dedicated to contemporary art on the African continent – marks a significant shift in the local landscape, which has historically been shaped by collective practices working on a modest scale.
In recognition of this context, another new space – the non-profit A4 Arts Foundation, which opened just ahead of Zeitz MOCAA – titled its inaugural exhibition 'You & I'. Co-curated by the artists Ziphozenkhosi Dayile and Kemang Wa Lehulere (both themselves members of the collective Gugulective), the show features artists whose work, according to Dayile, 'depends on the participation of others for it to be completed, those who've come together temporarily to collaborate, or collectives that have some social engagement'. The artist list includes Moshekwa Langa, Glenn Ligon, Zanele Muholi and The Propeller Group, among others. 
A4 is located in District Six, an inner-city area whose community was dismantled and buildings flattened during mass forced evictions under apartheid. In addition to providing exhibition space, the organization aims to develop art-educational resources, including a library and public programme. In this sense, Dayile, the former director of Greatmore Studios – a landmark art and studio space established in 1998 – seems like an appropriate collaborator.
Like Zeitz MOCAA – whose 'permanent' collection of contemporary African and diasporic art is on long-term loan from German-born business man Jochen Zeitz –A4 was created by a private funder, the South African-born philanthropist Wendy Fisher. So, too, was the Maitland Institute, which opened in February in a former industrial area of the city that is now home to a growing number of artists' studios. Maitland's inaugural exhibition was a solo show by Muholi,'Somnyama Ngonyama' (Hail the Dark Lioness) – a series of photographic self-portraits in which the activist explores key events in South Africa's history.
Far beyond the art world, togetherness and collectivity are recurring, if contentious, themes in South Africa. As an antidote to the entrenched segregation of apartheid, the notion of the 'Rainbow Nation' was widely circulated following the country's first democratic elections in 1994. Fundamentally encapsulating ideas around multiculturalism and harmony, this ideology has, for many South Africans, become a hollow promise, given the persistence of widespread racism and economic inequality.
Umhlangano – literally 'gathering' or 'meeting' in isiZulu – is both a student-led arts collective and the name given to the University of Cape Town's (UCT) art and drama campus, formally known as Hiddingh. During nationwide student protests in 2015 and 2016 against institutional racism, increased tuition fees and the ongoing influence of colonialism on the education system, the collective occupied the campus for several weeks. They organized meetings about the possibilities of decolonial arts education and developed collaborative installations on site. These included a banner that read: 
'NO RACISM NO SEXISM NO ABLEISM NO TRANSPHOBIA NO QUEERPHOBIA NO VIOLENT MASCULINITY NO FATPHOBIA NO MINIMIZING EXPERIENCES NO AGEISM THANKS!'
The issues of profound social inequality affecting South Africa seem to reach an apex in the so-called 'Mother City', where economic and racial segregation are at their most acute. For the photographer Jody Brand, who first came to prominence for her blog 'Chomma' (a colloquialism for 'friend'), artistic practice can instill a sense of self-worth and integrity within these difficult contexts. Discussing her large-format photograph Presently, Here Standing, Ntombi (2016) – an arresting image of Brand's friend standing in a bathroom with breasts bared, staring directly into the camera – the artist explained: 'That work was about the experience of being in Cape Town and feeling invisible. I tried to reflect on that in how I showed the work, and really occupy space.'
That work was included in the group exhibition 'The Quiet Violence of Dreams' at Stevenson – along with Goodman Gallery, one of the most established and commercially successful galleries in the city – where Brand has since had a solo show. Nonetheless, young female artists of colour are still severely underrepresented within the South African art world. In 2016, a feeling of invisibility similar to that described by Brand compelled 11 black women, all then studying at UCT, to form the collective iQhiya. The group, who exhibit both collectively and as individuals, was included in documenta 14 in Kassel and Athens earlier this year. Their performance in Athens, The Portrait (2016/17), saw each of iQhiya's eight members stand on top of glass Coca Cola bottles in crates, until the pain became unbearable – an expression of black women's experiences of vulnerability and strength.
Reflecting on the challenges of young artists of colour, Dayile is quick to point out that the alienation experienced by today's generation is nothing new. In examining the vast inequities in Cape Town, fixing arts infrastructure often feels last on the list of priorities. Yet, the continuous activism within the art community in Cape Town suggests its potential to shift dominant power structures in important, impactful ways.
* I would like to acknowledge the sad passing of iQhiya's youngest member, Tshiamo Naledi Letlhogonolo Pinky Mayeng, in August 2017. Heartfelt condolences to the collective and her loved ones.
Amie Soudien was born and raised in Cape Town, South Africa, where she graduated from the Michaelis School of Fine Art at the University of Cape Town in 2013. She currently lives in Johannesburg, South Africa.
SEAN O'TOOLE
Ever since the 2013 announcement of Zeitz MOCAA, an 80-gallery institution devoted to the acquisition and display of 21st-century art from Africa and its diasporas, Cape Town has been abuzz. Galleries have moved into upgraded premises, new project spaces have opened, collectors – taking their cue from Zeitz MOCAA director and chief curator Mark Coetzee – have started acquiring younger artists. But this optimistic story of emergence, capped by the public opening of the Thomas Heatherwick-designed museum in September, is inflected by a history of events at the University of Cape Town (UCT). Here, the meaning of art – its symbolic yield and public function in a decolonized Africa – has been the subject of intense debate and activism. These events are worth revisiting as they invoke a city history of collective action and progressive politics involving artists confronting a reactionary established order.
For much of the past two decades, South Africa has been immersed in aggravated culture wars. Whether it is songs, paintings, political cartoons or photographs, the amplified debate, which is centrally about belonging, has often been racially polarizing. In March 2015, a bronze sculpture depicting the British-born mining magnate and Cape politician Cecil John Rhodes on UCT's main campus became a focal point. Unveiled in 1934, Scottish-born artist Marion Walgate's unctuous study of Rhodes, a proselytizer of empire, was moved to a busy campus thoroughfare in 1962. Its presence did not go unacknowledged: the sculpture was painted pink in 1979, was twice smeared with grease, had a swastika daubed onto its base in 1997 and, in May 2014, before another fruitless debate about its place on campus, was stencil-bombed by anonymous agit-prop group Tokolos Stencils.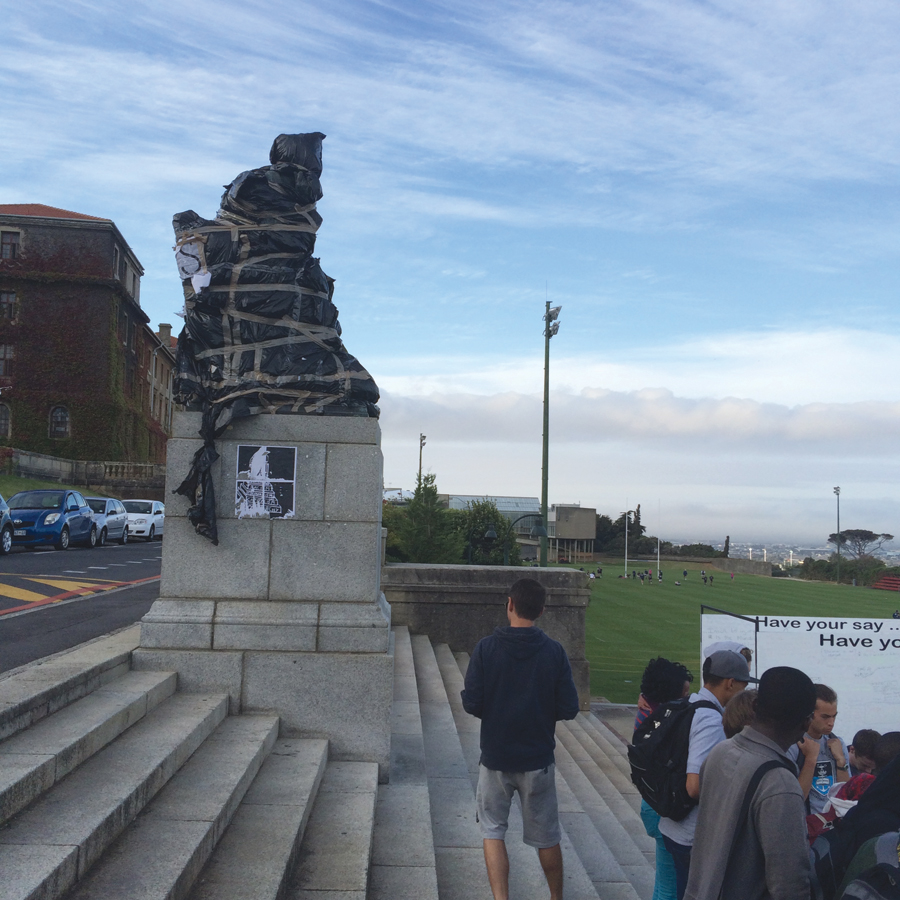 But the 2015 activism by the nascent decolonial movement – later identified simply as Fallists – was different. During the escalating protests, Walgate's statue of Rhodes surveying the north was covered with black plastic. Writing in a local newspaper, UCT sociologist Xolela Mangcu said that black students were responding to the 'suffocating whiteness' of the university. In April, administrators capitulated and removed the sculpture. Photographers David Goldblatt and Sipho Mpongo recorded this jubilant event, as did performance artist Sethembile Msezane, who put on a beaded headdress and feathered adornments and posed – arms outstretched, her back turned to the action – on a mobile plinth. Msezane's costume in her photograph Chapungu: The Day Rhodes Fell (2015) references a bird motif appropriated by Rhodes from stone sculptures found at Great Zimbabwe, a precolonial settlement in Zimbabwe (formerly Rhodesia) that Msezane visited in 2015.
Born in 1991, a year after the advent of democratic change, Msezane is a graduate of UCT's satellite Michaelis School of Fine Art and member of the all-female artist collective iQhiya. Alumni of this prestigious school include painters Marlene Dumas and Lisa Brice, as well as sculptors Nandipha Mntambo and Mohau Modisakeng, both of whom are represented in German businessman Jochen Zeitz's collection, which is on long-term loan to Zeitz MOCAA. Newer sculptural work by Msezane, who is currently enrolled on the MFA course at Michaelis, has also been acquired by Zeitz. Advised by Coetzee since 2008, Zeitz has built a pop-inflected collection that records the performative-political turn in post-2000 South African art, but overlooks important pioneers like Tracey Rose and Berni Searle, who studied for her MFA in sculpture at Michaelis in the 1990s and now directs the school.
Founded in 1925, Michaelis, especially under the directorship of Edward Roworth (1935–53), was a provincial outpost of lapsed Victorian ideals of rectitude and naturalism. By the 1970s, as resistance to apartheid grew and white nationalism flared, the school played a vital role in connecting progressive practice with liberal politics. In 1977, a year after the Soweto student rebellion, which encompassed Cape Town schools, members of Michaelis, including sculptor Gavin Younge, helped found the Community Arts Project. This public art centre, which closed in 2008, trained and resourced black artists at a time when segregated black schools did not offer art education. Alumni include Tyrone Appollis, Willie Bester, Thembinkosi Goniwe and Billy Mandindi. In 1979, artist Neville Dubow, then director of Michaelis, chaired The State of Art in South Africa Conference at UCT, which aimed to galvanize white artists in resisting state-sponsored racism. Author Nadine Gordimer and artist Cecil Skotnes were among the speakers; black artists, however, boycotted the event. 
Segregation remains an enduring facet of Cape Town life. It accounts for the atomized narrative of art and its practice in the city, as well as ongoing aims to resist it – sometimes nihilistically. In February 2016, a small group of UCT students burned 24 artworks seized from university properties. 'No time for white tears here,' a voice shouted. Among the works destroyed were four portraits of white grandees by Roworth, whose work was described by critic David Lewis in 1946 as 'unreal, vacant, nostalgic and sentimental'. In March, members of the Trans Collective – a self-defined LGBTIAPQ+ coalition – vandalized a photography exhibition commemorating the first anniversary of the Fallist movement at UCT's Centre for African Studies Gallery. The naked activists interpolated messages onto photographs, including Goldblatt's and Msezane's contrasting descriptions of events a year earlier.
In 2013, political philosopher Susan Buck-Morss, reiterating French philosopher Marie-José Mondzain, wrote: 'Iconoclasts are not against the power of the image; they want to control it, monopolizing the visual economy and, with it, truth.' For all their verve and derring-do, Fallists have typified this desire to authorize images. However, they are not the first South Africans to want to do so. Cape Town's dominance as an art centre was long signalled by the South African National Gallery, a currently beleaguered state institution that owes its origin to an 1871 bequest of 45 paintings by Thomas Butterworth Bayley. Initially itinerant, the museum has occupied its current address on Government Avenue since 1930. Its vast holdings include key works by figurative sculptor Jane Alexander and Moshekwa Langa, whose practice heralded a material innovation in post-apartheid art. (Roworth was the museum's director from 1939 to 1948.)
To tell the story of art in Cape Town requires looking beyond its museums and art-historical narratives of white avant-garde movements such as the New Group, founded in 1938 by a collective of modernist painters. There is, for instance, a line that connects the gentle activism of painter Peter Clarke – whose cohort of friends included fiery poet James Matthews and wandering photographer George Hallett – with Gugulective, the influential arts collective founded in 2006 by artists Kemang Wa Lehulere and Unathi Sigenu. Clarke, a mixed-race dockworker turned painter and printmaker, grew up in the southern peninsula outpost of Simon's Town; in 1973, he was forcibly moved by apartheid planners. His taut, graphic paintings record this rupture. Wa Lehulere, who briefly acted and painted before settling on an exploratory practice that encompasses drawing, installation and archaeology, was raised in a politically active family in the black township of Gugulethu. His recent work in recovering murals in the Gugulethu home of Gladys Mgudlandlu, a teacher turned expressionist painter who died in 1979, is a potent symbol of recovery in a city whose institutions still only tell a partial story.
Main image: Harbour view of the Zeitz Museum of Contemporary Art Africa, 2017. Courtesy: Heatherwick Studio, London; photograph: Iwan Baan