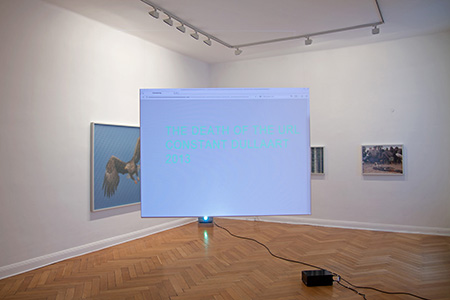 The Dutch artist Constant Dullaart considers contemporary modes of ac­cessing information, exploring the dynamics of reality as perceived through the transparent computer screen. Curated and installed across two Berlin spaces, Future Gallery and IMPORT Projects, along with online components, Dullaart's most recent project, 'Jennifer in Paradise', explored the Internet's opacity, highlighting the extent to which onscreen data is manipulated and controlled, enhanced or deformed.
The web's potential to demarcate a wholly democratic, transparent space in which people freely operate is, arguably, naively Utopian. It's a timely subject, given the ongoing Edward Snowden case. Counter to its promise of being a completely open platform, the Internet is not only monitored, it's an arena in which information is filtered, distorted and, most cleverly and deceptively, presented as unmediated content.
The show at Future was underpinned by Jennifer in Paradise (all works 2013), a low-resolution print of a woman reclining on a beach in Bora Bora. Another iteration of the image was emblazoned across the span of the wall at IMPORT, containing an encoded message within its giant pixels. Originally taken in 1987 by John Knoll, the co-creator of Photoshop, this photograph was the demonstration image for the programme's users to explore and test the software. It became ubiquitous, widely distributed and repeatedly manipulated by the public. Surprisingly, though, the image is now almost extinct, nearly nowhere to be found online, aside from low-res traces. Restoring the image here, Dullaart acted as archivist, illuminating the genesis of image-doctoring while nostalgically suggesting a time when photography's authenticity was still conceivable. A letter to 'Jennifer' from the artist – which Dullaart posted on Rhizome.org, then tweeted to the muse herself – almost reads like a love letter, if not to Jennifer herself then perhaps to a past space in which reality was less malleable: 'Sometimes, when I am anxious about the future of our surveilled, computer-mediated world […] I imagine myself travelling back in time […] And just sit there with you, watching the tide roll away.'
In both exhibitions, Dullaart explored the relationship between virtual reality and its symbiotic link to our physical, material being. At Future, YouTube as a Sculpture (moulding) is a monochromatic, 3D version of the Mac's rainbow spinning pinwheel. Almost indistinguishable from the gallery's own decorative features, the work playfully reinterprets this familiar icon; now physically manifest, we continue to wait and watch the form, which still wastes time and leads to nowhere.
A new body of glass works appeared in both venues, the material a recurring metaphor for our computers' myriad windows (Windows software, the screen's glass, the Internet as a window to the world). A UV print on glass, Untitled (Lascaux Cows), comprised layers of graffiti-like marks that partially reveal cave paintings in Lascaux. Posing questions about the filtering of information via the Internet and its potential to obscure rather than reveal meaning, the imagery for the piece derives from Dullaart's 2012 online work http://untitledinternet.com/, in which the viewer is directed to Google, only for the subsequent pages to be obscured with random mottled brushstrokes that shield the information. Printed onto glass, the images become artefacts: digital filters objectified.
Works such as those from the group 'Thomas Knoll, series' (2013) were both sculptural and painterly, employing thick, variously patterned glass frames that visually distorted appropriated photographs by John Knoll's brother and Photoshop co-creator. Colourful images of snow monkeys and soaring bald eagles are perceived through deceptively dotted or swirled walls of glass. Even the creators of Photoshop fall victim to eventual misrepresentation – the politicized effects of their own innovation.
In the context of Dullaart's broader practice, the glass pieces felt less dynamic and affecting than his performative online platforms or video installations, which employ cannily subtle references to non-transparency. One such work is the dual-screen projection of a triple-X domain functioning in real time, The Death of the URL, which hung centrally in Import Project's space. Exploring the rise of the keyword search and subsequent demise of the URL, a generative algorithm finds and lists browser data histories, as codes of http://xxxxxx (…and so on) continually appear. Here, the URL is powerfully presented as a sentimental cipher, suggesting a freer Internet from the past, where software companies were less involved in mediating our search habits.
Dullaart's combined exhibition and online project illuminates our virtual landscape, whose construction moulds an illusory sense of freedom. These windows are, in fact, semi-permeable. Are we aware enough? With more people looking at screens on a daily basis than at paintings or out of windows onto the physical world, 'Jennifer in Paradise' encouraged a timely assessment of the material impact of virtual control mechanisms.