Critic's Guide: Amsterdam
A roundup of the best shows on during Amsterdam Art Weekend
The Rijksakademie's 'open studio' weekend of its well-established residency programme has grown into the focal point of Amsterdam's art calendar. Now a number of galleries have united around it. What began as a spontaneous shift in arts programming across the city, formalized into the Amsterdam Art Weekend with a dedicated series of events, talks and commissions that grows which each iteration. The event now crosses both commercial and non-commercial spaces, the centre and its margins, allowing the latter more exposure and for previously unconnected themes to emerge. For example, Amal Alhaag and Maria Guggenbichler's independent, queer, antiracist curatorial project The Side Room, presented the one night event 'Black Fashioning/Dancehall Futures', at the same time that Isaac Julien's film Looking for Langston (1989), about black gay poet Langston Hughes, opened at Ron Mandos gallery. Some of the highlights this year included Anna Bella Papp's low square clay reliefs of Eastern European construction workers at De Ateliers and Riet Wijnen's installation Conversation Four: First Person Moving (2016) at the non-profit platform Pa///kt, exploring the political and artistic implications of abstraction. Here's a roundup of some of the best exhibitions across the city.
Jordan Wolfson, 'MANIC/LOVE'
Stedelijk Museum
27 November 2016 – 23 April 2017
Pathos and irony are so finely blurred in Jordan Wolfson's work that it's often unclear if he's being sincere or mocking his subject matter, whether it be violence, sexuality or class. His most recent work, Colored sculpture (2016), opens the retrospective exhibition 'MANIC/LOVE' at the Stedelijk, comprised of a red haired animatronic, fashioned after a composite of characters from the American popular imaginary – Pinocchio to Huckleberry Finn to Howdy Doody. The outsized sculpture, tethered by a chain to a massive square structure alternates between lying inertly on the floor or being smashed violently against it, as Percy Sledge's 1966 hit 'When a Man Loves a Woman' plays in the background. Seeming to appeal to the human capacity for empathy, as the figure's eyes stare directly out at the viewer, the work also speaks to darker desires for destruction as entertainment. As the 'performance' progresses it is apparent that this disturbing choreography is the development of a formula Wolfson's been refining from his earlier video works The Crisis (2004) and Raspberry Poser (2012), both also on display.
Helen Verhoeven, 'Libby, Libby, Libby'
Stigter van Doesburg
25 November – 24 December
Libby, one of Berlin's many alluring waitresses, appears to be Dutch artist Helen Verhoeven's object of obsession. In this new series of paintings Libby is portrayed in fine lingerie, seemingly lost in her own thoughts, staring evasively out of the picture. Strewn around the gallery are ceramic sculptures of cats, twee teapots and pieces of fruit – a mise-en-scène of Libby's tastes and domestic life. The implication behind her vacant stare and accompanying mundane objects is that the voyeuristic gaze can only ever train itself on the subject's surface, never really knowing what is going on inside.
'In-Out Center'
De Appel Arts Centre
15 November – 11 December
In-Out Center, was an art space which briefly ran from 1972–74 in the very building that now houses De Appel. Instigated by conceptual artists Michel Cardena, Ulises Carrión, Hreinn Fridfinnsson, Sigurdur Gudmundsson, Kristján Gudmundsson, Hetty Huisman, Pieter Laurens Mol and Raul Marroquin, its members' various origins in Latin America, Iceland and the Netherlands, enabled them to produce an international programme of experimental art unrivalled in the city at that time. This exhibition, which shows posters, and photo documentation of exhibitions, as well as works displayed during the In-Out Center's run – including video, performance documentation, concrete poetry and sound art – captures the life of Amsterdam's first independent artist's space.
Georges Adéagbo and Otobong Nkanga
Lumen Travo
25 November 2016 – 22 January 2017
Lumen Travo has brought together new and older works of West Africans Otobong Nkanga and Georges Adéagbo, hailing from Nigeria and Benin respectively. Both artists collect objects and materials and are preoccupied with how these can become invested with value. Nkanga reflects on the commercial worth of natural resources such as soil, creating figurative photographs like the 'Alterscapes Playground series' (2006) or the recent abstract piece Steel to Rust – Segregation (2016). Conversely, Adeagbo is concerned with the almost religious and fetishistic value that consumers imbue commodities with, such as vinyl records, clothes or magazines. To make his point he pairs these with tribal masks and figurines, building site specific friezes of sorts, such as the one here influenced by Lucas van Leyden's painting The Last Judgement (1527). Each artist shows how the objet trouvé has been deployed in both European and African cultural traditions, as well as the ways in which commercial and spiritual notions of value can coexist in the same work.
'For Your Everyday Use'
Martin van Zomeren
24 November 2016 – 7 January 2017
This group show collides the work of six young Amsterdam-based artists interested in ideas of material circulation, ephemeral nature and precarious living. Rope, fruits and isotonic drinks are just a few of the quotidian materials put to use by the artists who seem to be striving for meaning in the everyday. For example, Juliaan Andeweg's wall-mounted fibre resin sculpture coated in colour changing 'flip flop' paint looks like a corrugated iron fence. Nearby is a fragile, contorted wire sculpture by Maria Bigaj, which is only held together by fruits and vegetables, as long as these stay fresh. Also on the ground, Jean-Baptiste Maitre's monitors feature a sequence of frames captured from his own paintings, whereas on the gallery walls Navid Nuur's climbing grips hold and overlap coloured pieces of irregularly cut glass. Anne De Vries' digital printed eye on ursa-x polystyrene hangs like a painting and Dan Walwin's stitched eye on blue fabric is discretely put behind the reception desk.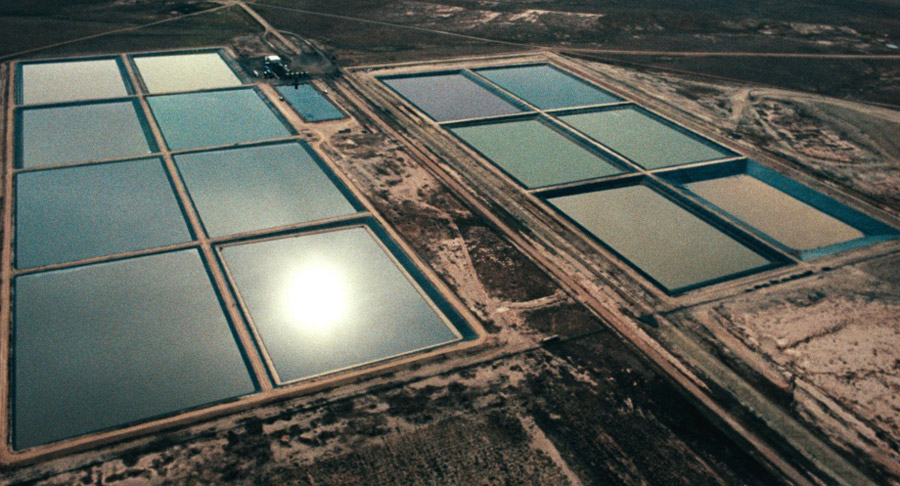 'Celluloid'
EYE
17 September 2016 – 8 January 2017
The works in 'Celluloid' are bound together by their nostalgia for the increasingly obsolete material that once made moving pictures possible. Indeed, contemporary artists seem to have become more interested in the aesthetic and practical potential of celluloid the rarer it has become. This exhibition assembles some of those practitioners – including Tacita Dean, João Maria Gusmão & Pedro Paiva, Rosa Barba, Sandra Gibson & Luis Recoder – best known for making print film both the medium and subject of their work.  The exhibition explores how the material qualities of celluloid, can be turned into tangible, sculptural installations. Rather than focusing on a cinematic narrative, Dean, Gusmão & Paiva, Barba, and Gibson & Recoder are producing a meta narrative, meditating on the medium and history of cinema itself.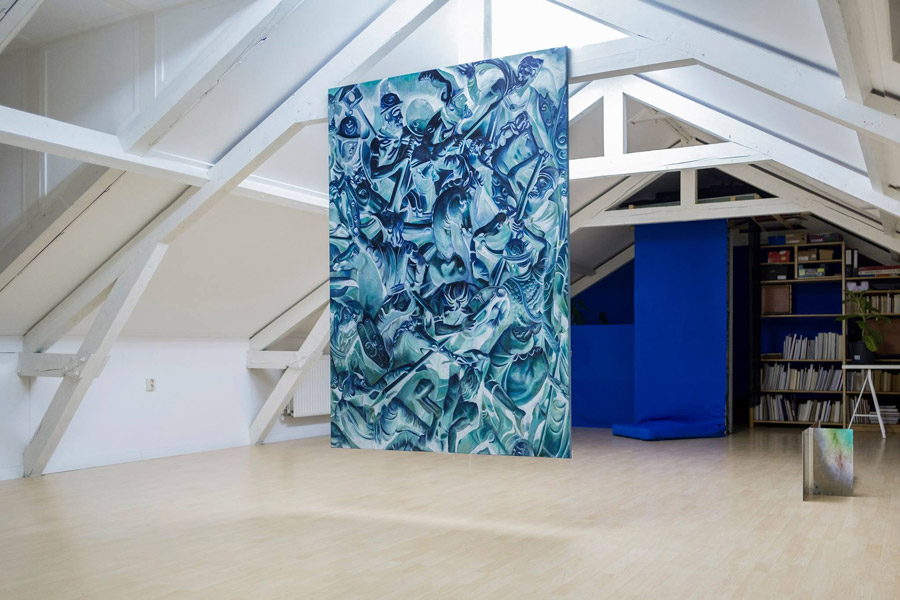 Jannis Marwitz, 'The year is over now'
Marwan
29 November – 30 December
Seemingly abstract, Jannis Marwitz's paintings contain a host of entangled bodies, floating faces and symbols associated with plagues and battles. The masks with long beaks once worn by plague doctors to ward off airborne infection, and depicted in several works in this show, were also the source material for a playful commedia dell'arte costume, 'Medico della Peste'. In another painting, interlaced human bodies are apparently caught in a violent battle. The combatants' costumes hint at a Roman conquest. Each work in the exhibition is dominated by a melancholic blue and the title of this winter show sums up the prevailing mood of disenchantment: this strange year is indeed over now.
Main image: Jordan Wolfson, Raspberry Poser, 2012, HD video still. Courtesy: the artist, Sadie Coles HQ, London and David Zwirner, New York