Critic's Guide: Dublin
Highlights of the shows included in the third iteration of Dublin Gallery Weekend
Back for its third annual outing, the Dublin Gallery Weekend (DGW) continues to grow. This year, in addition to 34 participating spaces, there is a series of artist conversations at the Allied Irish Banks premises on Grafton Street. The theme is 'place, journeys and realities.' Given the current reputation of banks in Ireland, this is either a brave or an empty gesture, though the artists – Alan James Burns, Alan Butler and Dragana Jurišić – are all individually making very interesting work. Alongside guided tours, special events and screenings, there's a music night inspired by Detroit-based Drexciya at The Hugh Lane, plus a party on Saturday night at the Temple Bar Gallery. The Hugh Lane event is already sold out, which makes one wish a few more of Dublin's institutions might have thrown their hats into the ring for late night events, because if there's one thing that makes the arts in Dublin sing, it's a damn good party. 
Abigail O'Brien, 'Prudence and the Game of Golf'
Royal Hibernian Academy
17 November – 20 December 2017
Patience may be a virtue, but it doesn't feature in the four Cardinal Virtues: Prudence, Justice, Temperance and Fortitude, which Abigail O'Brien has been exploring since 2005. Fortitude was first, and O'Brien's witty but always elegantly gritty take included photography, tapestries and a large pink inflatable tank. Temperance focused on a sweet factory, and for Prudence, we're on the golf links. Photographs of putting greens and bunkers are captioned with wisdom from self-help book titles, such as How to Make People Like You in 90 Seconds or Less (1998), by Nicholas Boothman and Ethical Slut (1997) by Dossie Easton and Janet W. Hardy. 'At least once in a round of golf you could be faced with wild heroism or a more prudent course management,' writes O'Brien, adding that Prudence is also 'about enjoying and suffering intelligently.' Trophies are inscribed after life events, such as 'The Divorce Cup – Full and Final', and a life-size, pink figure of a golfer has been 3D printed mid-swing. Look and learn.
'Being Infrastructural'
mother's tankstation
2 November – 16 December 2017
Exploring the idea of infrastructure as a set of interconnected facilities, Maeve Connolly has selected a series of films, including works by Lucy Raven and Mike Kelley. Rosalind Nashashibi's Electrical Gaza (2015) will be shown over Dublin Gallery Weekend at 5.30pm each day. (The work also features in Nashashibi's current Turner Prize installation at Ferens Art Gallery in Hull.) Commissioned by the Imperial War Museum – an institution with a conflicted appellation if ever there was one – the piece combines film with animation, adding moments of daily life to the scenes of Gaza so familiar from news footage of raw violence and death. Thus children play, people shop at the market, men chat and teenagers wash their horses in the sea. The facilities in Gaza are breaking down: the UN reports that it could become uninhabitable within five years. Yet life somehow goes on. In one street scene, towards the end, an animated black spot grows, threatening to engulf everything.
Szabolcs KissPál, 'From Fake Mountains to Faith (Hungarian Trilogy)'
Project Arts Centre
23 November 2017 – 20 January 2018
There appears to be a loose theme of conflicted histories, identities and nationhood running through many of the DGW exhibitions this year, although that's possibly also the spirit of the age. Based in Hungary, Szabolcs KissPál was born in Romania and his docu-fiction films and installations explore the histories, symbols, myths and downright lies that bind a people together. Mythologizing is at the heart of all nation building, but just as constructed national stories unite, so too do they limit and also divide. It's a timely presentation, as current geopolitics are demonstrating that there's nothing like excluding an imagined 'Other' to truly rally people behind one's choice of flag. KissPál's films Amorous Geography (2012) and The Rise of the Fallen Feather (2016) are being shown alongside The Chasm Records (2016), a faux museum display of archaeological items from a fictitious find. All societies are structured within historical scripts, the trick is to spot them in action.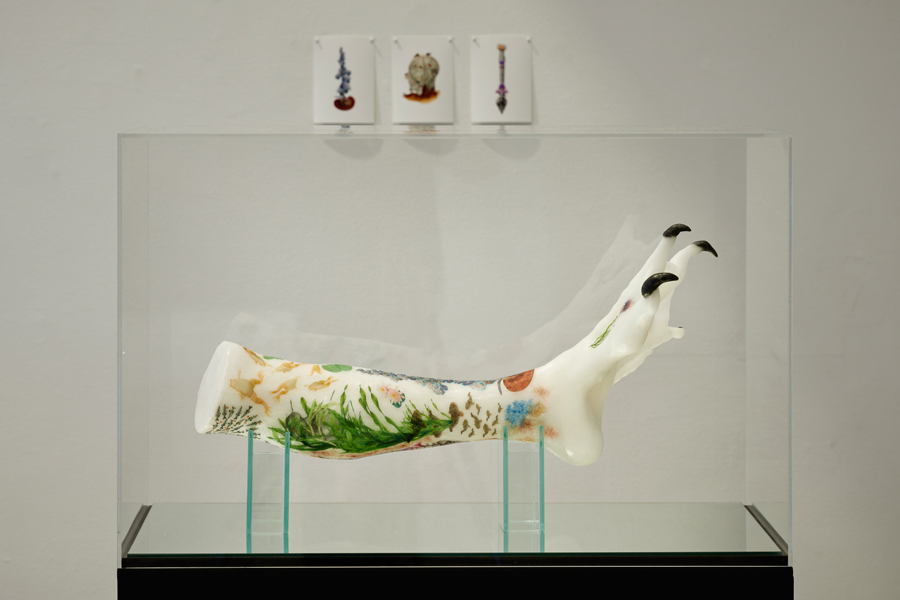 'Future Proof'
The LAB
14 September – 14 December 2017
You'd expect nothing less from a gallery called The LAB to be engaged with a periodic project to bring art and science closer together. Nine artists explore the mysteries of the earth and the universe in a diverse and compelling show. Maria McKinney's Double Muscle (2016) is a video of a Belgian Blue bull in all his glory. Selective breeding has caused the myostatin gene to switch off – leading to unregulated muscle growth. It's impossible to watch without thinking of how far we have distorted nature, and become disconnected from it. Thoughts of the physical extremes to which some humans push themselves also linger. Elsewhere, Lucy McKenna's watercolours, Mars Portraits (2016–17) are based on astronomer Charles E. Burton's written observations of that planet, made over a century ago. It's an apt metaphor for the leaps of faith, and the bridges that are still to be formed over our gaps in knowledge, even today.
Abbas Akhavan, 'Variations on a Garden'
Douglas Hyde Gallery
27 October 2017 – 13 January 2018
It's back to conflicted nations, and nations in conflict at Douglas Hyde Gallery, with Abbas Akhavan's explorations of Iraqi culture, myth and history – both past and present. Concrete blocks frame a small square pool, riffing on the water at the heart of the quintessential Islamic garden, itself a symbol of Paradise. Elsewhere, charred, bronze-sculpted plants are laid out on white sheets, like bodies in the aftermath of war. The plants themselves are native species from the land once thought to have been the site of the Hanging Gardens of Babylon, a place later destroyed by Saddam Hussein in his 1990s campaign against the Marsh Arabs. Akhavan was born in Tehran, shortly before the Iran–Iraq war kicked off in 1980, and the exhibition concludes with his 2014 film Ghost, showing scenes of US army troops returning home to their families. In this context, if there's any joy to be had from the footage, it's disrupted, unsettling, uncertain.
Sonia Shiel
NCAD Gallery
23 – 26 November 2017
Sonia Shiel's 'Rectangle Squared' at Cork's Crawford Gallery (8 September – 20 October 2017) successfully blended her skill as a painter and her fascination with performance. It was also an intriguing foray into ideas of constructed realities, be they within an artwork and gallery, or those we invent to make life more exciting, manageable, bearable (take your pick). Alluding also to today's mania with fake news and wilful blindness, there was a great deal to interest and a lot to love, so it's great to see the NCAD gallery celebrate DGW with a short showcase of Shiel's work. Shiel spent a month, earlier this year, as the first recipient of the National College of Art and Design's Incubation Residency and, as a great deal of the Crawford show was hatched there, this is a sort of a homecoming. The gallery will be showing part of the set for Shiel's play Rectangle Squared (2017) on Friday 24 November from 5-9pm.
'Periodical Review #7'
Pallas Projects
24 November 2017 – 20 January 2018
While it always seems longer when you're in the thick of it, a year whips quickly by. Judging from the works in this, the 7th iteration of Pallas Projects' 'Periodical Review', the 2016 / 2017 period been a good one. This year the Pallas team teamed up with Kate Strain and Rachael Gilbourne, who work together as RGKSKSRG, to take us down art's memory lane, though they expand their selection beyond the strict confines of 12 months. The galleries at Pallas aren't of a size to allow for a full survey show, so expect to be tantalized with fragments and glimpses, but as these include work from Jesse Jones' Venice Biennale installation Tremble Tremble (2017), alongside more from Alan Butler, Jason Ellis, Barbara Knezevic, Ailbhe Ní Bhriain and Sonia Shiel, it promises to be an intriguing trip. Knezevic's 'exquisite tempo sector' at the Temple Bar Gallery at the start of the year was a winner, while 'Old Anatomy' by Jason Ellis, at Oliver Sears in 2016, saw what could have been a clinical series of anatomical stone carving come alive with delicious, and often uncannily disturbing heart.
For more current and soon to open shows in Dublin, head over to On View.
Main image: Sibyl Montague, Super Critical Liquid, 2016/17, soft drinks (sparkling water, ginger ale, bitter lemon)  plaster, resin, 2 ltrs / 1 ltrs. Courtesy: the artist and Pallas Projects, Dublin; photograph: Kasia Kaminska