Critic's Guide: Istanbul
With the opening of the 15th Istanbul Biennial this week, a guide to the best exhibitions around town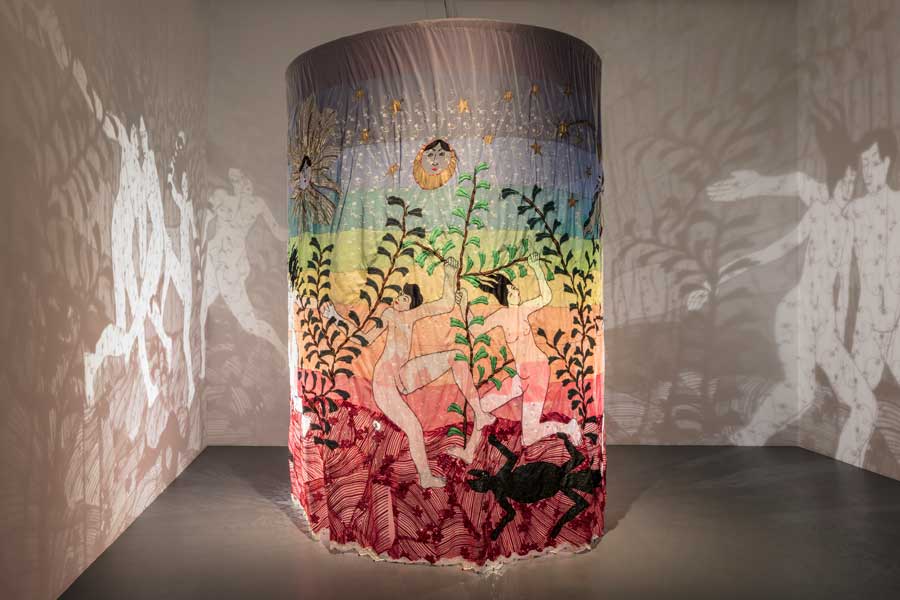 CANAN, 'Behind Mount Qaf'
Arter
12 September – 24 December 2017
CANAN makes work that is fantastical, mythological, surreal, and intensely personal. Spanning medium from sculpture and miniature, to photography, video, and embroidery on fabric, her singular style always makes for memorable exhibitions. Now, the artist has the whole of Arter to herself; three floors of the institution given over to her world which includes several new commissions and installations. She and curator Nazlı Gürlek take us on a journey of her work read as Heaven (first floor), Purgatory (second floor), and Hell (third floor). Travelling beyond the mythical Mount Qaf – a fictional mountain of Arabic and Persian origin, populated by magical creatures and genies – CANAN, takes us into an imaginary and mystical world all her own: feminist, political and at times playfully incendiary. The exhibition title is reflective of CANAN's use of Eastern ideas, ideals and aesthetics, all of which she consistently disguises, and transforms. There is an added pleasure in knowing that perhaps more non-art world tourists and locals than usual will walk into Arter because of the familiarity of the exhibition title, a smart and subversive move that nudges at her activist and revolutionary leanings.
Adrian Paci & 'Kiralik Satilik'
Protocinema
9 September – 14 October 2017
Founded in 2011 by Mari Spirito, the itinerant non-profit Protocinema is back in Istanbul. This time it finds itself in Galata, a neighbourhood with strong ties to the arts, in an old Matzah bread factory with two exhibitions spanning its two floors. Upstairs is a new video work, Interregnum, by Adrian Paci. Paci is known for his poetic videos and performance works that seem both timeless and timely, and Interregnum is no different. A video of found footage of publicly mourning crowds, from close-ups to the masses, it is a meditative piece on mob mentality, authoritarianism and political propaganda, and the very real emotions that result. In present-day Turkey, the ironies in the work abound as the emotions are simultaneously relatable but anxiety-inducing. The images are hypnotic and free of judgement despite the imbedded conflicts surrounding that for which these people mourn. Downstairs is a group exhibition co-curated by Spirito and İbrahim Cansızoğlu, with works by Ani Çelik Arevyan, Antonio Cosentino, Gülşah Mursaloğlu, and the Soundscape of İstanbul, called 'Kiralik Satilik' – which translates to 'For Rent For Sale.' With bread-making machinery still in the space, the industrial feel plays with the title of the show – one that reflects the many such signs popping up throughout Istanbul over the past two years. Together in the space, Paci's video and the group show below act as a powerful and understated representation of the here and now in Istanbul.
Nancy Atakan, 'A Community of Lines'
Pi Artworks
11 September – 21 October 2017
Nancy Atakan is an American artist who has been living in Istanbul since 1969. A teacher and mentor to many of the younger generation of artists and art professionals in the city, she co-founded an artist run initiative called 5533 with Volkan Aslan in 2007. Her newest body of works, curated at Pi Artworks by Asli Seven, are embroideries on felt and linen that touch on inter-generational oral histories. The exhibition traces generational shifts in ideologies in both the West and Turkey, told through gentle figuration and narrative texts stitched by Atakan. As is typical to her works, universal ideas relating to gender politics, femininity, and linguistics are submerged in the autobiographical. Intertwined within this is an added collaboration with family members and friends installed as wrapped gifts or presents in the exhibition. This idea then morphs into the double-sidedness to the politics of exchange – a duality that can also be seen in  Atakan's seemingly sweet and homely embroidered works, which then become vividly unsettling.
Ferhat Ozgur, 'Animal Farm'
The Pill
9 September – 4 November 2017
Ferhat Ozgur's 'Animal Farm' has taken over the gallery space at The Pill with sculptures made out of decommissioned government ballot boxes. An oversized wolf surrounded by smaller sheep, here represents the individual and the collective in relation to politics. Dark and purposeful it certainly is a statement with contemporaneous resonance. But, despite the power of these sculptures, it is the works which relate more to the Anthropocene itself that have the most poignancy. Watercolour sketches, perhaps of future animal sculptures, bear sharp edges to look wooden. These are accompanied by a short 'truth' text by poet and historian Efe Murad, a collaborator of Ozgur's. Below a rendering of a cat Murad writes, 'People who make noise are dangerous,' below a screaming crow, 'every newspaper editor owes tribute to the devil.' The collaboration between artist and poet adds an approachable, human and whimsical aspect to the show. It makes Ozgur's 'Animal Farm' not just a reference to Orwell's political allegory, but also reminds us that the animals themselves, not just allegorically, are the ones we should watch and listen to.
'Flâneuses'
Institut Francais Istanbul
13 September – 3 November, 2017
This show is the product of five female artists who have participated in an artist residency programme sponsored by IKSV since 2009. IKSV, The Istanbul Foundation for Culture and Arts also sponsor the Istanbul Biennial, and the exhibition is curated by Bige Orer, the Director of the biennial. While this institutional association may sound questionable, the presentation of Aslı Çavuşoğlu, İnci Furni, Güneş Terkol, Yasemin Özcan, and İz Öztat & Zişan is a concise way of seeing works together by some of the strongest Turkish artists of their generation. On the theme of walking, wandering and observing, Terkol presents a new work, Good Days, on the facade of the building. The fruit of a collaboration typical to the artist's public works, Terkol set up a workshop for women immigrants to Turkey in which they created small pieces based on their personal experiences which were later sewn together by Terkol to create a large-scale and striking narrative.
'Maybe, We Will Benefit from Our Neighbour's Good Fortune'
Halka Art Project
14 September – 14 October 2017
On the Asian side of the Bosphorus in Kadikoy, artist and curator Isil Egrikavuk brings together six Istanbul-based art collectives: dadans, HAH and Pelesiyer, who produced new works for the exhibition, along with artıkişler (a video art collective), birbuçuk (an arts and ecology collective) and Istanbul Permaculture Collective (funded by Arts and Humanities Research Council, UK) who will present a programme of parallel activities. The exhibition contemplates whether cooking, eating, cultivating, co-existing, co-creating, and collaboration in general can be an alternative form of protest. At a time when all art world eyes are on Istanbul it feels appropriate that such a question is put to Istanbul-based collectives to answer. For many in the Istanbul art world the last few years in Turkey have felt isolated at best, with small forms of private protests becoming more common. The title of the show is a play on an old Turkish idiom, but maybe (and appropriately) Egrikavuk is pointing to the title of the Istanbul biennial itself, proposing that this small show and programme with locally based collectives on the Asian side of the Bosphorus might get some neighbourly love and fortune, too.
Gökçen Cabadan, 'Monogamy In Recollection'
Oktem&Aykut
9 September –  7 October 2017
Away from the political and social weight of the world today, Gökçen Cabadan's figurative paintings of mundane subject matter are refreshing. They feel like small tokens from the past, renderings of discarded analogue photographs perhaps. Cropped oddly, sometimes blurred, and maintaining the sense of being anonymous, the figures and images he depicts become recognizable and relatable. Their naivety adds to their appeal and to the nostalgia they naturally create in the viewer. The pastels on paper are particularly successful, both self-aware and restrained and feeling full-hearted. This show represents a welcome alternative to other more directly political work in town: a young artist reacting to the world as he sees fit.
 The 15th Istanbul Biennial, 'a good neighbour', curated by Elmgreen and Dragset, runs 16 September – 12 November 2017.
Main image: CANAN, 'Behind Mount Qaf', 2017, installation view, Arter, Istanbul. Courtesy: the artist and Arter, Istanbul