Critic's Guide: London
A guide to the best of the current and soon-to-open shows in London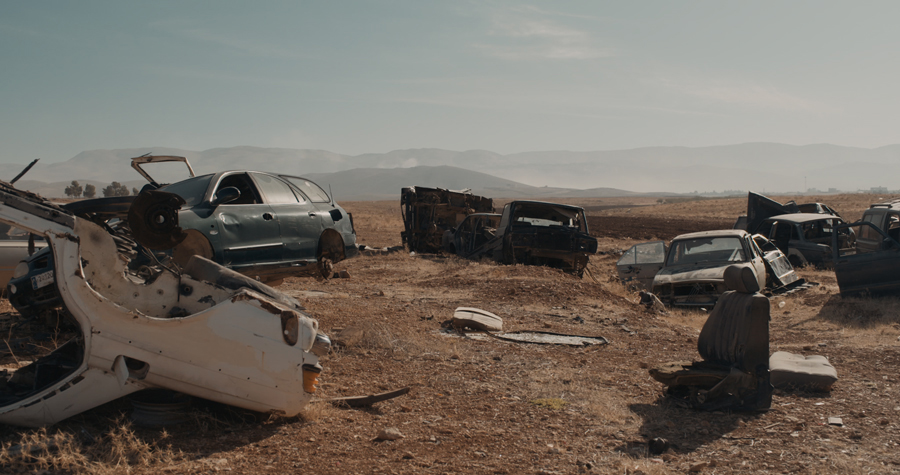 Maeve Brennan
Chisenhale Gallery
31 March – 4 June
This 51-minute film is set in Brital, a village in eastern Lebanon that has sustained itself on a long tradition of smuggling along the 'outlaw roads' that surround it. It used to be cars and electrical appliances secreted from the Lebanese side of the border into Syria; now more comes the other way, explains a hobbyist collector – antiquities included. Indeed, all five characters in Brennan's The Drift (2017) are somehow attempting to make something out of the remnants of the past. Alongside a restorer – using a toothbrush to work on ancient pots in his basement workshop – there appear a guardian of the remains of a Roman temple ('I know where every stone here belongs'), a young man who owns a scrapyard and sells cars assembled from various parts, and a smuggler, his face never visible, who runs through his catalogue – via pictures on his smartphone – for Brennan's camera. The place is defined by ways in and out, and bound to its history and present. Though war is never discussed directly, past and current conflicts are alluded to constantly by the film's protagonists: the unmistakable state that conditions their lives.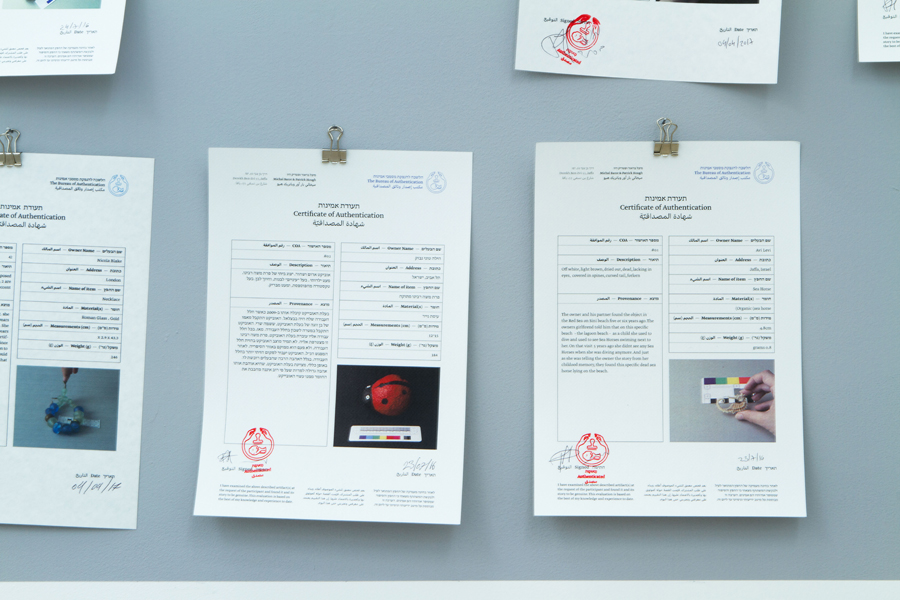 Michal Baror and Patrick Hough
Narrative Projects
4 April – 20 May
The result of the artists' interest in the way archeology can be used to ratify national narratives, Baror and Hough's collaborative performance The Bureau of Authentication (2017) uses a small, almost sentimental gesture to transform this contested field into a humanist project. Appropriating the bureaucratic language used to authenticate antiquities originating in Israel (one of the only countries in the Middle East where trade in antiquities is still legal, largely the result of legislation dating back to British rule in Palestine) Baror and Hough, wearing the uniform of their invented bureau, analyze objects brought by visitors – from a found seashell to a tent bought by someone participating in an overnight demonstration – and grant them certificates of authenticity, which are hung in the space. Personal stories are intertwined with history and the legacies of colonialism, in what becomes a storytelling project charged with meaning. The performance is accompanied by two films produced individually by the artists in Masada – the location of one of the founding myths of Zionism and a major site of archeological explorations in Israel.
Sophie Jung
Kunstraum
14 April – 28 May
Opening & performance: Thursday 13 April, 6.30 – 9pm 
A collector of discarded objects and a maker of things you didn't realize were new, when describing Sophie Jung's work list making is almost impossible to avoid. Bringing together all that is disparate by way of narrative, at Kunstraum these include drawings of hermit crabs, empty cream jugs, and carcasses of lampshades – all of which meet in unexpected ways via Jung's performative storytelling for this show, 'Producing My Credentials'. The Swiss artist has perfected a tone that constantly veers between jokey and serious, aloof and ever-present, creating an unsteady experience of listening and viewing that somehow feels incredibly intimate. Whether she speaks about politics or animal life, whether she talks about the probable or the fantastic, you want to believe what Jung says.
'Sturtevant and The Salon Pour Rire'
Chewday's
31 March – 6 May
As an artist, Elaine Sturtevant was dead serious. Her replicas of works by Andy Warhol or Jasper Johns, her appropriation of Dada, and her relationship to art history were never meant to be a joke though they do exactly what humour does best: questioning those things that are taken as read. Here, atop a platform covered in raw fabric, are a number of her works on paper – such as LICHTENSTEIN STUDY FOR ECLIPSE OF SUN I AND ECLIPSE OF THE SUN II (1988) and an offset print of Marcel Duchamp's wanted poster for himself that accompanied a 1963 exhibition. These are accompanied by lithographs and copies of books and newspapers from 19th century France, poking fun at the salon and its culture: copies of the Journal Pour Rire (subtitle, in freeform translation: 'a journal of images, a comical, critical, satirical journal for ridicule') and sardonic books about 'the art exhibition'. Seen side by side, Sturtevant and this rarely seen tradition of publishing provide two ways of prodding any blind faith: be it in art, its structures, or its presumed geniuses.
Knut Henrik Henriksen
Hollybush Gardens
24 March – 13 May
Initially Knut Henrik Henriksen's sculptures and installations seem to be exclusively in dialogue with traditions of minimalism. At the entrance is a round wooden column (Gert, 2017), laid out on the floor and surrounding the staircase is a black and white timber sculpture (Day and Night, 2017), and, in the back room a large installation titled Le Palais Idéal (2017) creates a diagonal wall made of pebbledash. The titles hint that there is more at play: Gert is dedicated to Gert Postel, a German impostor who faked his medical qualifications and rose through the ranks to become director of a hospital; Le Palais Idéal is inspired by Ferdinand Cheval, a French postman who collected stones on his shifts and used them to build a masterpiece of outsider art in his home in southeastern France. Conveying accounts of labour, pretense and ambition, Henriksen's pieces are both material and story: works that relate to historical practices but that also pull the rug from underneath your feet.
Maria Lassnig
Hauser & Wirth
1 March – 29 April
Spread across both of Hauser and Wirth's Saville Row gallery spaces, this survey exhibition reflects the development of the artist who passed away in 2014. At the south gallery, there are abstract works Lassnig produced in the 1950s and early '60s, through to two painful self-portraits – raw, realistic and incredibly solitary – in shades of green (Triple Self-portrait / New Self, 1972, and Self-portrait with a wine glass, 1975). In the north gallery, which presents some of Lassnig's later white-and-pastel-coloured paintings of figures in her now hallmark style, one sees examples of some of her ongoing concerns: speech and muteness (Self-Portrait with Speech Bubble, 2006, where speech is a small, just visible breath on a cold morning) and the idea of growing up (and growing old) in contemporary society, as in TV Child (1987). A small agitated figure enveloped in a rectangular form, surrounded by what he is watching: men with guns and half-naked women.
Ziad Antar
Almine Rech
12 April – 10 May
(Opening Wednesday 12 April, 6 – 8 pm)
When visiting the Red Sea strip of resort hotels and tourist attractions of the Jeddah Corniche, it wasn't the seascape or architecture that caught photographer Ziad Antar's eye. Installed along the coastal road in 1980, the photographer documented the public artworks covered up by construction workers to protect them during renovation, disguising the particulars of the Jan Arp or Aref al Rayyes works. In another series, Antar returns to potato farming, a subject he has been photographing for a decade, spanning agriculture from the Beqaa Valley in Lebanon to Belgium and the Netherlands. There's a photograph of a Lebanese farmer holding a new crop close to his stomach, and a sculpture derived from this portrait. Antar's interest in landscape and the scenery of the Middle East presents two different images of the region, and the complex play of labour, consumption, and globalization.
For more current shows in London visit On View
Main image: Michal Baror and Patrick Hough, The Bureau of Authentication (detail), 2017. Courtesy: the artists and Narrative Projects, London