Critic's Guide to London: The Best Shows in Town
From Ian White's posthumous retrospective to Lloyd Corporation's film about a cryptocurrency pyramid scheme, what to see in the capital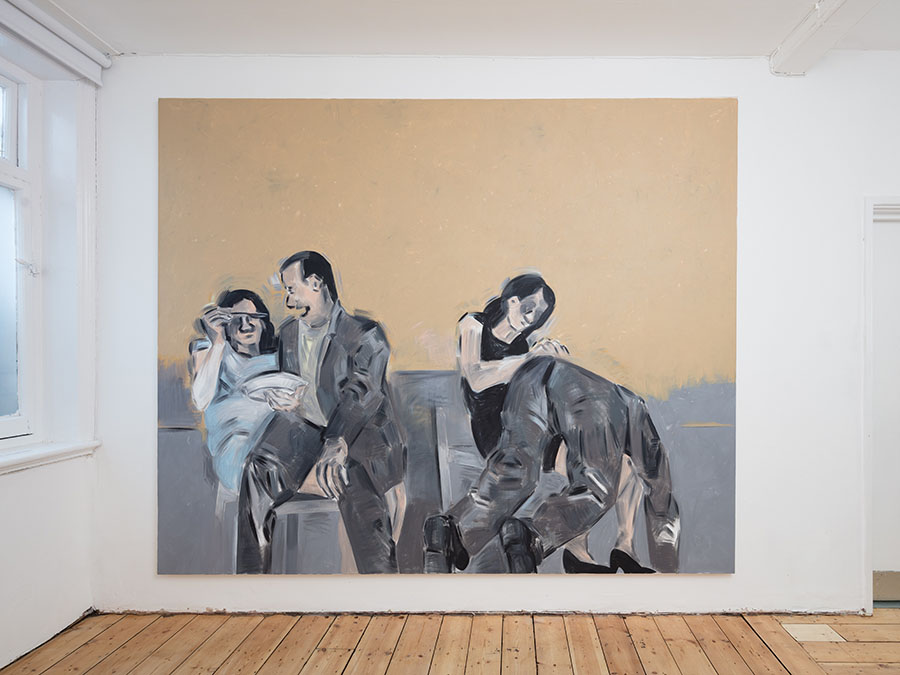 Apostolos Georgiou, 'From My Heart' 
Rodeo
9 May – 16 June
'One must never place a loaded rifle on the stage if it isn't going to go off. It's wrong to make promises you don't mean to keep', wrote Anton Chekhov in a letter to a fellow playwright. Apostolos Georgiou's uncanny figurative paintings abide by this principle. Only necessary props are included in the ongoing drama, and each lies latent and ready. A suited man shields his eyes and pulls from his pocket a letter emblazoned with an inky black heart. A smartly dressed woman presses her fist into a bare mattress, as if poised to leap up and flee the scene; by her side: a rifle.
Set over two floors at Rodeo gallery, the small selection of large paintings (all 2000–17, all Untitled) in 'From My Heart' show a practiced hand at work, one able to pin a squirming figure on a canvas. Georgiou's scenes are delineated, rather than represented: a line divides wall, ceiling, floor. A shoe is fixed in place with a few confident marks, an arching back is shaped byswift strokes. And everywhere yellow, black and blue bleed from the surface, like a deepening bruise.
Ian White 'Any frame is a thrown voice'
Camden Arts Centre
19 April – 24 June
How to posthumously exhibit the work of a performance artist? Specifically, the work of Ian White (1971–2013), an artist concerned with the transmission of ideas, and with what constitutes liveness. Curators Kirsty Bell [a frieze contributing editor] and Mike Sperlinger pose a response to this question in 'Any frame is a thrown voice', an exhibition, or perhaps contemporary interpretation, of White's diffuse and intellectually rigorous practice. 
White's absence is, of course, felt (his body was a slight but nonetheless physical presence in his work), however Bell and Sperlinger propose various strategies for reanimating these past performances. In his earliest work on show, The Neon Gainsborough (2002–3/2018), a slide show of Thomas Gainsborough paintings is projected onto a wall. An accompanying film slowly unveils handwritten subtitles, radically interpreting these works. In White's own words, the paintings are 'read as psychotic by a gay hysteric.' At the climax of the original piece, White walked from behind the slide projector and unfurled two A1 photocopies of the Transvestite Transsexual News. In this retelling, a cued spotlight illuminates the posters. Elsewhere in the exhibition, archival photographs, technical scripts and written narratives describe the work. There's an accompanying programme of performances (Adrian Rifkin and Julie Cunningham present performances of White's pieces Black Flags and Democracy on 6 June from 7pm), film screenings and even an art theory course. Unusually for White's practice, video is used sparingly in the show. 
As part of 6 things we couldn't do, but can do now (2004/18) White and longtime collaborator, Jimmy Robert, painstakingly learnt and performed Yvonne Rainer's avant-gardeand ground-breaking dance, Trio A (1966). White understood that one way to grasp a gesture is to learn it yourself. As curators, Bell and Sperlinger abide by this dictum, re-presenting White's practice in a manner faithful to its internal logic.
Aimée Parrott, 'Blood, Sea'
Pippy Houldsworth Gallery
4 May – 15 June
Our skin encases human cells, but our bodies are also host to alien objects, trace metals and billions of microorganisms. Aimée Parrott's first solo exhibition at Pippy Houldsworth Gallery is a visual representation of these leaky, porous and tidal bodies. Specifically, the show uses René Quinton's scientific discovery that 'blood plasma has an almost identical chemical composition to sea water,' but this is only the starting point.
The compact, one-room show is comprised of ten abstract works on canvas. Each is stained wet-on-wet with blue, yellow, fuchsia and mauve inks, like a distant galaxy or bacteria festering in a petri dish. Six of the works are overlaid with gestural mono prints, and almost all feature a sculptural element (a new direction for Parrott): patches of leather and felt bulge out of one canvas, and a triangle of velvet the colour of rosewood is pinned to another, its drape yonic. Parrott's works are abstract yet legible. In Beat (2018), the canvas is pinched and sewn, forming a delicate ridge that resembles a ribcage or rising waves. 
'Blood, Sea' makes connections between microbial and galactic, human and non-human, and gives painting a voice in the ecological discussions of today. 
Lloyd Corporation, 'Local to Global'
Carlos/Ishikawa
10 May – 23 June 
Carlos/Ishikawa has had a makeover. Gone are the polished concrete floor and elegant minimalist interior. Instead, Lloyd Corporation, a London-based artist duo, have installed threadbare boardroom seating and a carpet that could have been lifted from a hotel conference suite. In the centre of the room, a flat-screen TV plays Local to Global (2018), the pair's exposé of OneCoin, a particularly insidious pyramid scheme premised as a cryptocurrency.
Recorded using hidden cameras, the film is both absurd and chilling in equal measure. But where Lloyd Corporation's work excels, is in its emphasis on who rather than how. 'I believe we can go further' says one woman 'a lot of Asia and Africa will lift out of the poverty when the company comes out and there will be a lot of millionaires coming out of the world.' (sic.) The global poor is OneCoin's target. 
Like Alex Gibney's famous exposure of Scientology, Going Clear (2015), Lloyd Corporation uncover the link between religious fanaticism and the neoliberal self. 'Once you let the lion in, he will eat everyone alive,' says Global Leader, Diamond Khan. 'But to capture the lion, that's the game.' 
August Sander, 'Men Without Masks'
Hauser & Wirth
18 May – 28 July
In 1910, a young man from a mining town east of Cologne set out on a prodigious project. His name was August Sander and his aim was to document contemporary German society in all its diversity, through photographic portraits of its people. Featuring more than 80 large-scale black and white photographs taken between 1910–30, Hauser & Wirth is the temporary home of this peculiar rabble: two boxers stand beside a jockey – alongside a nun, spectacled students. There are aviators, farm workers, dwarves and actors; each is preserved by Sander's exacting lens. 
Included in the exhibition are an early set of 12 portraits of farm labourers from the Westerwald. The series served as the foundation for a larger project called 'People of the 20th Century', in which subjects were photographed and, in Sander's words, classified 'according to their essential archetype, with all the characteristics of mankind in general.'While this has connotations of the crude essentialism of fascism, Sander's work sought to disrupt this logic from within. His book of portraits, Face of Our Time (1929) was subsequently destroyed by the Nazi regime. 
In 'Country Band' (1913), a quintet of musicians stand in a clearing, flanked by spiny trees. While unified as a group, each displays their singularity: one adopts a serious expression, another wears an ironic smirk. Some men are tall, others shorter. Only one sports a spotted bow tie. In Sander's photographs, one sees individuality within an archetype. 
Kate Newby, 'All the stuff you already know'
The Sunday Painter 
26 May – 23 June
In a window, and on white beams that stretch across a double height room, Kate Newby has installed All the stuff you already know (2018), a thoughtfully site-specific platform of handmade terracotta bricks. These have been gouged out, scraped and jabbed at – the product, seemingly, of ritualistic fury. Placed (or scattered?) on top are tens, maybe hundreds of small objects: ring pulls, clay fragments, brass twigs and seed husks. Like Cathy Wilkes' assemblages, Newby's installations preserve the remnants of an unseen ceremony. 
Downstairs, suspended glass sculptures resemble plastic bags filled with water. The piece, colloquially titled Try it with less pennies and direct light (2017–18), is a recreation of a Midwestern American insect repellent: 'unwanted flies are disoriented by [the bags'] anomalous volume, and have been known to lose equilibrium and fall out of the air,' writes Sam Korman in the accompanying text. Newby's practice is as much about ritual and folk knowledge as it is about reconsidering these humble objects. Other works litter the downstairs gallery, including stacks of clay shells, hung from the ceiling with delicate wire. A close look yields a reward: each is inlaid with jewel-hued glass.
Vincent Fecteau 
greengrassi
13 April – 16 June 
Vincent Fecteau constructs objects for a future that never happened. In his fifth exhibition at greengrassi, the American artist places nine sculptures (all around 60 x 60 x 60 cm), each on a white plinth, in one quiet room. Some forms are industrial, resembling engines or anvils. Others are more geological, like wave-carved rocks. All are painted grey or black and most are finely speckled with a watercolour pencil, to give a finish like tarnished steel. On some, lime green or brown specks have been flicked over the surface, evocative of lichen or rust. There's a joke hidden in Fecteau's sculptures; the industrial appearance of the objects is a crafted illusion. The captions reveal the objects' homespun origins: papier mâché. 
These new works (all 2018, all Untitled) have a more violent tone than his previous – often brightly coloured, sculptures of similar formal shapes – citing a genus via Italian futurism. As in previous exhibitions, Fecteau's sculptures also include florist paraphernalia: birch twigs, curly willow, cane webbing, raffia. In one piece, a dried lotus pod is stuffed into a cylindrical shape that resembles an exhaust pipe. In Fecteau's future who wins: nature or the machines?
Main image: Apostolos Georgiou, Untitled (detail), 2000, acrylic on canvas, 2.5 x 2 m. Courtesy: the artist and Rodeo, London