Critic's Guide: Madrid
Ahead of ARCOMadrid this week, a guide to the best institutional shows in the city
Esther Ferrer, 'All Variations Are Valid, Including This One'
Palacio de Velázquez
26 October 2017 – 25 February 2018
Nestled in Parque El Retiro, one of Madrid's largest parks, The Palacio Velazquez currently hosts a retrospective of Esther Ferrer (b.1937), a pioneer of Spanish minimalism. Including works from the early 1960s until today, the exhibition features a comprehensive selection of photographs, sound works, videos, hand-drawn graphs and models. Aligned with the Fluxus movement and Cage, some of Ferrer's historical performances are being re-enacted inside the space, while some objects – including many models from the 'Spatial Projects' series she enacted during the 1970s and '80s – are presented alongside original scores. Re-contextualizing avant-garde performances can be a perilous exercise, especially when trapped between pristine white walls. But far from being didactic, the sometimes-awkward presence of young performers among other of Ferrer's artworks exemplifies performance as the art of time, presence and space – where accidents form part of the process.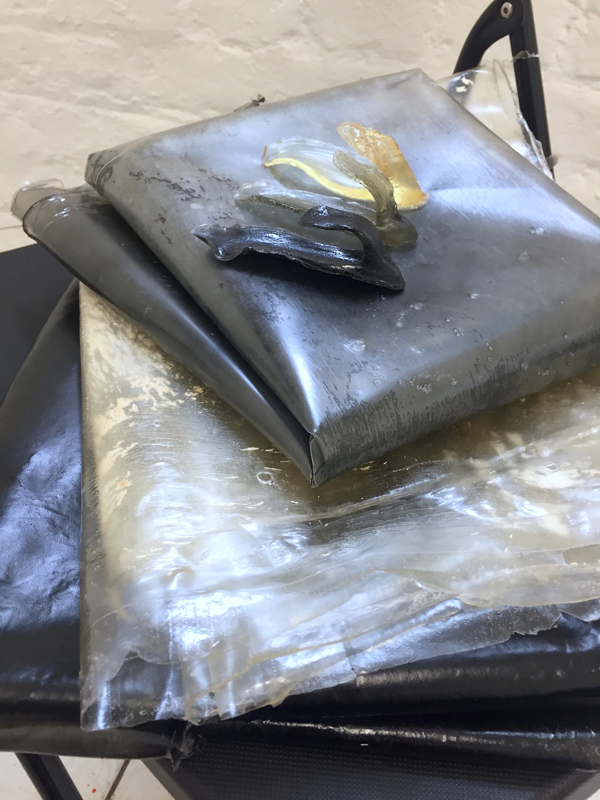 Caspar Heinemann and Claudia Pagés, 'Reap Mow Cut Harvest Mow Pluck Crop'
Yaby
20 February – 4 March
One thing Madrid lacks is a richness of project spaces. Run by Beatriz Ortega and Alberto Vallejo, Yaby is the only one I know of with a programme putting emerging Spanish artists and their international peers in meaningful dialogue. Celebrating its first anniversary, Yaby recently opened its 5th exhibition which proposes 'to explore the potential of sensual rhythms as an alternative to the capitalist logics.' 'Reap, Mow, Cut, Harvest, Mow, Pluck, Crop' brings together the work of Claudia Pagès and Caspar Heinemann, two remarkable artists-writers, both with an interest in eco-queer politics. A must-read, Pagès's novella Her Hair (2017) takes body hair as a starting point to address questions around gender, labour and growth. For this exhibition, the text also materializes through performance and objects, including a series of hook-shaped tongues made of bioplastics engineered to decay over time.
John Akomfrah, 'Purple'

Museo Thyssen-Bornemisza
20 February – 25 March
Symbolizing power, purple is a colour often associated with royalty. But it's also the colour of the substance secreted by a sea snail when threatened; this allegory gives its title to Akomfrah's latest film. The threat posed by excessive exploitation of natural resources is explored in a huge installation consisting of six screens, two photo triptychs and a sculpture, first shown at the Barbican in London last year and now presented at the Museo Thyssen Bornemisza. Akomfrah's first solo exhibition in Spain, 'Purple' details the numerous and disastrous consequences of humankind's systematic destruction of the marine biotope. The contrast between the beauty of Akomfrah's images and the horror it tells is chilling. Far from being guilt-inducing, his artistic language is a noble one: open-ended, capable of abstraction, slightly esoteric and deeply hopeful.
David Bestué, 'Rosi Amor'
Museo Nacional Centro de Arte Reina Sofia
13 September 2017 – 26 February 2018
A visit to the Reina Sofía brings double reward as it currently hosts an exhibition of new works by Spanish artist David Bestué as well as an extensive display by the South African William Kentridge which focuses mostly on the artist's opera and theatre-inspired work.
Spanning various floors of the museums, Bestué proposes both a mental and physical journey through the contrasting rooms of his exhibition, each devoted to one specific sculptural technique: from laser cutting to casting to readymades. Each room also evokes a different neighbourhood of Madrid, such as Las Tablas, an area erected in the early 2000s where many international companies are headquartered. This is depicted in a series of colourful pendulum-like sculptures whose endless and regular motion evoke a surreal hourglass finished in a post-industrial coldness.
William Kentridge, 'Enough and More Than Enough'
Museo Nacional Centro de Arte Reina Sofía

1 November 2017 – 19 March 2018
'What drawing and acting have in common is that they're both activities of the body', William Kentridge once said – a quote that helps unlock the theatrical work of the artist best known for his animations and drawings. On view on the third floor of the museum, and focusing on the performative aspect of Kentridge's work, the exhibition includes many models of theatre sets, studies of costumes, animated drawings and many other elements comprising a coherent body of work. Challenging categorization, 'Enough and More Than Enough' functions as a treatise of Kentridge's view of art: where performance is akin to drawing in four dimensions and drawing is like performing in two.
Teresa Solar, 'Cabalga, Cabalga, Cabalga'

Abierto x Obras, El Matadero
16 February – 29 July
In the Comparative Anatomy Museum in Paris, a herd of animal skeletons is assembled side by side regardless of size, shape and geographical origin. Oddly enough, all the heads of these beasts are oriented toward the same direction, as if surprised by the same thing. This curatorial anecdote is what inspires Teresa Solar's most ambitious solo exhibition to date. Her own menagerie is made of a series of sculptures whose shapes and colours seem to be taken from a decadent fun-fair: broken horses, looming arches and double-headed dolphins to name only a few of the creatures populating the exhibition. Like theatre props, some painted figures are one-sided only; while wandering through this dimly-lit forest, the visitor gets glimpses of their blank backs, not normally intended to be seen. The theatricality is reinforced by a dramatic lighting, illuminating parts of the installation while leaving others in almost total darkness – eerie when you learn that the space is a former slaughter house.
'Temporal Adverbs'

CentroCentro
16 February – 5 May
A relative newcomer to Madrid's cultural landscape, CentroCentro seems to exists somewhere between a cultural centre and a Kunsthalle. Occupying the lower floors of the Palacio de Cibeles, a prime example of Spanish Baroque, it resides in the former home of the headquarters of Spanish Mail. (A visit is a must, if only to see the original standing sorting desks that have been left untouched.) Based on the rather pessimistic statement claiming that technology, and its abuse, has created a rupture in our experience of time, 'Temporal Adverbs' showcases 15 artists whose work uses different strategies to address our perception of time. Among them is Regina de Miguel, whose poetic film Deception (2017) tells a story based on the eponymous inhabited island in the Antarctic; Jacopo Miliani's spatial reinterpretation of Howard Fast's short story Not with a bang (1973) addresses the concept of time as a tool of contemplation, especially when offline.
Main image: Hanne Lippard (included in 'Temporal Adverbs', CentroCentro), 'Flesh', installation view, KW Institute for Contemporary Art, Berlin, 2017. Courtesy: CentroCentro, Madrid