Critic's Guide: New Delhi
Ahead of the India Art Fair, which opens this Thursday, Bharti Lalwani rounds up the best shows in the Indian capital
'Stretched Terrains – A String of Exhibitions'
Kiran Nadar Museum of Art
2 February – 31 July, 2017
Just about the only private museum in India committed to building scholarship around modern and contemporary Indian art through well-researched, thoughtfully presented exhibitions, KNMA begins 2017 with not one but seven inter-linked exhibitions. Museum curator Roobina Karode presents the works of modern masters M.F. Hussain, S.H. Raza and F.N. Souza in three key exhibitions among others under the rubric of 'Stretched Terrains'. Bringing out the tenors and textures of modernism in Indian art, this exhibition brings to the public some very early paintings  from the 1940s and '50s;  F.N. Souza's Untitled (Family) (1947) and and Birth (1955) for instance.
With a desire to re-examine enquiries around 'modernity' in India, the four other exhibitions include works of five architects, showcases seminal architectural buildings in Delhi and strings together works by contemporary artists Navjot Altaf, Atul Dodiya, Mithu Sen and Pushpamala N. Collectively, this 'string' of exhibitions performs as a consortium of different pursuits, proposals and vocabularies since the time of India's independence. Works chosen, architecture, visual arts, films and writings, highlight the processes of hybridization, assimilation and cross-implantation of cultural practices within a new nation as well as an undercurrent of anxieties around developing the post-independence creative entity.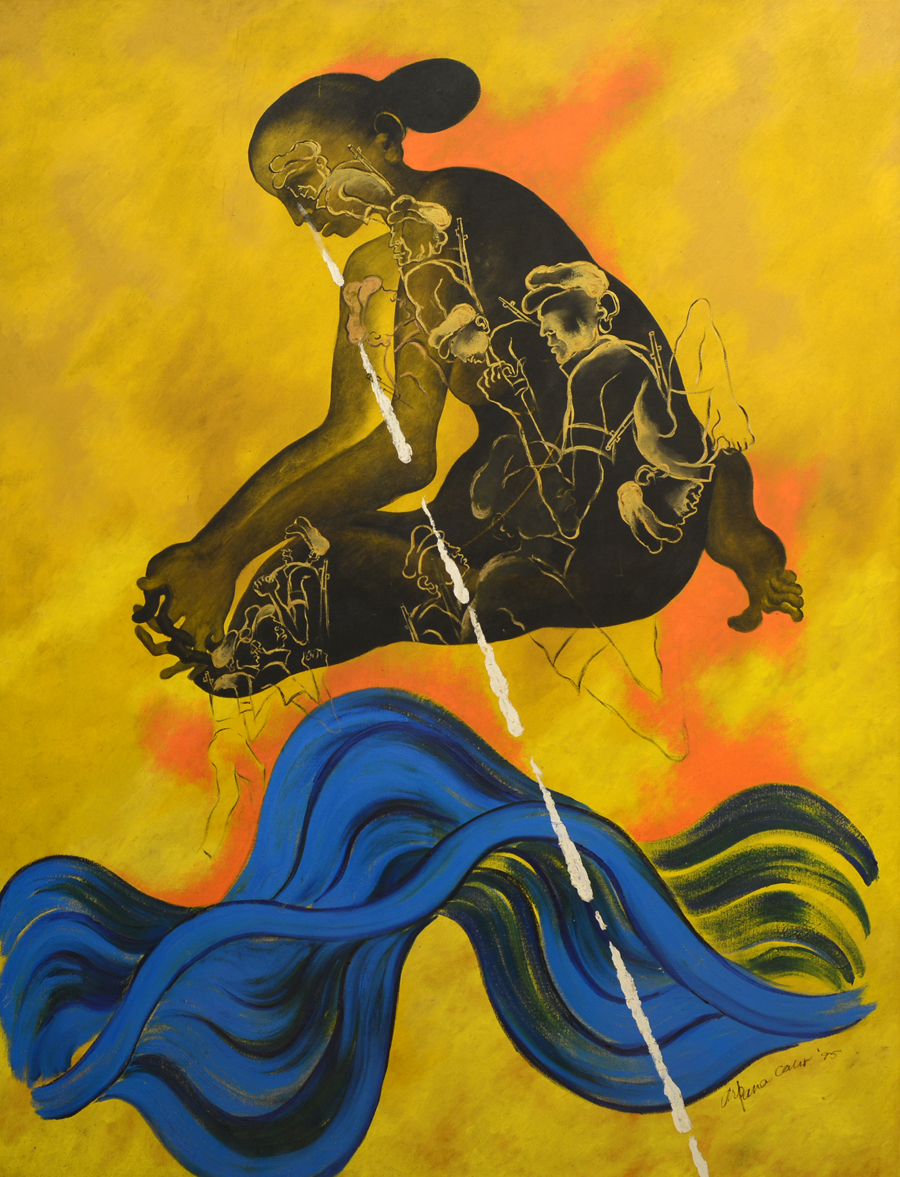 'Four Decades: Works by Arpana Caur from the Swaraj Collection'
Swaraj Art Archive
2 February – 2 April, 2017
Swaraj Art Archive is a non-profit space that was established in 2013 to document, preserve and showcase the collection of art patron Vijay Aggarwal's family collection that includes various objects, Bengal School paintings, a wide range of British Indian prints, rare books, photographs and works of art. The temperature-controlled three story building houses a gallery, conservation centre, library and archive. About an hour's drive from New Delhi, their latest exhibition showcases the breadth of artist Arpana Caur's practice through four decades. Caur's sensitivity to the frictions and harmony in the world was honed by her parents who moved to Delhi as refugees during the Partition. Her visual language as an artist was shaped under their social and spiritual conscience as Caur grew up listening to Sikh prayers, reading folk literature as well as her mother's short stories in Punjabi that centrally concerned the position of women in society and her grandfather's books on miniatures. The collection presents from its archive, around 26 paintings on canvas, 15 works on paper and a few prints. The earliest work in this exhibition, Outside the Blue Gallery, is from 1970-74.
Thukral & Tagra
Bikaner House
31 January – 15 February, 2017
Following their memorable 2015 exhibition at Dr. Bhau Dhaji Lad Museum in Mumbai, Thukral & Tagra take on the glorious colonial heritage-building of Bikaner House in New Delhi.
T & T, as they are known, explore the idea of 'play' from a cultural, strategic, and psychological perspective through their latest project 'Play Pray', an extension of their aforementioned Mumbai show (titled 'Games People Play'). The concept of narrating the ten incarnations of the god Vishnu through the vocabulary of a sport, aims to push at our preconditioned attitudes towards the sacred. On the whole, their recent project interrogates the immersive, meditative aspect of play, while simultaneously illustrating mythology through the game of ping pong. The beautiful spaces of the former Princely house have only recently been restored by the government of Rajasthan. Artists T & T utilize its many rooms to wittily unravel their conceptual zones - the past, the present and the void.
Prabhavathi Meppayil
GALLERYSKE
19 January – 2 March, 2017
Prabhavathi Meppayil practice draws on traditional craft. Her practice lays value in humble materials and tools as well as muted forms and shapes that engage with the global legacies of modernism and minimalism. Her techniques and gentle approach, as clearly visible in her new solo show, has been forged through the familial as she descends from a long line of goldsmiths in Bangalore. This exhibition presents a whole new body of work, lime gesso panels through which she appropriates the tools of goldsmiths. In one series of work, she embeds gesso forms with thin copper wires in linear arrangements which are left to oxidize and transform over time. In another, Meppayil marks the gesso with repeated incisions made by a thinnam, a tool traditionally used by goldsmiths to mark bangles and other women's ornaments with different decorative patterns. This exhibition perfectly illustrates how Meppayil's pieces combine artisan practice and modernist concerns using recurring features such as walls and floors on which she repeats lines and intermissions.
Seher Shah
Nature Morte
21 December, 2016 – 11 February, 2017
Pakistani-American artist Seher Shah mines her experiences from the field of art and architecture to think about space, landscape, objects and aesthetics. Through this show Shah develops a focused aesthetic that is expressed through ink and graphite drawings, etchings and woodcuts, photographs and digital prints, as well as her small-scale cast iron sculptures that are particularly striking. The exhibition includes older as well as newly commissioned artworks. Among the drawings that stand out is the 2015 series 'Brutalist Traces'. In these pale grey drawings, Shah uses horizontal graphite lines to render portraits of specific buildings into ghostly after-images that serve to explore the contradictions between mass and lightness, permanence and the evanescent.
Sonia Mehra Chawla
Exhibit 320
26 November – 7th February, 2017
Visual artist and researcher Sonia Mehra Chawla's artistic practice traverses notions of selfhood, nature, ecology and sustainability. Currently a visiting artist and researcher at M.S. Swaminathan Research Foundation India, Sonia's ongoing project 'Critical membrane' is on show at Exhibit 320.
This exhibition focuses on her artistic enquiry into the dynamic yet fragile depleting mangrove ecosystems of India. The mangrove belt is the 'membrane' between land and sea and is disappearing at faster rates than any other ecosystem on Earth. This exhibition combines and encompasses phases of research, expedition and documentation into comprehensive projects, through a robust interaction with Coastal and Mangrove ecosystems that serve as an entry point to various enquiries be they scientific, artistic or metaphoric. Chawla's thoughtfully presented show  implores us to consider the purpose and preservation of life especially at this critical juncture where humanity no longer has the luxury of remaining ambivalent on effects of climate change.  
The gallery also extends to an upper floor where their non-profit space '1 After 320' showcases art projects and conversations beyond the commercial realm.
Atul Dodiya
Vadehra Art Gallery
31 January – 4 March, 2017
Atul Dodiya's art practice is laced with humour and wit. His latest exhibition at Vadehra Art Gallery is delightful to behold. Cheekily titled 'Girlfriends: French, German, Italian, Egyptian, Santiniketan, Ghatkoper ....', Atul revisits portraits of women depicted throughout civilizations as well as art history. Going beyond a fresh take on figures from different geographies, cultures, socio-political contexts, time-periods and styles, Atul edgily connects highbrow portraits by great masters with profiles from Santiniketan and Ghatkoper, a suburb of Mumbai where the artist's studio is located.
Through six different bodies of work in multiple media, Atul's latest presentation marks a departure in form and style. For instance, Atul deftly plays with Francis Picabia's portraits – from the Dada period to the mid '50s – Albrecht Durer's early 16th century drawings of female figures, Rabindranath Tagore's 1930s watercolour portraits, all in warm hues and colourful tones that express them in flux. The stand out body of work however, is the 'Egyptian' series. The 'Girlfriends' look so beautifully alive and familiar that on a closer look, one suspects Atul has merged the delicate features of his artist-wife Anju Dodiya within the Egyptian silhouettes. Similarly taking up different modes of transformation in each series, he often combines two or more figures within a single frame, As the women turn their gaze, suggesting a shift in perception, no more passive, they appear to look upon the viewer in a querying manner. Meticulously laid out over two floors with different intensity in lighting and wall-colour, Atul has presented a thoroughly endearing and evocative exhibition that highlights unexpected intersections between history, femininity and agency.
Main image: Atul Dodiya, Olga Hidden, 2016, oil on canvas, 76 x 56 cm. Courtesy: Vadehra Art Gallery, New Delhi