Critic's Guide: Sydney
With the 2018 Sydney Biennale opening this week, a guide to the best gallery and museum shows to see around the city
Brook Andrew, 'SMASH IT'
Roslyn Oxley9 Gallery
5 March – 7 April
'KILL PRIMITIVISM' screams a large red neon sign at the entrance to Brook Andrew's show 'SMASH IT'. Employing a rich collection of archival material gathered during his recent stint as a Smithsonian Artist Research Fellow in the US, the Australian artist's new film – from which the show takes its title - smashes (and kills) notions of what is primitive, all the while celebrating a brash, riotous, and perhaps wilfully primitive, aesthetic. It's both dazzling and deadly serious. Academics discuss protocols and Aboriginal law as news reports from the Middle East, racist comic strips from 1930s America, and early anthropological films depicting life in 'primitive' societies, pile up. There are moments when the film pulses with bold colour fields and others when crackling, stuttering images from old reels shimmer against sharp digital images. Historical moments from across the globe collide; here is the world as it is beyond any single person's experience.
Lisa Reihana, 'Cinemania'
Campbelltown Arts Centre
12 January – 29 March
In 1804, French entrepreneur, Joseph Dufour collaborated with designer John Gabriel Charvet to create a panoramic landscape wallpaper depicting Captain Cook's voyages in the Pacific. Les Sauvages de la Mer Pacific (1805) is a 19th century colonial fantasy of the new world, painted in a neo-classical style with Tahitians depicted enjoying pleasurable everyday activities in Roman-style robes.
Lisa Reihana's reimaging of Dufour's wallpaper, In Pursuit of Venus [Infected] (2018), is the centrepiece of her current show of moving image works, 'Cinemania'. Here, historically accurate moments and traditions are performed in tableaux by Polynesian, Maori and Aboriginal First Nations actors, set within a fantastic Tahitian landscape adapted from the original wallpaper. As the 21-metre-long digital wallpaper glides by, multiple stories of Cook's expeditions to the Pacific emerge. Historical figures appear; Captain Cook – played sometimes by a man and sometimes by a woman – Hawaiian Chief Kalani'opu'u, the Polynesian Priest Tupa'ia who famously left Tahiti with Cook. A colonial man receives a traditional Samoan tattoo by a master tattoo artist (Tafuga ta tatau) while other colonial men look on. There is a Kava ceremony, two Polynesian men playfully try on a waistcoat, and a woman brushes her hair. Cook's voyage fundamentally and traumatically influenced the trajectory of the Pacific islands and in Reihana's work, this history, told for so long from a British perspective, takes on a new life. 
Ashita Shoujo Tai, (Tomorrow Girls Troop)
Firstdraft
7 March – 29 March
Ashita Shoujo Tai (Tomorrow Girls Troop) address issues of gender equality in Japan and Korea via a culturally specific aesthetic language. Much of their practice is internet based and draws on the cute, flat aesthetics of Japanese pop-culture, advertising and memes. Occupying the main room at Firstdraft, a set of posters from their ongoing public protest against sexual violence in Japan are coloured with soft purples, greens and pinks. The text – polite and non-aggressive – is set cleanly in a style popular in Japanese graphic design. Unlike the handwritten placards that have become synonymous with Women's Marches in Western countries, these posters speak directly to a Japanese audience and those who hold the power to enact legislative change. Tomorrow Girls Troop hope that by presenting the posters internationally, they will encourage Western feminists to consider new and inclusive ways of approaching feminist dialogue.
Tom Polo, Michael Staniak, Marian Tubbs
STATION Sydney
10 March – 25 March
This pop-up show, held by Melbourne gallery Station in the ballroom of a large terrace in Woollahra, brings together three young Australian artists – Marian Tubbs, Tom Polo and Michael Staniak – who display a similar sensibility toward surface, line, and the digital condition.
Staniak continues his practice of physically making digital images with several large shimmering works painted to make their irregular sculptured surfaces appear flat. At the back of the room, Tubbs' aluminium prints do the opposite. In the organism is sympathetic to multiple applications (2018), disconnected sections of coral reef hover weightlessly over a nebulous space that seems to be endlessly falling back. Details are smudged into murky patches like a Photoshop job gone wrong, there is some grey matter, unresolved pixels captured out of focus, and then, in sharp relief, two synthetic forms appear to extrude from the surface like alien forms. Her digital smudges find their material counterpart in Tom Polo's loose, tender brushstrokes. In the large, freestanding canvas ornamental ears (what is urgency) (2018), a sly-eyed figure wears a smudged sweater. In the centre, pink and red drip into each other with the intimacy of being almost kicked in the stomach by a large unhinged yellow foot.
Katie West, 'muhlu garrwarn/cool time hot time'
Dominik Mersch
9 March – 4 April
In West's thoughtful and deeply personal practice she uses traditional dyeing processes to document the passing of time and the qualities of the seasons. In a 2016 work she used a natural heat dying process – where leaves and twigs are wrapped in fabric and then boiled on an open fire – to document an otherwise ephemeral performance by Chilean artist Cecilia Vicuña. The work presented here, loosely titled 'muhlu garrwarn / cool time hot time', includes a long strip of silk dyed this way. It's a cool weather method of dyeing, and the fabric is scarred by the lines and impressions left by the outlines of the plant remains. Summer methods of solar dyeing are demonstrated in progress – berries and leaves sit with strips of fabric in jars. This method takes several weeks and delicately tints the fabric. These actions bring West in touch with earth and time as material qualities and connect her to her Yindjibarndi heritage. But there are also powerful ecological undertones to West's work that extend beyond the personal and resonate across cultural boundaries.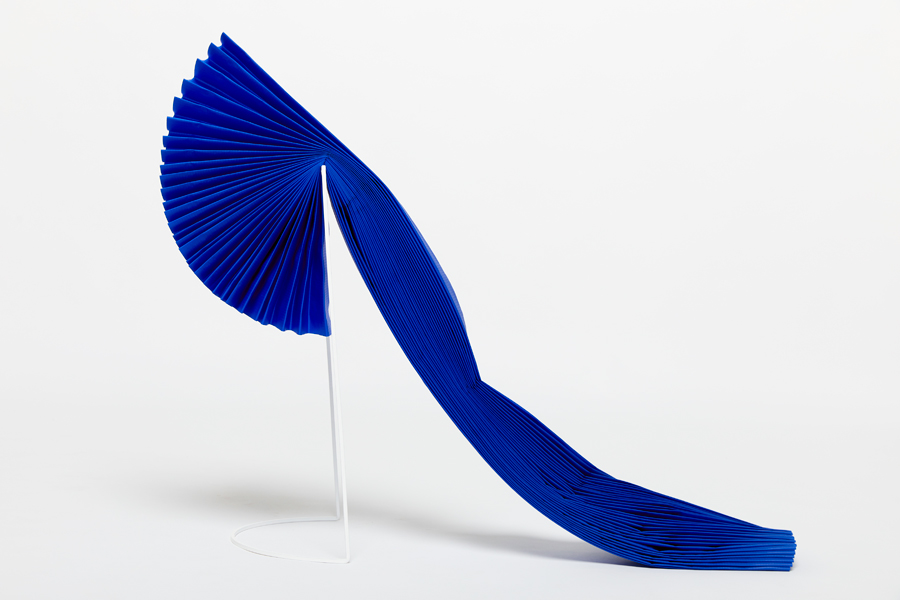 Kate Scardifield, 'Soft Topologies'
UTS Gallery
27 February – 20 April
The result of a research fellowship at Sydney's Museum of Applied Arts and Sciences (MAAS), Kate Scardifield's 'Soft Topologies' applies her ongoing study of form and pattern in response to the museum's collection of 19th century navigational and astronomical devices. Her 'propositional sculptures', brightly coloured sail cloths and spinnaker fabric that have been folded into expandable forms, respond to sky charting tools belonging to the former Governor of New South Wales, Thomas Brisbane, who set up Sydney's first observatory in the early 1800s. The hard edges of the folds ground the structures and give them weight, while the lightness and fluidity of the fabric gestures toward the ever-changing nature of early 19th century scientific process. Over the course of the show the structures will be reconfigured into different formations – a variable map of possibilities.
'And so I left'
55 Sydenham Rd
2 March – 18 March
Sydney has a thriving collection of artist-run initiatives that allow artists to test ideas without commercial pressure and take established bodies of work in new directions. This month, in the historically fascinating Marrickville space 55 Sydenham Rd (the building was once occupied by a KGB unit) Elise Harmsen, Nicola Smith and Nina Knezevic will build a collaborative room based on their shared interest in cinematic time. In a previous film, Tout va Bien (2017), Harmsen explored the nature of cinematic and personal memory by overlaying personal domestic spaces with cinematic ones, here, she explores the haunted nature of her studio at 55 by combining it with scenes from Roman Polanski's The Tenant (1976). In Pasoš, Uruwhenu, Passport (2018) Knezevic adopts the stalled time and circumvented narrative structure of Michelangelo Antonioni's The Passenger (1975), to reflect on personal questions of migration, identity and departure. And Smith, here painting directly onto the wall of the gallery from Chantal Akerman's Je tu ill elle (1975), details the intimacy of getting lost in a cinematic moment. In its complete form, 'And so I left' will be open to the public for one night only – the artists will spend the duration of the exhibition run making the work in the gallery.
The 2018 Sydney Biennale runs from 16 March to 11 June.
Main image: Nina Knezevic, Pasoš, Uruwhenua, Passport, 2018, HD video still. Courtesy: the artist and 55 Sydenham Rd, Sydney