Critic's Guide: Turin
Ed Atkins, Carol Rama, Wael Shawky, and more: this week's must see shows and events
The Passion of Carol Rama
GAM
12 October 2016 – 5 February 2017
'False teeth, penises, masturbations, snakes, deformed limbs, shoe forms, prostheses, tongues, strings, wheels, wheelchairs, urinals [...] not bad for a girl in her twenties living in Italy before the war.' This is how artist Corrado Levi described the early watercolours of his old friend Carol Rama. The self-taught artist's focus on sexuality from a female perspective was so unorthodox and anti-establishment she had to wait decades before gaining her deserved recognition – the Golden Lion of the Venice Biennale, arrived in 2003. This travelling retrospective curated by Teresa Grandas and Paul B. Preciado, which started at MACBA, Barcelona in 2014, finally stops in the artist's hometown Turin, sadly, a year after the her death. GAM (Galleria d'Arte Moderna) hosts one of the largest collections of Rama's works, so this is the perfect occasion to plunge into her oeuvre, which is sometimes overshadowed by her formidable public persona. If you feel like parting with €100 GAM also offers a guided tour of the artist's legendary Merzbau house-cum-studio on Via Napione, next to the river Po.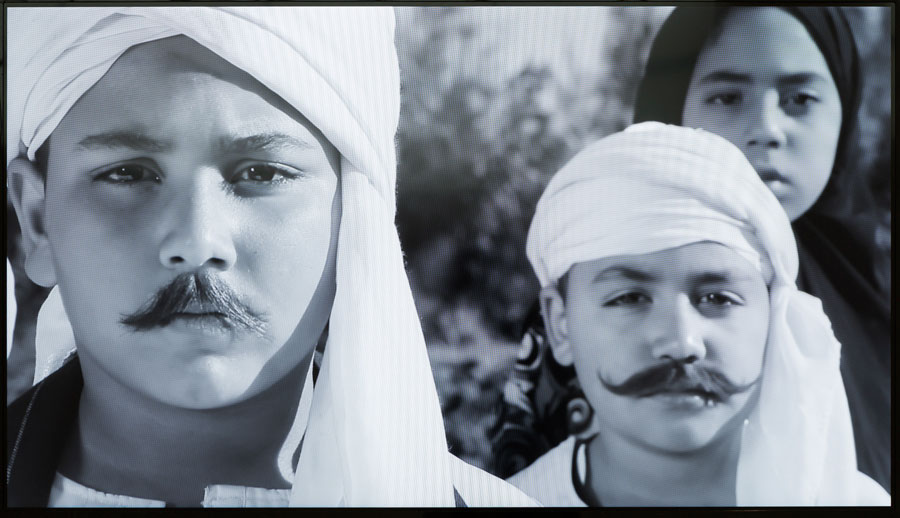 Wael Shawky
Castello di Rivoli / Fondazione Merz
2 November 2016 – 5 February 2017
Back in 2010, when Wael Shawky was in residence at Cittadellarte / Fondazione Pistoletto and needed an army of puppets for the first chapter of his epic trilogy Cabaret Crusades (which narrates the story of the Crusades from an Arab perspective), he turned to the 18th century marionette of the Lupi collection in Turin. It's apt, then, that he closes the circle with two twin shows in town. At Rivoli, under the curatorship of Carolyn Christov-Bakargiev and Marcella Beccaria, the three videos of Cabaret Crusades (2010–15) are projected in the long narrow gallery of Manica Lunga (now painted blue) against a set of artificial towers and hanging gardens populated by sculptures. At Fondazione Merz (curated by Abdellah Karroum), the artist – who won the first edition of Mario Merz Prize in 2015 – presents his other video trilogy: Al Araba Al Madfuna (2012–16) in a scenographic sea of sand. Shot in the eponymous Egyptian village close to the archeological site of Abydos, the work is inspired to the short stories of Egyptian author Mohamed Mustagab. In both shows, Shawky employs theatricality to portray conflicts and address their constant fictionalization, in the past and present tense.
Ed Atkins
Castello di Rivoli / Fondazione Sandretto Re Rebaudengo
27 September – 29 January 2017
Director of Castello di Rivoli Christov-Bakargiev's decision to team up with other Turinese institutions is clearly a strategy to counterbalance the splendid isolation of her castle: perched atop the Rivoli hill dominating the city but rather far from the centre. Ed Atkins' retrospective is therefore split across two venues: at Rivoli (curated by Christov-Bakargiev with Marianna Vecellio) the artist plays with the regal expanses of the architecture by occupying the top floor with a seamless sequence of multi-channel video installations (Even Pricks, 2013; Warm, Warm, Warm Spring Mouths, 2013; Ribbons, 2014; Counting I & II, 2014; Happy Birthday!!!, 2014; Hisser, 2015). High-hanging screens towering over viewers multiply the visuals and soundtracks of the works, just as the artist multiplies his inner/outer selves by means of digital avatars. Voices, lights and sounds overlap, in a frightening rendition of a digital Babel. At Fondazione Sandretto Re Rebaudengo (where CCB co-signs the show with Irene Calderoni), the focus is instead on Atkins' latest video installation, Safe Conduct (2016). Shown on three large screens, the work mockingly mimics airport security instruction displays. Suspended in the middle of the space, run CGI of exotic fruits, steaks, severed limbs, teeth and inner organs rolling orderly on the trays of a conveyor belt, while Ravel's Bolero blares out to a sadistic crescendo. In times of locked borders and detention camps, 'in' and 'out' do not apply only the outlines and contents of our bodies, but to their strict policing.
Henrik Olesen
Galleria Franco Noero
2 November – 15 January 2017
Olesen is a regular at Noero: this being his fourth solo at the gallery since 1999, when the space was just a room overlooking Via Mazzini. For the vast post-industrial loft in Via Mottalciata, the Danish, Berlin-based artist has created a new group of sculptures and a set of new A3 collages from the series After Dhalgren (debuted in New York last spring, at Galerie Buchholz), his homage to the cult sci-fi novel Dhalgren by Samuel R. Delany, 'the major novel of love and terror at the end of time', as the blurb on the 1975 cover claims. The book's obscure plot follows the adventures of the amnesiac Kidd in the post-apocalyptic Midwest town of Bellona, flipping through issues of gender, sex, identity, power, poetry, violence, denial. Kidd is an ideal hero for Olesen's unremitting inquiry into representations of homosexuality and 'cultural patterns' across modernity. For another round of the subversive powers of the queer gaze, Noero's second venue hosts  – among the frescoes, boiseries and stuccoes of an old palazzo in Piazza Carignano – one hundred gelatin silver prints and Polaroids by Robert Mapplethorpe, including a selection of photos from his voyages in Italy in the 1980s, when he exhibited at Lucio Amelio's mythical (and gloriously queer) gallery in Naples.
Ruth Proctor
Norma Mangione Gallery
5 November – 22 December 2016
Let's do the Time Warp again! At Norma Mangione, Ruth Proctor projects the visitors of her solo 'As if Nothing Happened' into a parallel dimension by means of an ironically simple device: a clock, that creates 'a space where time moves forwards an hour', as she puts it. 'If spending an hour within the space, when leaving through the gallery door the time is then the same as the moment they stepped inside. […] Physical existence continues as normal but the concept of apparent time is shifted.' Expect a few installations and a series of colour photos recording the geometrical marks left on the ground after merry-go-rounds, carousels and funfairs have been dismantled: an inventory of lacunae as well as of fleeting moments of happiness. To further extend the theme of time travel across the nearby Piazza Vittorio you can visit 'The Land That Time Forgot' (same dates as Proctor's show, but call the gallery for details) by Jonathan Monk at Studio Salvo, Via Alfonso Bonafous 2. The distance is short and the connection personal: Norma Mangione is also the daughter of Salvo, a core member of the Turin-based Arte Povera group. Since his death last year, she opens the archive to special projects by other artists: in this case, Monk repainted 19 prints of Salvo's signature landscapes, except for his typical rounded trees: nothing but uncontaminated nature is left behind.
Almanac Inn, NESXT festival, Cripta 747
With her solo exhibition 'Echolocation', London-based Emily Jones celebrates the opening of the new venue of Almanac Inn (Via Reggio 13, near the Mole Antonelliana), a non-profit focused on young artists, which has another outpost in South London. Introduced by the ad-hoc poem Inside the Giant and by an eponymous soundpiece, the show reflects on how individuality can be tracked via echoes and reverberations of one's body, voice, memories, sentimental leanings and interactions with the social space.
Jones' exhibition is part of the dense line-up of NESXT festival (4-6 November), a new platform that brings together a network of independent spaces. It works both as a permanent circuit in Turin, as well as a temporary exhibition organized by 20 participants from across Italy, at Q35, not far from Noero. On the same street, do not miss the recently relocated Cripta 747, one of the best alternative spaces in town, where Jonatah Manno debuts under the impossibly long, romantic and Calvino-esque title 'In una stanza, disabitata d'inverno, decorata da macchie di muffa e salmastro, sul pavimento in ceramica industriale, la testa di Giano Bifronte' (In a room, deserted during the winter, decorated by stains of mould and sea water, on a floor made of industrial ceramic tiles, the head of Janus Bifrons).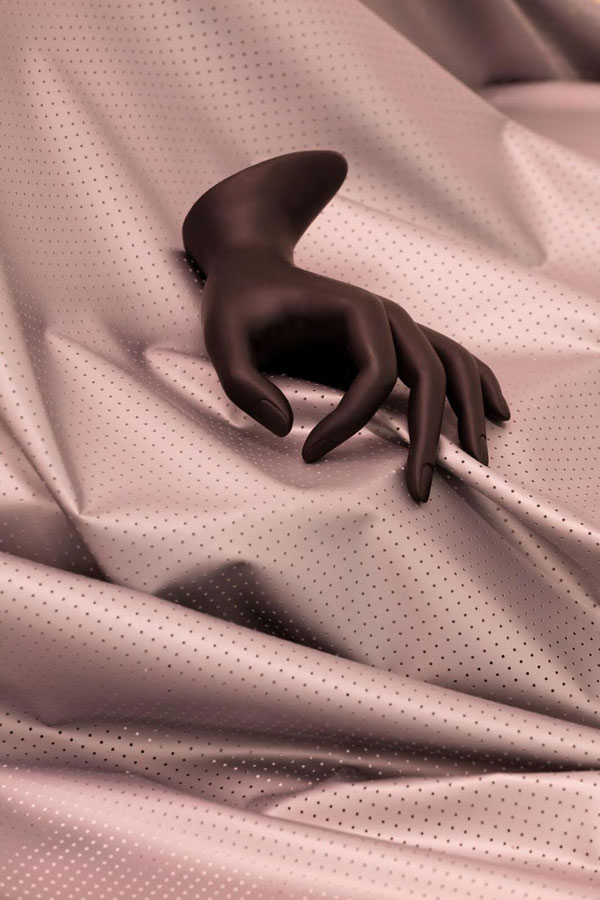 Anna Franceschini
Confetteria Stratta, Piazza S.Carlo 191
4 November, from 6 to 9 pm
And now, for something sweet to fight the art week's fatigue: WHAT HAPPENED TO THE GIRL? Display 1 (2016). For one evening, delicate kinetic sculptures and assemblages by Anna Franceschini (born 1979, Pavia) will infiltrate the vitrines and chocolate-filled shelves of Stratta, established in 1836 under the arcades of the central Piazza San Carlo and one of the elegant old confiseries that are a fixture of Turin's landscape. Franceschini usually makes videos and choreographs stylized dance performances, but here she moves out of her immediate comfort zone – in keeping with the strategy of Mega, a newly opened Milanese space (run by Davide Giannella, Giovanna Silva, Delfino Sisto Legnani), who organized the event and where Display 2 will take place in the coming months.