Critic's Guide: Zurich
Ahead of Zurich Contemporary Art Weekend, a guide to the best shows across the city
'Reaper. Richard Hamilton and Sigfried Giedion'
Graphische Sammlung ETH Zürich
3 May – 25 June 2017
There's never a bad moment to look at Richard Hamilton's work. In this collaboration between the ETH Zürich university print collection and their Institute for History and Theory of Architecture, Hamilton's early 'Reaper' series of 1949 is positioned alongside an important inspiration: Zurich-based architectural historian Sigfried Giedion's publication Mechanization Takes Command from the previous year. The book was a history of everyday objects – a novel idea at the time – richly illustrated with advertisements, patents, diagrams and images of the influx of mechanization into factories, homes and agriculture. 18 Hamilton prints are shown on an easel-like wall structure, below which horizontal vitrines are filled with some of Giedion's related research ephemera. Further layers are added with additional Giedion correspondence and proofs, as well as ETH Professor Adam Caruso's rationalization of his simple exhibition architecture. Skip the meta-commentary: at the centre of this show is a brief, delightful encounter with two near-contemporaries who interrogated their changing times.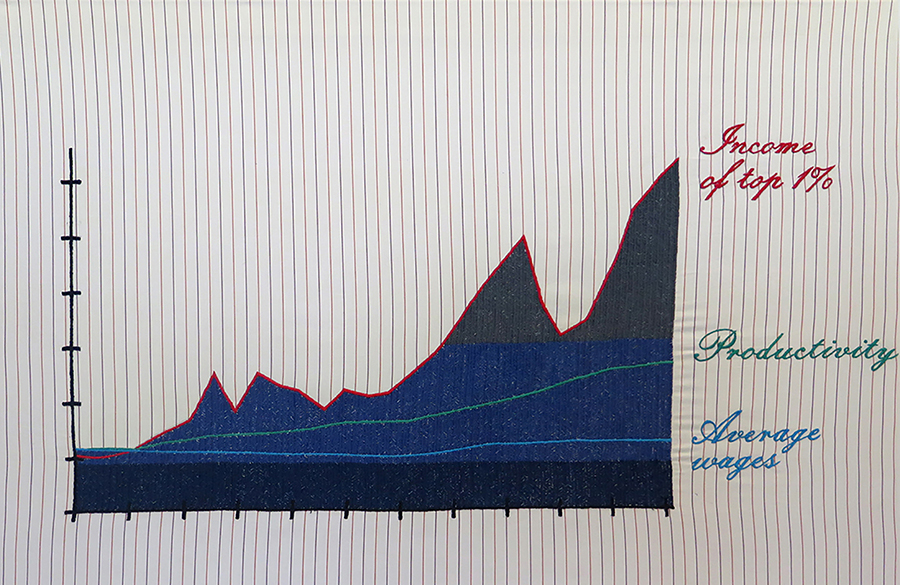 Maja Bajevic, 'Power, Governance, Labor'
Migros Museum für Gegenwartskunst
20 May – 13 August 2017
If we remain mired in old ideas of gender, nationality, economics and power, why not use them to our advantage? Inequitable – but familiar – gender dynamics are templates with which we can consider other relationships, as Maja Bajevic demonstrates in her 2009 work How Do You Want to Be Governed?. The artist sits and tries to face the camera while a largely unseen man continuously repeats the question: hectoring, demanding, occasionally caressing and often threatening her. Bajevic's exhibition brings together works from 2001 to the present day in video, installation, performance and on paper. Despite searing critique, her stubborn sense of humour is infectious: mocking commentators' blinkered national perspectives when describing her practice, she apes her famous Balkan compatriot in the video Art Has to Be National (2012), in which she combs her hair and repeats the work's title. 
Claudia Comte, '10 Rooms, 40 Walls, 1059 m2'
Kunstmuseum Luzern
4 March – 18 June 2017
Lucerne is a 45-minute train ride from Zurich, and the Kunstmuseum in the Jean Nouvel-designed Culture and Congress Centre is on the station's doorstep. It's worth the trip to catch the end of one of the most important exhibitions in Switzerland this spring. Rising star Claudia Comte's ambition is clear from the title; this is a bombastic show that makes big statements in wall drawing, works on canvas, sculpture and installation. Comte's familiar cartoonish, op-art and minimalist devices are all in evidence, as is the recent progression from organic materials – the massive, curvy hand-worked wooden cacti, or stone doughnuts, for example – to slinky, machine-tooled aerodynamic elements. Her harshest critics have suggested that the work is an empty carapace, though this is unfair. Some parts undoubtedly work better than others, but Comte is due credit for her daring. For the still relatively young artist to take on greats like Sol LeWitt and Olivier Mosset at their own game on such a public stage requires courage. Concurrently she will also have a monumental sculptural work in Basel's Messeplatz to coincide with Art Basel.
'Performing Knowledge'
Dienstgebäude
2 June – 1 July 2017
When galleries close in a city (of late, RaebervonStenglin and Rotwand have both shuttered) the mood can be gloomy, but Zurich has plenty to be proud of. Its off-spaces are going strong: Last Tango, for instance, is a new addition, and Dienstgebäude continues its laudable programme. Guest curators Gioia dal Molin and Yasmin Afschar have teamed up to present a tight, dense, selection of works dealing with how artists work with academic knowledge and methods, as both inspiration and form. Unsurprisingly, and in cheerful contrast to the bling of gallery shows pitched at fly-by collectors, this is not a show that can be swiftly digested. The included artists have chosen their subject areas, their resources and how their work is presented. Delphine Chapuis-Schmitz shows a neon sign for a Twitter address, and on that account, for the duration of the show, are published isolated and twisted fragments of a Donna Haraway text. Elsewhere Anna Witt's video work shows various members of a university debating club using rhetorical flourishes to argue in favour of speaking the truth.
Danny Lyon
Edwynn Houk Gallery
24 May – 29 July 2017
Coinciding with a significant Danny Lyon retrospective currently showing at the Fotomuseum Winterthur (which runs until 27 August), Houk's Zurich outpost is exhibiting 12 prints by the American photographer famous for documenting the counter culture and the civil rights movement. Taken between 1963 and 1967, the selection principally focuses on Chicago's Outlaws motorcycle club. In isolation, a shot like Crossing the Ohio, Louisville, 1966, makes the bikers' activities look like the stuff of a cigarette advertisement: a man looks over his shoulder while speeding across the bridge, his hair blowing in the wind as in the background the cast-iron bridge that spans the water seems a paean to a bygone industrial heritage and the American dream of freedom and independence. But all was not better back then as Lyon's Arrest of Taylor Washington, Lebs Restaurant, Atlanta, 1963 makes clear. The black high school student tries to ease a policeman's grip around his neck. In the background, a group of other white male faces observe the scene, looking straight into the camera, stony-faced.
Beatriz González
Galerie Peter Kilchmann
10 June – 29 July
Beatriz González's work is being 'rediscovered' in Europe, thanks, in part, to the inclusion of her large repeat-print curtain work Decoración de interiores (Interior decoration, 1981) in documenta 14 in Athens. This revival of interest in the artist born in 1938 gives her an opportunity to reframe her practice, moving beyond her reputation as a pop artist to a more complex stance that relates just as much to folk art and old Master painting as to consumer culture. Of her early works, in the 1960s and '70s the artist from Andean Bucaramanga has said: 'I wanted to make underdeveloped paintings for underdeveloped countries'. Subsequent events in Colombia made her focus turn pointedly political. At Peter Kilchmann she will show a group of new paintings and works on paper that address events in recent Latin American history – in particular the 2014 flooding in Colombia and the 2015 expulsion of thousands of Colombians from Venezuela – as simple, painful human experiences. 
Henry Taylor, 'A Portrait Show'
Galerie Eva Presenhuber
11 June – 22 July
Eva Presenhuber's programme has long had a US bent, even more so since she opened her New York space in May (one of her Zurich venues is set to close shortly). Continuing in this vein, during Art Basel the gallery shows its first collaboration with Californian-born and bred Henry Taylor. It's on the topic of portraits, of black figures – like Taylor – in particular. His depictions generally suggest an intimate empathy with his subjects, who often hold the artist and the viewer in a tight stare, whether they be art world grandees or homeless people on the streets. Running in parallel on the other side of the Atlantic is the artist's New York High Line Art commission the floaters (2017), for which a self-portrait of Taylor floating in a friend's pool, leaning back on foam noodles, is blown up to epic proportions on the side of a building.
Other shows around town:
Michael Riedel, 'CV'
Kunsthalle Zürich
20 May – 18 August 2017
Hans-Peter Feldmann and Elad Lassry
Francesca Pia
3 June – 19 August 2017
Marvin Gaye Chetwynd, 'The Stagnant Pool'
Gregor Staiger
20 May – 8 July 2017
Donatella Bernardi and Wong Ping
Last Tango
11 June – 12 August 2017
Jenny Holzer
Hauser & Wirth
12 June – 29 July 2017
David Chieppo, Anne-Lise Coste and Dieter Hall, 'things are getting better all the time…'
Helmhaus
5 May – 25 June 2017
Main image: Claudia Comte, '10 Rooms, 40 Walls, 1059 m2', installation view, Kunstmuseum Luzern. Photo: Gunnar Meier