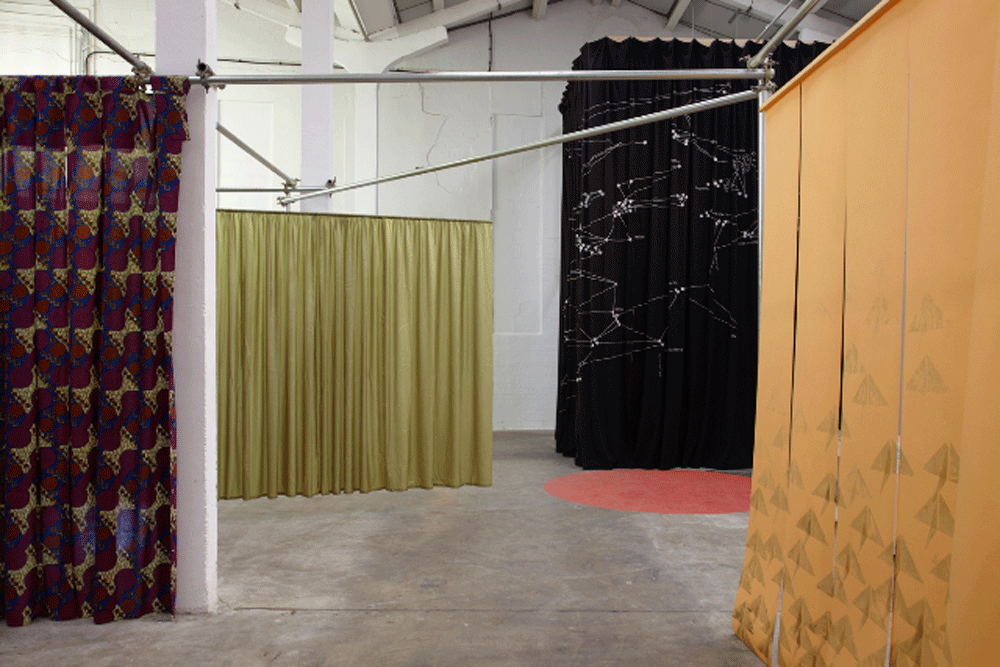 The trappings of Modernist exhibitions and early-20th-century expos – all sleek armatures and Bauhaus geometrics – have, over the last few years, become familiar points of reference for a significant number of artists. A good deal of these repurposings make claims for a research-orientated approach while relying, sometimes too much, on the seductively austere formalism they allude to. Picture this: patterned draperies slung over aluminium rods installed next to a freestanding glass partition, some display cabinets and a smattering of pot plants. It sounds similar to a good number of recent works, but the description actually refers to Lilly Reich's 'Silk and Velvet Café', a collaboration with her partner Ludwig Mies van der Rohe presented at the 1927 Exposition de la Mode in Berlin.
Curated by Céline Condorelli and Gavin Wade, 'Curtain Show' took this 1927 installation as a 'pioneering example' of the temporary exhibition model, aiming to consider how commerce and exhibition design can shape convivial space. Though comparatively little-known, this wasn't the first time that Reich's Berlin installation has been taken as a model in recent years: Goshka Macuga's 'Haus der Frau' presentation for the 2008 Turner Prize comprised reinterpretations of Reich's display stands. At Eastside Projects, though, the original was represented as documentation – printed on an indoor billboard designed by founding director and in-house designer James Langdon and as three black and white archival photographs – rather than recreated. The exhibition focused instead on the fundamental coerciveness of exhibition prosthetics in an attempt to show up screens and partitions – here forming a maze of alcoves – as anything but neutral framing devices.
Such issues were discussed, charmlessly and at some length, in Ines Schaber's soundpiece Diabolic Tenant (2007), a dialogue in which two curtains – named Silk and Blind – bicker about the 'politics they embody'. Also considering the politics and exchanges of decorative hangings, Grace Ndiritu's four-channel video Still Life (2007) – presenting the artist covered in brightly patterned fabrics of a West African design – was remade here, hung in a U-shaped enclosure with similar patterns (made in China and sold in Birmingham). While both looked great, I found myself remembering a complaint of Mies': 'What's so political about chiffons?'
'Curtain Show' was much more compelling when its mode shifted from discursive to elegiac, to consider the flux of public display and exhibition architecture. Albrecht Schäfer's Centrum (2010) – a screen of die-cut paper shapes that crossed the gallery – is modelled on the façade of the Centrum department store (once the biggest store in the GDR), which was itself modelled on the West German chain of Horten stores. The original design was passed back once more when, after the fall of the Berlin Wall, the two companies merged. Tacita Dean's Darmstädter Werkblock (Darmstadt Work Block, 2007) fixates on details of the seven Beuys rooms of the Hessisches Landesmuseum in Darmstadt, which the artist himself continuously altered between 1970 and his death in 1986. Dean made the film during the galleries' closure for what proved to be a controversial renovation; the film registers the removed vitrines and objects as sun-bleached outlines on the dusty jute walls. Behind Barbara Holub's Initiative Island (2008), a high black curtain embroidered with a constellation of Birmingham's council blocks (both demolished and extant), played Furniture Music: Tapestry of Wrought Iron (1920) by Eric Satie. When the piece was premiered, the audience was politely asked 'to take no notice of it and to behave […] as if the music did not exist.' As the story goes, when the assembled crowd stopped talking the composer angrily instructed them not to listen. In recent years, Satie's hoped-for shift in attention seems to have taken place with Modernist exhibition history: we're now only noticing the interludes or the frames. I wonder how much is left in these occluded corners of Modernism, but, for now at least, the continued reappraisal of Reich's influence is a laudable corrective to the dominant male canon.