Since gaining a supermajority in the Senate in October 2015, the Law and Justice party has neutered Poland's Constitutional Court, purged the heads of state-run radio and television stations, and significantly expanded the government's surveillance policies. Given this unprecedented shift to the right, Galeria Labirynt's exhibition, 'De-Mo-Kra-Cja' (De-Mo-Cra-Cy), seems especially timely. Comprising work by more than 40 artists and collectives, the show presents a wide range of responses to participatory government.
Most of the works are specific to Poland's political development and many relate directly to the corporeal. The two sides of Zofia Kulik's black and white diptych, Dwa detale (Two Details, 1994), feature collaged photographic negatives of a man wearing a flowing, Jesus-like perizoma: on the left, a white flag waves above his head; on the right, he sports a papist crown. Together, the images suggest the intersection of the state and the Catholic Church (which formerly assisted the solidarity efforts, but now supports the right-wing government) in relation to the body – the space of individuality and independence. In Karolina Breguła's Instrumenty do robienia hałasu (Instruments To Make Noise, 2016), the array of makeshift apparatus, clearly designed to be used in demonstrations, conjures an old springtime tradition in which children run through village streets with rattles to rouse people from their sleep. Elsewhere, in Janusz Bałdyga's Miejsca znaczone (Places Marked, 2006), wooden slats balance upon an old chair perched atop a welded frame, forming a precarious bench: numbered places indicate five seats, but it's obvious that only by sitting in the middle first, and then carefully distributing the weight, could the entire bench be occupied without the whole construction toppling over.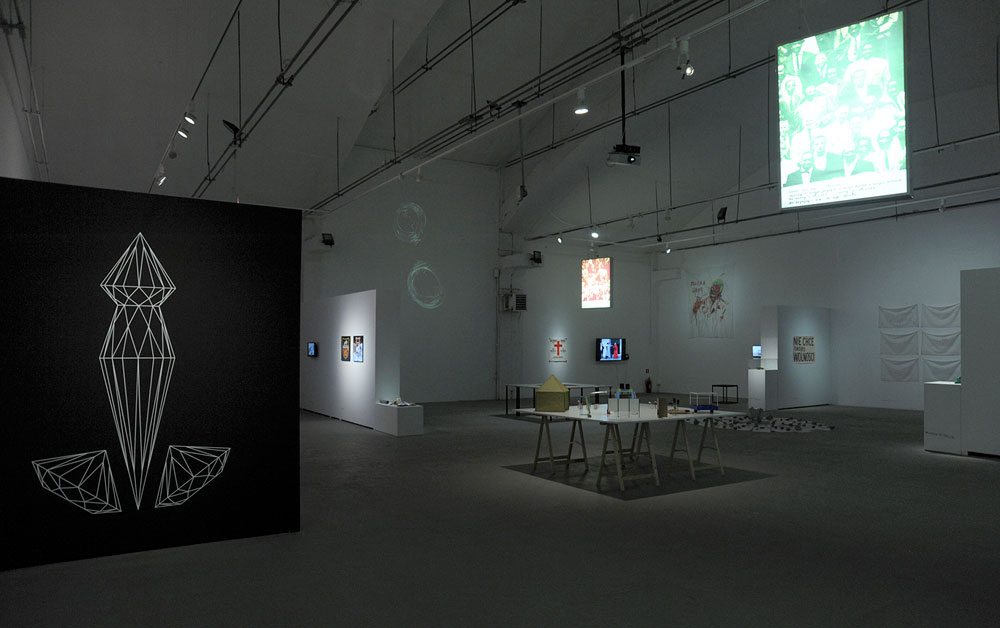 Other works regard democracy from a greater remove. Douwe Dijkstra's video Démontable (Removable, 2014) deftly plays with scale using various green-screen compositing techniques, while simultaneously exposing the mechanics behind them. In one scene, a squadron of miniature Apache helicopters hovers near a life-sized human reading a newspaper; the helicopter blades flicker and shred the edges of the newspaper, but the reader barely notices. By shrinking combatant actions down to the size of toy soldiers, Dijkstra illustrates the dissociative effects of imposing 'democracy' by force and from a distance. In Breguła's video Zupa (Soup, 2014), a group of uniformly grey-clad adults at a dinner party exchange platitudes such as, 'Join me on Facebook.' One guest announces a hunger strike after she is already sated. At the close of the meal, a young girl appears and asks for food, but the hosts tell her there is nothing left and offer her a pickle. The message is clear: what remains for the new millennium is meagre, cold and sour.
Despite the criticality on display, only two works in the show seem specifically oriented toward action. Joanna Borkowska's Kamienie wyborcze (Voting Stones, 2016) comprises an empty tin pail surrounded by a circle of A4 papers weighed down by fist-sized rocks. Each paper bears individual slogans and ideas about democracy written by visitors to a debate held at the gallery, but the sanitized space of the exhibition renders the stones (presumably meant to be thrown in protest) all but powerless. The artists' collective Szalona Galeria (Crazy Gallery) presents a model of a portable exhibition venue, which is intended to travel to ten Polish cities that are ordinarily underserved by the arts. It's a simple idea, but one with an underlying activist objective.
The broad range of interrogative approaches and metaphorical devices adopted in the works in 'De-Mo-Kra-Cja' reflects the messy and multivariate nature of democracy. Whether such exhibitions can serve to provoke debate that might lead to political change in Poland remains to be seen. The present government is disinclined to subsidize freedom of expression and many of Poland's institutions are state-sponsored. The show's curatorial statement concludes with a note of anxiety for 'democracy, liberty, equality [and] openness', suggesting that democracy's true promise is not utopian uniformity but simply the right to declare a dissenting voice – and to have it heard.