Featured in
Designed Differently
Once dubbed 'the world's factory floor', Shenzhen has re-invented itself as a centre of innovation 
During the Qing dynasty (1644–1912 CE), Manchu emperors revitalized an ancient practice of governance known as xunshou or 'tours of inspection'. These regular expeditions were intended to remind recalcitrant southern regions of their allegiance to the capital and to usher in a new period of prosperity under Qing rule. The symbolism of these ritualized excursions resurfaced in modern statesmanship with Deng Xiaoping's famous 'descent' of 1992 and, exactly 20 years later, with Xi Jinping's first national tour. Both leaders chose Shenzhen as the podium from which to push forward economic reform.
Since the beginning of the opening-up era, launched by Deng in 1978, the development of the Greater Bay Area – the mega-region encompassing the Pearl River Delta (PRD) – has been the centrepiece of China's international innovation diplomacy. The product of hardcore political manoeuvring around its financial and trading routes, and soft power exercised through the gradual transformation of manufacturing capacity into a home-grown ecosystem of disruptive creativity, Shenzhen's three-decade ascent from fishing village to mega-city and, today, global tech hub shines as an exemplary parable. Attempts to reconcile the intangible and territorial extents of these global ambitions feature in a number of cultural initiatives aiming at a critical re-appraisal of the PRD as more than the geographical 'sum of its parts'.
This expression appears in the opening statements of Design Society. This new, design-focused institution launched in December in Shekou where, 40 years ago, the 'first blast' unleashed by Deng's reforms flattened the mountains to make way for Shenzhen's Special Economic Zone (SEZ). It is part of the Sea World Culture and Arts Centre (SWCAC) – a venture funded by a real-estate subsidiary of the 145-year-old China Merchants Group – which has partnered with London's Victoria & Albert Museum (V&A) for its launch and on programming until 2019. Design Society defines itself as a platform to 'combine, connect, cross-fertilize and so transcend cultural territories and boundaries as we know them'. Promising to offer a space for civic participation, it is – as its founding director Ole Bouman puts it – 'a call to action'.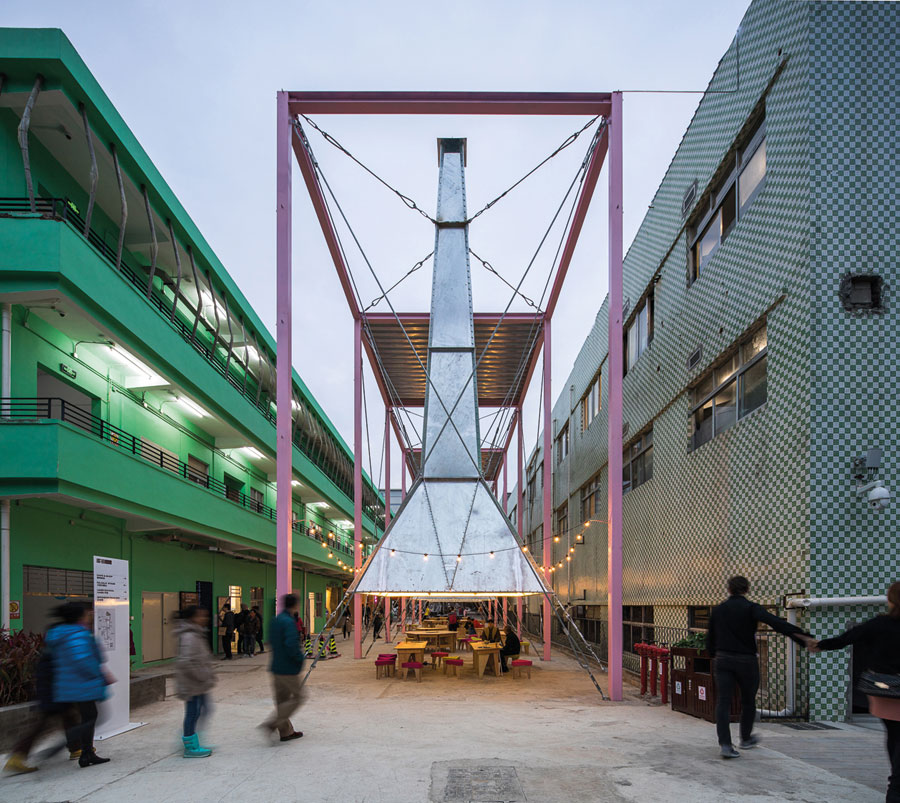 An RMB 1.3 billion complex designed by Japanese architect Fumihiko Maki, SWCAC is a 71,000 m2, mixed-use hub lining Shekou's waterfront with bleak white and grey geometries. It includes a vast cantilevered indoor plaza, rooftop gardens and galleries distributed over six floors, most of which were still empty at the time of the opening. SWCAC fills an ostensible void in China's art-dominated institutional landscape; however, while its strategic partnership with the V&A sets an ambitious precedent, speculations around the role Design Society will play in the region remain open-ended, if inconspicuously articulated in its launch programme.
The two main inaugural shows – 'Minding the Digital', organized by Design Society, and 'Values of Design', curated by the V&A – are set in adjacent and oddly recessed spaces on the ground floor. Both present inquiries into histories of design and allude to its constantly expanding fields of practice and shifting social meanings. The V&A's curator Brendan Cormier expertly situates 250 items selected from the museum's vast collections within seven value-themed frameworks: performance, cost, problem-solving, materials, identity, communication and wonder. With design by London-based Sam Jacob Studio, the show weaves an expansive temporal and transcultural narrative spanning Asia, continental Europe and the US. We find an Iranian astrolabe (c.1650–1800) – an antique instrument of precision – juxtaposed with a Swiss Army knife (2016) performing up to 80 functions; a set of 17th-century, blue and white Delftware from the Netherlands (1600s), which mimics sought-after Chinese originals, flanked by a niche yet inexpensive product like the mobile for the elderly (2008) – with extra-sized keyboard and an emergency button – designed in Shenzhen.
Less successful is Design Society's attempt to explore the design ramifications of digital evolution. Pieces by the usual international suspects are combined with local examples in an obtrusive scenography devised by Rotterdam-based MVRDV. The result is a neutralizing presentation that favours conceptual proximities and objectified aestheticism over the meaningful exploration of PRD-native histories. 3D-printed works by fashion designer Iris van Herpen and chairs by her Dutch compatriot Joris Laarman sit alongside creations by local talents including Zhang Zhoujie's algorithmic furniture, Elaine Yan Ling Ng's responsive fabrics, robotic landscapes by architecture duo Sky Yutaka and Meng Qi's hacked musical instruments. Against the backdrop of Shenzhen – a hotbed of open-source manufacturing and home to companies including Tencent (the social media and gaming giant now worth more than Facebook) and BGI (the world's largest genome-sequencing institute) – 'Minding the Digital' offers a tame, at moments stultifying, rendition of regional innovation. 
Two weeks after the SWCAC's opening, however, we were catapulted into a radically different experience of what institutional self-scrutiny and curatorial experimentalism can accomplish when they cater to their publics rather than audition for international recognition. The Shenzhen chapter of the 2017 Bi-City Biennale of Urbanism/Architecture (the Hong Kong iteration was not yet open at the time of writing) celebrates its tenth anniversary by abandoning the empty industrial grounds customarily occupied by previous editions and entering the viscera of the living city in Nantou Old Town.
Formerly a walled settlement dating back over 1,700 years, Nantou developed into an 'urban village' marked by its informal infrastructure and high-density population, comprised mostly of immigrants who settled following the development of the SEZ. Titled 'Cities, Grow in Difference', the biennale takes this PRD-specific typology and haphazard self-urbanization process as a speculative and physical template to inspire new forms of 'urban co-existence' (chengshi gongsheng, per the original Chinese title), founded on social inclusivity and bottom-up innovation. Most significantly, it has aligned its financial and professional assets with long-term revitalization plans for Nantou, which the show's chief curators – architects Liu Xiaodu and Meng Yan of local practice Urbanus – have been involved in since early 2016. A careful set of temporary and permanent renovations host the architecture exhibits and a series of artists' interventions choreographed by co-curator Hou Hanru.
Long-held convictions about Shenzhen's origins are shattered here – the sprawl of high-rises that inspired Rem Koolhaas's thinking of the 'generic city' owes its identity more to historical migratory fluxes from surrounding and northern regions than to top-down planning. Four floors of a converted factory at the heart of Nantou village host a large body of research on specific case studies across PRD cities by a variety of locally based practitioners and schools. Architect and scholar Juan Du's seminal work on the subject, Massive Change: Centuries of Shenzhen Transformation (2017), provides a timeline of historical Shenzhen that begins in 110 BCE. Various other projects deal with self-build and co-designed housing, and a smaller number present comparative 'urban village' examples from global cities – including Karolina Czeczek and Adam Frampton's analysis of anomalously shaped vacant lots across New York (Irregular Development, 2017).
In the strand of the programme curated by Hou, an iteration of The Street Museum (2004–ongoing) by Yona Friedman, along with new commissions from Atelier Bow-Wow (Fire Foodies Club, 2017) and Xu Tan (Rains in Village, 2017) all fit with the biennale's intention to be both exhibition and 'village'. Raising awareness about endangered urban communities by sitting within and engaging with Nantou, the biennale combines archival impetus with cultural activism. In doing so, it helps legitimize the socio-economic hybridity, ethnic diversity and messy architectural bricolage unique to these spaces. It is an imperfect show – but who cares? As, up north, power becomes increasingly consolidated and daily news cycles bring a general sense of cultural loss, witnessing the empowering resilience of creativity in action is of the utmost comfort and inspiration. These old and new beginnings must be congratulated and encouraged. We'll keep returning south.
Main image: Boa Mistura, Pingheng, Understanding Chinese Reality, 2017, mural on the facade of the Bi-City Shenzhen Biennale of Urbanism/Architecture. Courtesy: UABB; photograph: Zhang Chao