Dispatches: London
Hockney's masthead for The Sun and ways to make the bubble bigger: a cultural report from the capital
Last Friday, The Sun newspaper adopted a slightly amended logo, with a simple white drawing of a sun beaming down on the publication's name and a few black lines snaking their way between the letters. Above the cover story about Kylie Minogue's spurned fiancé was a promise: 'Free Hockney for every reader'. In honour of David Hockney's retrospective at Tate Britain, which opens tomorrow, the paper let the artist have a go at altering their masthead for a day. 'Well, I thought I'd put the sun and some shadows there,' the artist explains in a short video on The Sun's website. 'Shadows from the sun,' he adds, as if that were the title of the piece, his almost chipper aside momentarily disguising how ominous the phrase sounds. Inside the tabloid, past the topless girl on page three, an editorial comment anticipated some of the criticism the 'redesign' might draw: 'Snooty critics may wonder what Britain's greatest living painter sees in us', it read, adding that said critics should 'pull their head out of their arts.'
At a time when artists, curators and arts coordinators are repeatedly being told that they are in a bubble, that the EU referendum was a sign of an audience that they had ignored, Friday's paper was held up as a sign of success by the Tate. In the current terrain, Hockney's quick iPad touch-up publicity stunt is being cast as a gesture for democracy, from an overly simplified 'us' towards an excluded, othered 'them'. It's an act that glosses over the question of what a British arts institution allying itself with a newspaper that openly espouses misogyny, provides a platform for racism and has a long history of journalistic malpractice might actually imply; an act that seems to miss the point that it's how you engage with audiences that determines what kind of relationship you might have with them. 'I thought the point,' as one person put it to me, 'was to make the bubble bigger.'
A few years ago, a Guardian headline corrected T.S. Eliot's assertion in The Waste Land (1922) that 'April is the cruellest month': 'Statistically, February is the cruellest month.' It's also an odd time for art in London, with its 'coming back from the winter break' group shows and extended exhibitions. The Condo project (an initiative that sees a set of London spaces host a set of invited international galleries) has, for the past two years, given the winter doldrums a jolt, offering a rallying point for gallery-goers; though it has also, for the moment, occupied many of the city's mid-sized galleries with a mixed set of neither here nor there shows. These shows are also fighting through the diffuse, toxic fug of an unstable political climate, one that simplifies and smudges many of the questions artists are asking at the moment. What do you do when the leading media and performance artists at the moment are moonlighting as our prime ministers and presidents? At the back of David Roberts Art Foundation's show of Iranian-Canadian artist Abbas Akhavan, a small video shows YouTube clips of American soldiers returning home to the shrieks of their surprised wives and mothers. With the US travel ban on seven majority-Muslin nations currently being contested, Ghost (2013) has unwittingly taken on a greater poignance, posing that blunt but urgent question of who we choose to empathise with, and when.
Rather than inspiring any standout singular shows, this prevalent confusion seems to have formed a dispersed, London-wide group show of individual works. Downstairs at Lisson, a set of projected maps are being drawn on; voices are describing a trajectory over borders and seas. Bouchra Khalili's 'Mapping Journey' series (2008-11) is narrated by faceless immigrants, each detailing how they moved illegally from Mogadishu to Bari, from Jalalabad to Rome, and so on. Some borrowed money, some stayed with friends, some simply hid. Khalili has also made a series of prints that abstract these journeys into outlined constellations, but the specificity of their actual voices and the marker lines they trace across the maps feel much more necessary. Upstairs, on a five-panelled white painting speckled with black spray paint, John Latham has mashed a copy of Thomas More's Utopia (1516) into the canvas, as if its being dissolved into a black pool on the surface. At this moment, we might find ourselves hovering on the stairway, somewhere between the rigid maps and the wrecked remains of a fictitious ideal state.
In a corner of the Drawing Room's 'Thinking Tantra' show, two sculptures slouch casually. Both are made of plywood, and appear hastily cut and assembled; one, a sort of elongated backwards double-C perched on a small Styrofoam cube, the other a kind of four-legged version of the pilcrow. Amongst the geometric drawings of the exhibition, these forms – Richard Tuttle's 'Source of Imagery' sculptures (1995-2010) – bring at least a suggestion of bodies bending and balancing. It had a sibling echo with a video piece across town, in Paul Maheke's installation at Assembly Point, 'What Flows Through And Across'. Projected through a series of curtains, a grey seaside scene switches suddenly to a close up of a man's neck as he executes a series of unseen movement. Maheke does himself no favours by imposing vague theory-speak observations in subtitles over the video, but despite this, there's something touching about such close attention, and the limitations it brings. In another short video at Hunter/Whitfield, Polythene Queen (2016), British-Bulgarian artist Gery Georgieva roller-skates in awkward circles around a tiny room, lip-synching to the pop music of Portuguese singer Amália Rodrigues. Crudely-executed green-screen effects impose footage of a British souvenir tat shop on the room, as she pirouettes trailed by a costume of translucent plastic sheeting: if anyone wants a raw version of contemporary nationalism, she dares, then here it is.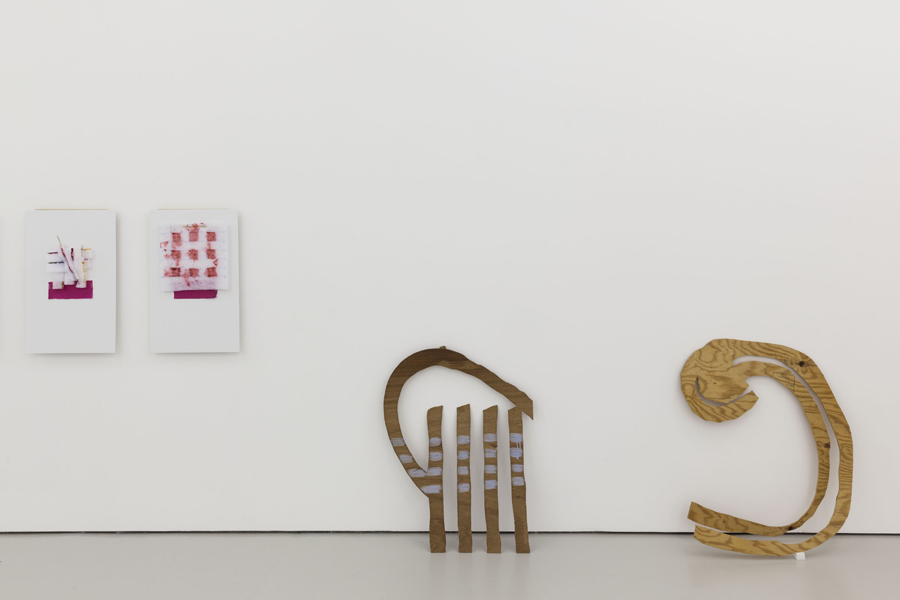 Something shared by these gestures and bodies, strewn haphazardly around the city, might suggest a kind of modus operandi for how to navigate our present, when signing online petitions, marching in rallies, and token gestures of 'reaching out' are not enough. These works suggest a need to move out from the shadows and become entangled with other bodies, with motions suitably unhinged and awkwardly ecstatic.
Dispatches: London, is the first in a new series of regular columns that will report on the cultural climates of particular cities around the world. Make sure to check back to frieze.com, New York.
Main image: Gery Georgieva, Polythene Queen (detail), 2016, video still. Courtesy: the artist and Hunter/Whitfield, London