Dr Joy
The art collector and radiologist V. Joy Simmons shares a glimpse of her collection in her Ladera Heights home
A radiologist at Kaiser Permanente, V. Joy Simmons, MD has been living in Los Angeles for over 50 years and began collecting art while in medical school. A committed supporter of African-American artists (although she does have an Andy Warhol portrait of Queen Ntombi of Swaziland), she is a passionate advocate of arts patronage and civic engagement. For Frieze Week, Dr. Simmons gives a glimpse of her collection in her Ladera Heights home, and shared her years of insight.
On discovering art
Growing up we had lots of white walls. But as a teenager music was my real passion — Jimi Hendrix! So when I went to Stanford, I always had music posters over my room. As a freshman, I went to New York City for the first time. My uncle is a jazz musician and his wife, Janet, was a significant patron of the arts — she was on the founding board of the Studio Museum in Harlem.
My girlfriends and I would go and stay with aunt Janet every year for Spring Break. On one trip, there was a Romare Bearden show at MoMA and I bought a poster. I took that poster back to Stanford put it up in my room next to Hendrix — that was the start. I still tell people today — you can start with a poster. That's how you can develop your eye and taste inexpensively.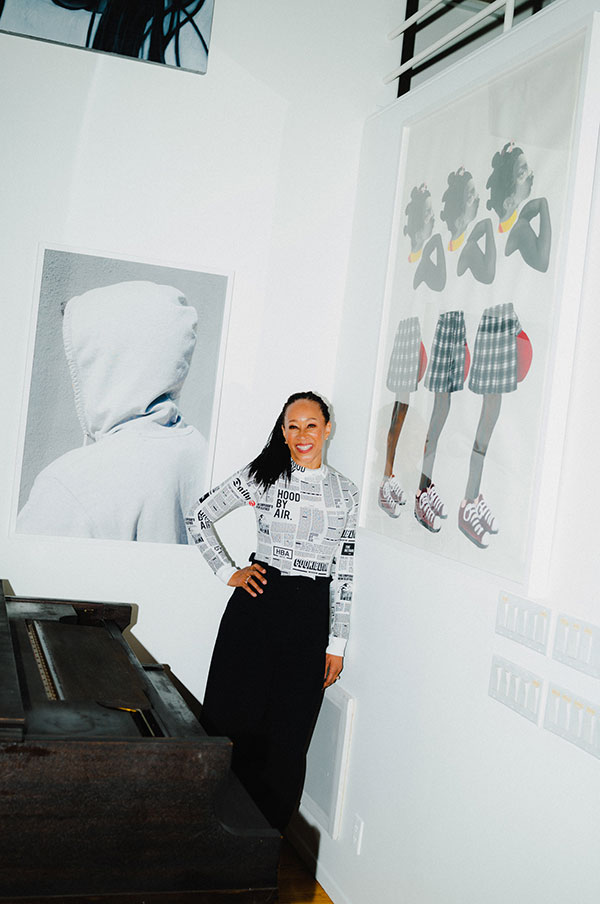 On becoming a collector
Aunt Janet always had creatives in her home. There was always some writer or artist at dinner, be it a Mel Edwards or Jack Whitten. However, it was seeing there how she and uncle Ronald curated their home that was really important for me: seeing how you could create 
a home that reflected your values, your vision — reflect you. A few years after taking home that Bearden poster, I found a chance to buy my first real piece — a lithograph by Elizabeth Catlett, Which Way (1973). I saw it and I realised...I can do this. Now.
How to pay for it, I decided, was something I could figure out later. This was 1974 or 1975 — my first year of medical school. The lithograph cost $50, and it still took me months to pay off! But it's stayed in my collection ever since. Now, it is hung in my bedroom. I'm blessed to see it every time I wake up.
On Los Angeles as an art capital
I think L.A. is freer than most art centres. It feels less intense. In New York City, you always have to hustle. I go to studio visits there and I'm still shocked by the spaces in which people have to work — I'm like... Really — you can breathe in here? Wherever you are in L.A., you get sun and light and fresh air.
In Los Angeles, there are so many places where people can set up camp and really just create. Plus, I don't think it has the same art hierarchy that you find in other art scenes. Perhaps this is partly why, in addition to the major institutions we have, there are so many artist-run galleries and non-profit entities — so many ways for share your work with the masses.
It's true that rent can be challenging in parts of the city. And the gallery game — that's a hard game, wherever you are. But at least in Los Angeles, artists can navigate that struggle with vibrant birds-of-paradise plants and cala lilies in the front yard, even in South Central.
On living with art
I've been in this neighbourhood since 1979, and I built this house in 1992, with an eye towards getting in the most light to show the most art, and still have it be a fun place for kids. I have grandkids now and they can still run around — so long as they don't knock anything over in my living room, it's cool!
It's really important for us to open up our homes: it's an opportunity to share our story. You can talk to someone about your collection, but once someone comes into your home, they get it. It's a way of saying: This is how I live. This is what I get to see every day.
I'm probably not everybody's stereotypical idea of an "Art Collector" — I still work a 9-to-5! But that's true with a lot of black collectors: not too many of us are oligarchs. But I see an opportunity to encourage more collectors by example. In Los Angeles, health-care and entertainment employ a lot of people of color — as physicians as well as actors, as lawyers, engineers and writers. They're all making money. And some times they are working in spaces that aren't always warm or filled with personality, but can be very stressful: which means your home takes on new meaning and importance. A home really is your castle. Once you show people that art is a way they can make their home feel certain way, to exercise their creative side, to realize a vision, and it is the start of a path that can lead to supporting those artists who speak to that vision, it all comes together!
I actually loaned some of my works when they were shooting How Stella Got Her Groove Back (1998), so even more people could see art that African-Americans owned and lived with. Those kind of "subliminal" images and the messages they send are really important — whether on 'Empire' or 'Power' or 'The Cosby Show' or a Beyoncé video. A viewer of those might not identify a Kehinde Wiley in that moment, but then when they do see a Kehinde Wiley they know exactly what it is. And they might think: I can't afford a Kehinde painting. But I can afford a poster ….or a lithograph.
On supporting the next generation
Some of the artists I collect are valuable now — Kerry James Marshall is now said to be 'the most expensive living African American artist'. I'm glad! I bought mine a long time ago when his work was more in my price range, so I'm good.
Nevertheless, if his prices mean he can continue make work that can be seen even more broadly, it's heartening. You have to support artists, bottom line. Just think, someone was paying for Leonardo da Vinci so that he could eat and paint continue to do him.
Someone might now think I can't afford an Amy Sherald when her work was going for less than $20,000 not so long ago. But I tell people: the challenge of collecting shouldn't be Am I going to be able to buy a Mark Bradford? Because for most regular people — and yes, I consider myself regular — the answer is no, you won't be able to. Period.
What you can do is take the opportunity to find the next Mark Bradford. That's exciting part. That's the fun part. I bought Mark when no-one knew who he was, in the 1990s. I've supported his Art + Practice non-profit since then and we're still very good friends. You don't create those relationships otherwise. People sometimes ask me what's the return on investment with my pieces, or with some artist. I say: who knows! There are so many people I could have bought in the '70s or '80s that are now mega-stars, but I don't care. You buy what you enjoy, you live with it, you rotate it, you find out what you love.
On becoming a patron
In 1978 there was this big show that art historian Dr. David Driskell curated at LACMA: 'Two Centuries of African-American Art'. I looked at all the captions and noticed that none of the works were owned by names that sounded black. I had already begun to collect, but it was only then I realized that part of owning a piece was about making sure it could be seen — so that story I was trying to work out about my experience, the African-American experience, could be part of someone else's experience too.
But you can't just go to the museum and tell them: do a show of this! You need to have and support those curators who are curious to tell these stories and who will make sure these artists are recognized. If we don't support institutions on the civic level then they are not going to tell our stories on a broader level. And we have to make sure smaller organizations are alive too, to keep artists making, to train the next generation of curators. It's an eco-system. It's stages. But all along the way we as patrons have to support our community.
I'm chair of the Board of The Mistake Room, in the Arts District. It's dedicated to experimentation in all forms, and we try to highlight international artists — Korakrit Arunanondchai's first commission was there, and Oscar Murillo's first solo proper solo in the US. Before that I was on the founding board of LAXART with Lauri Firstenberg — Hamza Walker, the current curator, is working on Frieze Los Angeles' Talks and Music program.
Many years ago, I was on the board on the California African-American Museum, which provides a crucial historical context for the visual arts. My daughter, Naima Keith, is revitalizing that institution as Chief Curator today. Venice Arts is a cause I am passionate about. It's a non-profit that since 1993 has given low-income kids in Venice free education in photography and film, with practicing artists as mentors. It's led some of them to college to study art. It has been incredible to see.
Taking the step from collecting to this kind of patronage means you're not just projecting your thoughts or telling your stories: you're making sure everyone has a chance to tell theirs too. Some patrons I know make sure their donations to institutions go towards education. As a result, you see kids come to LACMA who don't know where Wilshire Blvd is — their experience is widened before they even see any art, just by being in another part of town. And for them to see the Kerry James Marshall exhibition at MOCA? To see their reactions to that? It's mind-blowing. It's priceless. That is what it's all about.
Main image: Portrait of V. Joy Simmons