Featured in
Dublin
Despite the decline of Ireland's 'Celtic Tiger' economy, Dublin's artist-run and institutional spaces are thriving
Brian Dillon
How to write about contemporary art in Dublin and not couch it all in terms of Ireland's precipitous economic rise and spectacular Daedalus fall? I'd almost determined to skirt the subject of recession entirely when, days before I left for Dublin, the Nobel Prize-winning economist Paul Krugman informed readers of The New York Times that the 'worst-case outlook for the world economy' was that 'America could turn Irish'. That's to say that the USA might respond to the drastic overexposure of its housing sector and the attendant banking plunge by raising taxes but cutting spending, effectively freezing policy for the foreseeable future. Krugman's speculations aside, almost overnight Ireland has turned into the direst image of what austerity is going to look like in the coming years, if not decades.
But it's only possible to be aghast at the recent job losses and desperate cuts to health care and social welfare in Ireland – there are shades here of the slump of the 1980s, when the already vulnerable poor were made to suffer in the name of our coming national recovery – if you truly thought that the whole country had attained some class of bootstrapped and bourgeois immunity in the last decade and a half. It seems many Dubliners cosseted themselves in exactly that fantasy as they drove home to the new suburbs and refurbished commuter towns, oddly oblivious to what their city was becoming, and how vulnerable it might yet leave them. Post-boom, Dublin threatens to overtake Los Angeles for sheer size, while its population density is roughly a quarter of LA's (or about one seventh that of Paris). The USA might fear becoming Ireland economically, but Dublin is already an American 'edge city', with all that implies in terms of stranded anomie in straitened times.
The intimate effects of this urban expansion are outlined in Anne Cleary and Denis Connolly's Moving Dublin (2009), an hour-long film that opened in late April at Broadcast, the gallery of the Fine Art Department of Dublin Institute of Technology. Cleary and Connolly trained as architects in Dublin before moving to Paris in 1990, where they began to imagine city films inspired by Guy Debord and Michel de Certeau. Moving Dublin is both theoretically astute and winningly quotidian: a study of everyday movement in the city's suburbs, the artists convinced that 'few places reflect so completely the forces of capitalism and ideology that have gone into moulding urban space in the 20th century'. Cleary and Connolly depict a centrifugal Dublin 'almost paralyzed by its own hyperactivity', a place where the children she interviews cannot believe that Cleary (in her early 40s) rides a bicycle in a city so clearly in thrall to the car.
Cleary and Connolly reconfigure Dublin as a system of movement and energy – much of it stalled, frustrated or exhausted by ill-thought-out infrastructure and deadening sprawl – that is the automotive mirror of the circulation of capital at the heart of the city. It's no surprise to say that a newly cosmopolitan Dublin is mapped according to the garish towers of the financial district and the apartment blocks that lined the River Liffey from the mid-1990s onwards. Galleries and other institutions in the nightlife hub of Temple Bar – Project Arts Centre, Temple Bar Gallery and Studios – have weathered the stag-night excesses of a decade ago. Their established programmes now encourage gallery-goers along the river to the newer artist-run spaces, so that a sort of archipelago of small galleries now links the city centre to the Irish Museum of Modern Art (IMMA), half-an-hour's walk to the west. (At the time of writing, IMMA was one of three venues, along with Project and the Royal Hibernian Academy, hosting an ambitious James Coleman retrospective.)
Among the most audacious of the projects to spring up in the interstices of Dublin's doomed economic restructuring was Pallas Heights: a short-lived intervention in Sean Treacy House, a decaying inner-city housing block. Artists Brian Duggan and Mark Cullen conceived of Pallas Heights as 'a temporary stop, a pause in the trajectory of urban renewal and the dynamics of the modern developer-led regeneration'. Between 2003 and 2006, four flats in the complex were given over to shows by such artists as Garrett Phelan, Brendan Earley and Clodagh Emoe. Its natural span at an end (the building was already destined for demolition), the project's afterlife is Pallas Contemporary Projects, a narrow gallery just to the north of the regenerated Smithfield market area, that had recently shown Manon de Boer's film Resonating Surfaces (2005) – in which Gilles Deleuze's former lover, the psychoanalyst Suely Rolnik, reflects on her displacement from São Paulo to Paris – and Hito Steyerl's video Lovely Andrea (2007), concerning the artist's return to her former life in Japan.
Over the river, tucked into the western extremity of the vast Guinness brewery complex (itself slated for redevelopment), is Mother's Tankstation, named after a defunct Guinness storage shed, Tankstation No. 2, and Mother's, a Depression-era restaurant in New Orleans. It's both the project and the home of artists Finola Jones and David Godbold: rounding a corner from the gallery space, a discreet 'Private' sign announces the owners' bedroom. Dedicated for the most part to work 'sympathetic to total installation', Mother's recent Garrett Phelan show, 'The Last Broadcast Revelations', was a distillation of the artist's ongoing interest in radio and his somewhat sinister deployment of avian mythology. Phelan's stark drawings of Mynah birds composed not so much a utopian parliament of fowls as a sentient fraternity broadcasting gnomic agit-prop material ('All will be OK! We promise ourselves') via vintage microphones and hissing radio relays.
Post-boom, Dublin threatens to overtake Los Angeles for sheer size, while its population density is roughly a quarter of LA's (or one seventh that of Paris).
Back on the northside, Phelan was a fleeting visitor to artist Lee Welch's gallery FOUR on Capel Street on the afternoon I happened to visit, where Lyndsay Mann's 'Dense Mouth' presented three works in dark and modest consort. The hypnotic black and white video loop Twenty Four More Hours of Progress… (2009) showed glossy black stones thrown from Dean Bridge in Edinburgh – the site of numerous suicides since its construction in 1832 – while a sheet of black glass reflected a suspended and mysteriously Modernist maquette.
Also in attendance at FOUR that afternoon was Declan Clarke (the expanded Dublin is, after all, still a small town), whose 'Loneliness in West Germany' had recently closed at the Goethe-Institut. Clarke's installation circled round a key moment in the post-war politics of West Germany: the shooting by Berlin police of a student, Benno Ohnesorg during a demonstration against a state visit by the Shah of Iran in 1967. By happenstance, fellow Dublin artist Gerard Byrne had recently photographed a magazine display in the same venue, for his ongoing series of newsstand photographs. But it was his twin photographs of the magazine section at Eason's bookshop on O'Connell Street that stood out in his show at Green on Red Gallery. Eason's is traditionally a place to loiter, at least till the staff start snatching magazines from the hands of persistent non-buyers. En route to the airport, I noticed the browsers were still there, though the property pages and interior design journals were maybe less well thumbed than they once were.
Maeve Connolly
Over the past decade, the Dublin art scene has expanded dramatically, partly supported by an economic boom that has come to an equally dramatic halt. The city now hosts new art fairs, commercial galleries and artist-run exhibition spaces, and its educational institutions offer a range of MA programmes. But despite this expansion it retains a village-like quality, with the entire art crowd typically arranging itself around a single pub after an evening of openings. As is the case in many other cities at the moment, conversation often turns towards the state of the art economy and certain questions hang in the air. With a limited domestic art market, and a shaky international one, will the newer Dublin galleries survive? Is the tax exemption for Irish-based artists in danger of being revoked? Will artists again emigrate in droves, or will cheap Ryanair flights sustain connections with other European cities? This seems an appropriate time to assess some of the benefits and drawbacks of the city's recent prosperity, and also note the economic underdevelopment that preceded it.
Even at the height of the Celtic Tiger economy, the majority of Dublin-based artists were dependent upon an income from teaching or public funding. So although shielded from the worst fluctuations in the market, many will be affected by the rapid deterioration of public finances. Much of the investment in contemporary art (as well as design and architecture) over the past decade was linked to a massive increase in construction. While it contributed to rapidly spiralling rents for studios and apartments, the property bubble also increased revenues that enabled local authorities to develop more ambitious art programmes. Dublin City Council Arts Office now has a dedicated building, which houses meeting rooms and rehearsal spaces as well as The LAB, an exhibition space largely dedicated to the work of younger artists. In 2007, the Arts Office also commissioned Vagabond Reviews (a partnership between artist Ailbhe Murphy and sociologist Ciaran Smyth) to undertake research on public art, putting its findings into practice with Open Spaces, a fluid and ongoing programme of temporary projects. So far it has included Out of Site: Promenade a performance festival initiated by Michelle Browne and staged along the north coastline and, in 2009, outdoor screenings as part of the International Guerrilla Video Festival.
Despite its recent rapid expansion, Dublin's art scene retains a village-like quality, often converging outside a single pub after an evening of openings. 
Services and resources for artists have greatly improved, with Visual Artists Ireland (VAI) offering training schemes, production awards, a newsletter, a curated publication entitled Printed Project and a twice weekly VAI e-bulletin that provides the best guide to openings and events across the city. Artists and curators have also benefited from a relatively progressive approach to funding on the part of the Arts Council/An Chomhairle Ealaíon, and a small number of artists have even managed to secure multi-annual funding, allowing them to plan long term projects with a degree of autonomy from the marketplace. One notable feature of the Irish context, not altered by fleeting prosperity, is the presence of many high-profile artists without conventional gallery representation. A considerable proportion of the artists representing Ireland at the Venice Biennale in recent years (not all Dublin-based) were without gallery affiliation, including Katie Holten in 2003 and Mark Garry, Ronan McCrea, Isabel Nolan, Sarah Pierce, and the partnership Walker & Walker, all in 2005. The same is true of Sarah Browne and Gareth Kennedy, the artists selected for 2009.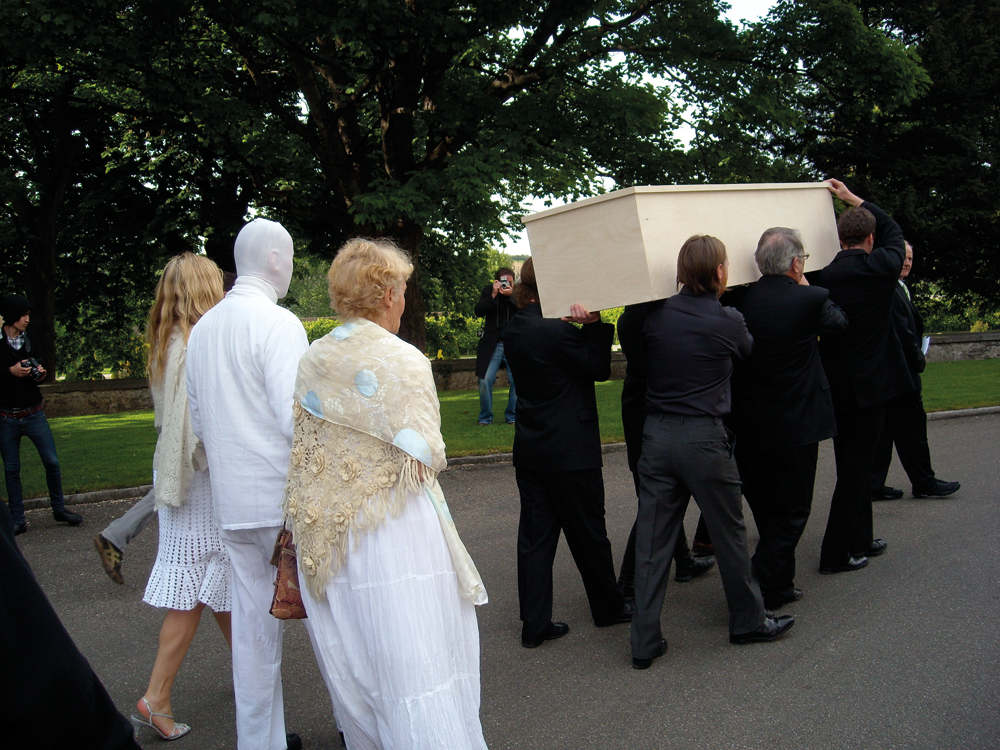 While some now work with commercial galleries – the city's established commercial spaces include Green on Red and Kerlin Gallery – others have continued to operate mainly in artist-run or publicly-funded spaces. Sarah Pierce, for example, recently exhibited at FOUR, established by artists Lee Welch and Linda Quinlan. Pierce's show, entitled 'A thing of beauty, colour and love' (2009), drew upon her research at London's ICA archive into the exhibition 'When Attitudes Become Form' (1969) and the conference 'The State of British Art, A Debate' (1978). The exhibition at FOUR also included a performance entitled Kevin Atherton and Sarah Pierce in Dialogue, which explored and extended aspects of Atherton's earlier work In Two Minds (1978). Atherton is based in the Graduate School of Creative Arts and Media and provides one of the few active links within Irish art education to the dematerialised practices of the 1970s. Other connections are offered by the work of two artists who have never (to the best of my knowledge) taught in Dublin. One is Patrick Ireland, put to rest in the grounds of the Irish Museum of Modern Art in 2008, in accordance with the wishes of his alter-ego Brian O'Doherty. The other is James Coleman, whose work remained underrepresented in Irish collections and exhibition spaces until the Irish Museum of Modern Art's (IMMA) acquisition of three works in 2004, an initiative led by its director Enrique Juncosa. A major exhibition of six works by Coleman was also staged in March–April of this year in a collaboration with the Royal Hibernian Academy and Project Arts Centre.
The somewhat belated acquisition of these works highlights another characteristic of the Dublin context. Although the city boasts two art museums (the other one being Dublin City Gallery, The Hugh Lane) there is no established tradition of philanthropy to bolster the limited funding available for public collections. Those wishing to research contemporary Irish art can access the National Irish Visual Arts Library but the research resources available in relation to international art practice are limited. This sense of disconnection from international art history has many negative consequences but it also seems to fuel more obtuse explorations of the past, in which authoritative historical accounts are called into question. One example of this tendency can be found in the work of Declan Clarke whose 2009 exhibition 'Loneliness in West Germany', devised for the Goethe-Institut in Dublin and curated by Georgina Jackson, took the form of an investigation into the role of the Institut and its place within recent German history and ideology. This suspicion of history may provide a fertile context for the development of alternative mythologies, such as those found in the work of Garrett Phelan, whose exhibition 'The Last Broadcast Revelations' at Mother's Tankstation in May of this year cast the Mynah bird in the role of a prophet, forming part of an ongoing investigation by the artist into propaganda.
The interest in archival modes of presentation in contemporary art over the past few years has also recently been contested by some Dublin-based artists. 'This Must Be The Place' (2009), curated by Paul Murnaghan and Sally Timmons, presented works by ten artists' collectives at the inaugural exhibition of the self-styled, artist-run Irish Museum of Contemporary Art (IMOCA). Located (just like IMMA) outside the city centre, IMOCA is housed within a leaky, disused warehouse rather than a preserved historical landmark. Participants in the show were asked to respond to a specific question – How Do We Think? – in any form other than an archive. The results were startling both in terms of scale and form. Artist collective The Good Hatchery, based in a converted hayloft in a rural area of county Offaly, built a large structure (entitled The Solution, 2009) that referenced Bernd and Hilla Becher's canonical images of water towers and catalogued some Irish examples, while also dispensing water. Pallas Contemporary Projects presented The Greatest (2009), an electric-powered golf buggy, custom-fitted with leopard-print fur, alongside a quote ('I am the greatest, I said that even before I knew I was') from Muhammad Ali, who was apparently a previous occupant. Visitors could steer this vehicle, like a lone fairground bumper-car, around the warehouse at a fairly rapid pace and the experience of sitting in a seat supposedly once occupied by Ali added a temporal dimension to the visceral sense of spatial dislocation. By invoking a compelling historical example of self-transformation in response to the question posed by the curators, The Greatest opened up new vantage points on a familiar scene with a confidence worthy of Ali himself.