Earth Overshoot Day: What Can Artists Do?
Five of the best recent artist projects that show alternatives to unsustainable practices
Today is Earth Overshoot Day, which means that humankind has now used more natural resources since 1 January than the planet can regenerate in an entire year. This year, Earth Overshoot Day comes two days earlier than it did last year – its earliest date since it was first marked in 2006, in October. Since then, the world has been using up its yearly provision at an ever-increasing rate; we currently use 1.7 Earths per year.
Despite more than three decades of mainstream environmental campaigning and activism, we have seen increasingly regular natural catastrophes caused by climate change, and unsustainable population growth, energy consumption and food production techniques. In 2015, the United Nations devised the 2030 Agenda for Sustainable Development, setting 17 Global Goals for the next 15 years, among them the pledge to eradicate poverty, hunger and injustice; mitigate the effects of climate change; provide clean water and energy; and build sustainable infrastructure and production. Yet these guiding principles provide no guarantees that our consumption habits will slow down. What is actually being done about our failure to live within our planetary means, and what might the role of culture be in developing alternatives to our damaging practices and policies? 
This September, to coincide with the United Nations General Assembly Sessions in New York, the Danish non-profit organization ART 2030 will launch its annual 'Art for the Global Goals' week in collaboration with artists, galleries and other organizations. In advance of this, they have commissioned the performance Tow with The Flow (2018) by Lilibeth Cuenca Rasmussen, a collaboration with Danish high school students. Presented at several venues, including Roskilde Festival in early July, it involved performers interacting with suitcases full of clothing to highlight textile production and consumption – a reference to the UN's goal of responsible consumption and production. 
Art 2030 says the project 'shines a critical light on the Western World's overconsumption', but illuminating an issue is only the first step in achieving change, and what Earth Overshoot Day highlights is the urgent need for practical solutions. Successful art projects in this area imagine – and provide – alternatives to unsustainable practices. They often take the form of social enterprises and innovative entrepreneurship that avoid the damaging practices of big business. Here are some of the most inspiring projects from recent years: 
Mae-Ling Lokko, Hack the Root, 2018
Commissioned by Liverpool Biennial and the Royal Institute of British Architects for this year's festival, Lokko's Hack the Root is a research unit and factory that produces modular bio-based building tiles from agricultural waste and mycelium, the vegetative part of a fungus that consists of fine filaments that bind materials together. Lokko sees the project as a life cycle that grows in a similar way to a root, by consuming and displacing the matter around it as it grows. As well as the material production component of the project, in which waste is upcycled to make new bricks, there is an important social side to its development as part of the biennial, with 'Grow-It-Yourself' workshops involving school children and students at the local university technical college. For Lokko, the project 'cuts across class and cultural barriers' because the mycelium panels can be produced locally in a cheap and decentralized way, generating opportunities for new kinds of economies and communities to flourish.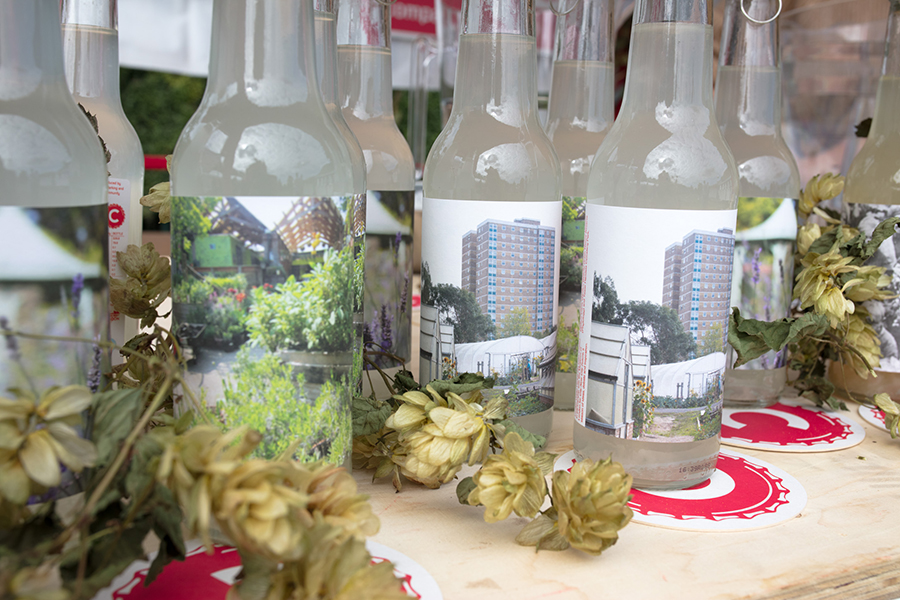 Kathrin Böhm, Company Drinks, 2014
Describing itself as 'an art project in the shape of a drinks company', Company Drinks is a social enterprise Community Interest Company, that produces a range of soft drinks, syrups, tonics and beers in Barking and Dagenham, east London. The company oversees all aspects of the production of drinks, including growing and picking, branding, bottling and trading, which take place at a local level for maximum efficiency and minimum waste. Foraging is a large part of Company Drinks' ethos, and since 2014, more than 36,000 people have taken part in fruit picking trips and foraging walks, as well as traditional Kentish hop-picking, or 'hopping'. The Company Drinks Pavilion in Barking Park hosts discussions around the politics and economics of local food production and workshops at which people can learn how to make drinks and set up small businesses, skills that seem especially useful in light of the UK government's recent scaremongering over food shortages. 
Olafur Eliasson and Frederik Ottesen, Little Sun, 2012
Danish-Icelandic artist Olafur Eliasson, whose work has long dealt with themes of light, perception and the environment, set up Little Sun with entrepreneur Frederik Ottesen in response to the needs of the 1.1 billion people living without access to energy supplies. The company began as an idea to create a portable solar lamp for people living off-grid in Ethiopia, enabling them to pursue vital activities after sunset. From the outset, it was founded on principles of financial sustainability and affordability and it has grown into a network of entrepreneurs across Africa. For every sale of a Little Sun product in a part of the world with electricity, the company makes the same product available to someone without access to electricity at a locally affordable price. The company has sold more than 661,577 lamps worldwide, saving over USD$35 million on energy expenses in off-grid household and reducing CO2 emissions by 134,572 tonnes. 
Gustav Metzger, 'Reduce Art Flights' campaign, 2007
The art world is scandalously wasteful. Temporary exhibitions rely on magnitudes of single-use timber, MDF and paint for installations, and generate reams of unnecessary – and often unread – printed matter. The production of works of art can rely on toxic processes and materials such as resin, glue, synthetic paint and photographic chemicals. The never-ending movement of people and art works between biennials, art fairs and exhibitions around the world generates vast amounts of greenhouse gases. In 2007, the late Gustav Metzger called for the art world to curb its air travel habit with the Reduce Art Flights campaign, which he launched at Skulptur Projekte Münster with a leaflet bearing the German phrase 'Münster - Die zweite Bombardierung' (The second bombardment of Münster). As Meztger explained, 'the second bombardment is a play on several aspects … we are now being bombarded by the pollution of aeroplanes crossing Münster and everywhere else'.
Back in the 1990s, the first wave of consciousness-raising and policy-making in response to the ecological crisis was big news. The United Nations' Earth Summit in 1992 produced Agenda 21, an action plan for sustainable development on local, national and global levels, and the mots du jour were three Rs: Reuse, Reduce, Recycle. In 1996, the Danish collective Superflex developed their Supergas project in collaboration with Jan Mallen and engineers in Europe and Africa. Supergas offered a cheap and sustainable source of fuel for cooking and lighting in rural areas of developing countries by transforming a readily available and completely free material, i.e. animal or human excrement, into gas. Superflex's first biogas unit was installed with help from SURUDE (Sustainable Rural Development) on a farm in Tanzania in 1997. Still one of the most innovative art projects in recent decades, it sets the bar high for how creativity and engineering can open up debate about complex issues and meet people's needs without harming the planet.  
Main image: Olafur Eliasson and Frederick Ottesen, Little Sun. Courtesy: Michael Tsegaye