Although the use of the human body in art has long been a source of ethical ambiguity and controversy, the lines between artistic use and exploitation have grown more complicated with time. Artists regularly employ and even disfigure their own bodies, while participatory and performance-related practices entail the inclusion of others. When Valie Export, for Tap and Touch Cinema (1968–71), invited strangers to touch her naked torso through a perforated box, was this use or abuse on her part?
'Extra Bodies: The Use of the "Other Body" in Contemporary Art' focuses on the artistic employment of extras, performers and visitors. The traditionally fraught relationship between male artist and female model is evoked by video documentation of Yves Klein's mise en scène, Anthropométrie de l'époque bleue (Anthropometry of the Blue Period, 1960), which shows the artist directing female extras to execute imprints of their nude bodies. While today this might come off as unthinking misuse, at the time Klein's work was instrumental within a wave of performance and video art closely allied to emancipatory movements, including feminism.

Similar ambivalences between employment and emancipation are characteristic of many of the works by the 21 artists in this show. For his Object Measuring 600 × 57 × 52 cm Constructed to Be Held Horizontal to a Wall (2001), Santiago Sierra hired two asylum seekers to support a large beam on their shoulders (documented in a black and white photograph). Sierra employed the men using a legal loophole: in Switzerland, asylum seekers are allowed to work only if no one else is willing to do the job, relegating many to difficult or dangerous labour. Sierra practices exploitation in order to expose this disturbing legislation. The line is less clear in Artur Żmijewski's The Making Of (2013), in which he staged and filmed a fashion show with the inmates of a women's prison in Poland – surely Żmijewski was aware of the freedoms he has that the inmates lack.
When Vanessa Beecroft engages models to pose for torturous lengths of time in front of art audiences (VB 35: Show, 1998), the 'other bodies' in question are concrete; as when Edwin Sánchez films his disturbing conversation with a street thug about the art of stabbing (Knife Lessons, 2008). In some of the works on view, however, the bodies being referenced are too vague. For his New World Summit (2012–ongoing), Jonas Staal devised an alternative parliament for organizations on terrorist blacklists. Here, 'the body' dissolves into a blurry metaphor. Contrast this to Yoshua Okón's one-channel video Freedom Fries: Still Life (2014), which shows a nude, obese man lying on a table in a McDonald's while, behind him, a cleaner washes windows. The work has a directness which hurts.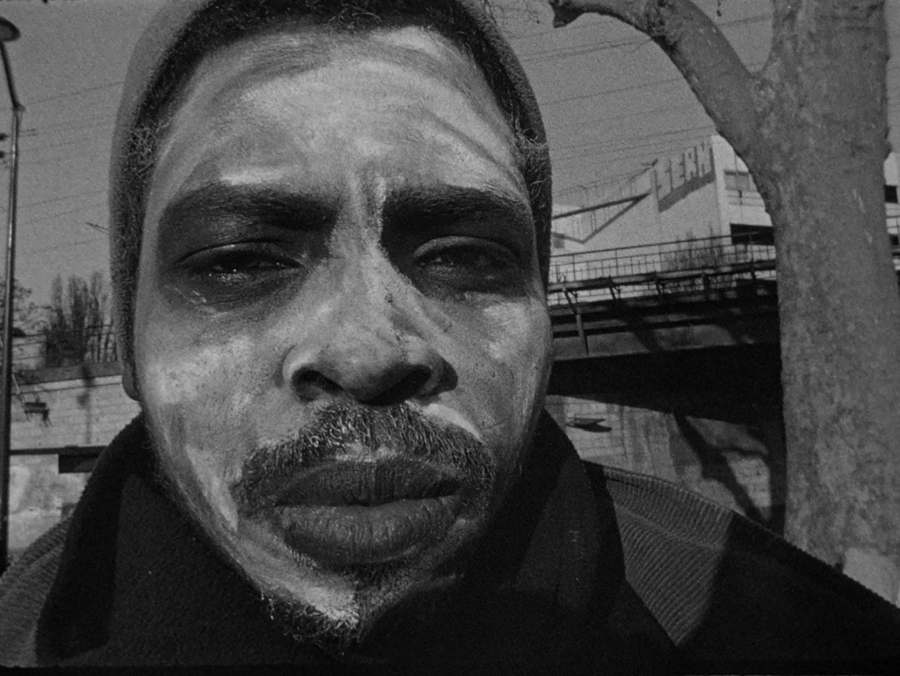 Escape Artists (2016) by Guy Ben-Ner, whose use of others has extended to including his wife and children in videos, is the highlight of the show for me. The work revolves around Ben-Ner's weekly visits to Israel's Holot detainee camp for illegal refugees, where he gave film workshops. His film shows smartphone footage of the artist teaching detainees film techniques such as jump-cuts and montage. To demonstrate the pitfalls of viewer manipulation, Ben-Ner made recourse to the controversial documentary Nanook of the North (1922). These film techniques, as well as the lines of exploitation between viewer and subject, are all foregrounded in the resulting film: a raw, humorous yet sophisticated piece about filmmaking and the politics of migration. The artist does not camouflage the hierarchies of his encounters: he represents himself clearly, as an instructor with specific competences. As it turns out, for his latest project Ben-Ner is using films shot by the participants themselves. This begs the question: will the work be 'his' at all, or will Ben-Ner have become the extra?
Main image: Guy Ben-Ner, Escape Artists, 2016, single-channel video projection still (detail). Courtesy: the artist and Sommer Contemporary Art, Tel Aviv, Israel