Featured in
Famed Fashion Designer Martin Margiela's Career of Firsts
Retrospectives at Musée des Arts Decoratifs and Palais Galliera, Paris showcase the designer's unique ways of relating garment to body
In 2001, Annie Leibovitz took a portrait of Belgian designer Martin Margiela for Vogue magazine. Instead of depicting the designer himself, his entire team, dressed in white lab coats, stood for a collective portrait. Among the crowd, one chair remained empty for him. His absent body reflects something of the ethos of Maison Martin Margiela under his direction from 1989 to 2009, as well as his work at Hermès from 1997 to 2003.
Unlike his peer Rei Kawakubo, who declared that she has no desire to look back, Margiela has maintained a retrospective attitude, whether to his own work or to fashion history. So, it seems appropriate that both exhibitions at the Musée des Arts Decoratifs and Palais Galliera were produced with the designer having some kind of directorial or advisory role. Both are chronologically arranged, taking viewers through the development of his styles. 'Margiela/Galliera, 1989–2009' at Palais Galliera is more immersive and moody, placing as much emphasis on the process of production, with video documentation of Margiela's legendary runway shows, as it does on the actual items. It also includes three mise-en-scène vitrines, 'Chambre de fan' (Fan's Room, 2018), which re-create photographs by Kyoichi Tsuzuki of the tiny apartments of Japanese devotees who collect pieces from a single season. 'Margiela, les années Hermès' (Margiela, the Hermès Years), at the Musée des Arts Décoratifs, is far more reserved and focuses on the garments themselves, with videos providing examples of how they are worn.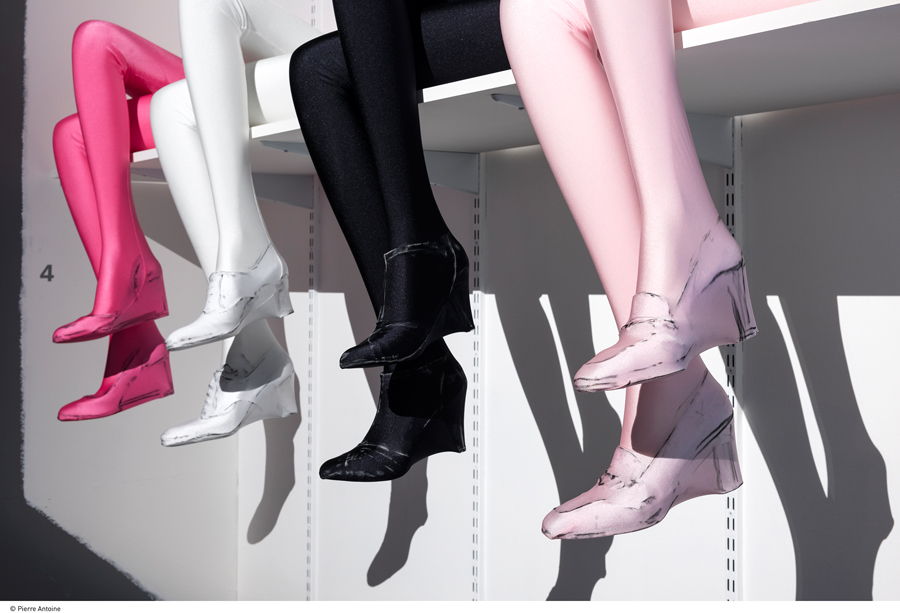 While many designers look to the past, Margiela does so in radically material ways, placing a tension on the relationship between body and garment. Starting with his 1990 'Artisanal' line, he made clothes from used fabrics. In his 1993 Spring-Summer line, he used items purchased from a defunct theatre company, so thatthe fabric, often in need of repair, gestured to the history of the company as well as the time period that the item was meant to evoke on stage: the Renaissance, the 1789–99 French Revolution. For the 1994–95 Autumn-Winter season, only five years into his career, Margiela launched a line that reconsidered his work to that date, repurposing items from previous seasons.
Throughout Margiela's career, his originality is palpable. He was the first to employ second-hand garments and to make clothing purely from materials used for lining, which normally act as a barrier between skin and garment. We also have Margiela to thank for the oversize phenomenon, with his 2000 Spring-Summer collection designed at the size XXXXL, a line that he continued for two years. (He even included a number of oversized items in his otherwise reserved and elegant Hermès collection.) He also used trompe-l'œil prints on synthetic fabrics, highlighting aspects of the body through erasure, exaggeration or alteration.
Margiela is unsatisfied with remaining in the abstract. He continues to explore the body in its diverse forms. Through video documentation, both exhibitions also highlight his use of non-professional models of various ages and races showcasing his designs for his own collection in locations including abandoned metro stations, warehouses and the underpasses of bridges. For his Hermès line, Margiela further stated that he was more interested in the way the clothes would be used or worn than how they looked on the runway. This might sound like a commonplace statement but, within the logic of high fashion, and specifically his own brand, its practicality feels radical.
Margiela constantly tests the relationship between garment and body. In 1989, during his first runway show, the models wore skin-tight masks so that the details of their faces were obscured, becoming as much a signature of his runway style as his cloven footwear. As many critics noted, masking the models highlights the clothing rather than the model. But that's a platitude. Instead, Margiela's approach emphasizes that bodies wear his work, even if they are obscured or seemingly absent, a bit like the way an empty chair in the midst of a mass of lab coats highlights what or who is not there.
Margiela/Galliera, 1989-2009 runs at Palais Galliera, Paris until 15 July, and Margiela, les années Hermès runs at Musée des Arts Decoratifs, Paris until 2 September.
Main image: 'Margiela / Galliera, 1989–2009', 2018, installation view, Palais Galliera, Paris. Courtesy: the artist and Palais Galliera, Paris; scenography: © Pierre Antoine