Featured in
Focus Interview: Benedict Drew
Puncturing fantasies: exhausted images and the 'me' generation
Nathaniel Budzinski In your new installation Heads May Roll (2014) at Matt's Gallery, London, in March, an untitled video at the show's entrance served as an introduction. It's filled with downbeat text captions like 'out there is gone and there is only here' or 'it's knackered', which are undercut by screwball-paced editing and blasts of sound. I'm interested in how your work creates environments, moving quickly between being serious, funny and disturbing.
Benedict Drew Most of my work is very explicit about what I want it to do. I mean, it says it in writing in the videos! It's not oblique at all. The humour is often about undermining seemingly authoritative statements, puncturing the different fantasies that I've created and then causing an oscillation between all of its parts.
NB     Like the wobbly knees in that introductory video? I thought those were very funny, but also touching.
BD     They weren't necessarily meant to be funny. I mean, they can also be disturbing, or a sign of weakness, or sexualized. I wanted to show how video can take different body parts and almost tear them from their own frames. In pornography, it's not about the body, it's about parts, and images today have been infected by this way of looking. These ideas come from conversations I had with the late artist and writer Ian White; they really stayed with me. I watch a lot of TV, and even cookery programmes use this type of pornographic technique. I've spent the last year watching footage demonstrating high quality digital cameras. It's as if these images want you to do something, but at the same time they want to act upon you. They want to arouse you or make you buy a camera.
NB     Your work doesn't moralize about these images, though. Implicitly, it's a feedback loop in which images affect the process of creating more images and so on. Explicitly, it seems to be about creating a neurotic mood that expresses this dynamic.
BD     I like the word 'vibe' more. It describes my process well in thatI start with a vibe and go from that. Heads May Roll is about an exhaustion of images, a feeling that comes from how these images work on you.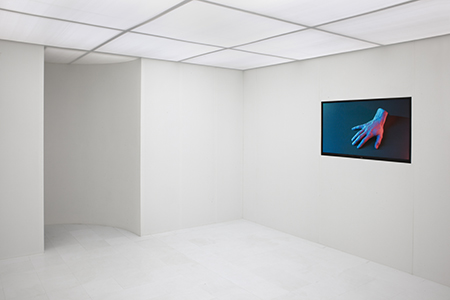 NB     When we first met, we shared an interest in the hallucinogenic drug Dimethyltryptamine (DMT) and its effects. We ended up watching a cheesy but colourful documentary, DMT: The Spirit Molecule (2010), complete with over-the-top CGI replicating psychedelic trips. In hindsight, it summarizes important aspects of your work – like drug culture, DIY relaxation techniques, self-help and commercialized therapy culture – and how those things are represented.
BD     I'm very interested in, yet repulsed by, the whole culture of self-development, a process outlined well by Adam Curtis in his 2002 series 'The Century of the Self'. That Thatcherite–Reaganite moment, and the 'me' generation that came out of the hippy generation, infected my early life, so it resonates with me.
NB     There's an intensity close to panic in your work, but when it's about to reach the point of nervous breakdown, it pulls back. It's like a bad trip, but one that dumps you right back into the world.
BD     There's a history of drug culture in the UK, with rave and acid house and psychotropic drug experiences creating a form of interiority. The structure of that experience is important to me. That's what I enjoy about music and art – their psychedelic potential to transport us away from the horror of the world. I see it everywhere, people on public transport plugged into devices, trying to escape the dread of reality. Music is good at providing this release. So, in my work, I want to make a route out of the world, one that is fantastical, giddy, but that can also be critical and voice a protest against that reality.
NB    You were very active in music for over a decade, performing and organizing experimental gigs. How did the shift into art happen?
BD     I actually went to art school before getting involved in experimental music. I wanted to make both improvised music and exhibitions. There was a moment in 2000 when musique concrète and dance music collided in a very punk rock way, which was exciting – like, why wouldn't you do that rather than trying to be Damien Hirst or whatever? Plus, it's easier to get a gig than it is to get an exhibition. But there was a point when my interests changed.
NB     You mentioned that the musician and poet Henri Chopin influenced Heads May Roll, specifically his 1967 essay 'Why I Am The Author Of Sound Poetry And Free Poetry', which rails against the stifling order of 'the all-powerful Word'. How does that relate to using music in your work?
BD     One of the elements I was thinking about in Heads May Roll was how in Chopin's music – which is machine music, tape works, often using the voice – the machine seems moist with bodily excretion, with language drowned in this mix. It's the opposite of the synthetic voices that I hear on tube train announcements, mobile phones and Siri, in different public spaces. That voice is only language and no body, all instructional words, no innards or spit. More generally, music can be a great upsetter as well as having a calming effect. I can change how I feel about the world by simply putting on a pair of headphones. Music has an alchemical property, transforming the body in ways that other cultural forms struggle to. That's why it's deployed so cynically in adverts and by Hollywood.
Benedict Drew lives in Whitstable, UK. In March, he had a solo exhbition at Matt's Gallery, London, UK, and his work will be included in a group exhibition at Island Gallery, Brussels, Belgium, later this year. In 2013, he had a solo show at the Phoenix and Two Queens Gallery, Leicester, UK, and his work was shown at the Museum of Arts and Design, New York, USA; Young Projects Gallery, Los Angeles, USA; Bold Tendencies, London; Summerhall, Edinburgh, UK; Ceri Hand Gallery, London; Import Projects, Berlin, Germany; Eastside Projects, Birmingham, UK; Milton Keynes Gallery, UK; and the Institute of Contemporary Art, London.