Featured in
In Focus: Rachel Maclean
The artist's delirious new satire explores happiness, consumerism and corporate power
A certain well-known nursery rhyme encourages children to exhibit their positive feelings: if you're happy and you know it, clap your hands. What happens when this ostensibly innocent mentality is applied to the world of work? As any Silicon Valley CEO will tell you, happiness is good for capitalism: happy workers are more productive than their depressed counterparts. At a 2010 conference run by Google, the Prime Minister David Cameron described improving Britain's 'sense of wellbeing' as 'the central political challenge of our times'. The organizers of the 2014 World Economic Forum annual meeting in Davos, meanwhile, hired a Buddhist monk to advise members on mindfulness and stress reduction. In the words of cultural studies professor Sara Ahmed, happiness has become 'the ultimate performance indicator'. If you're happy and you know it, profits soar.
The industrialization – and concomitant exploitation – of happiness are central themes in Feed Me (2015), the longest and most recent film by Glasgow-based artist Rachel Maclean (co-commissioned by Film and Video Umbrella and Hayward Touring). A Hogarthian satire of consumerism and corporate power, the film is replete with over-saturated colours, elaborate costumes and pantomime-style performances, creating a sickly, candy-coated fantasia in which everyone is 'too happy' yet nothing is quite what it seems. At the heart of the film is Smile Inc. – a fictitious, sprawling corporation that controls every aspect of society, from the national curriculum to big pharmaceutical companies – and attempts to draw attention away from its rapacious profiteering by peddling an infantilized ideal of contentment to an oppressed, increasingly restless populace.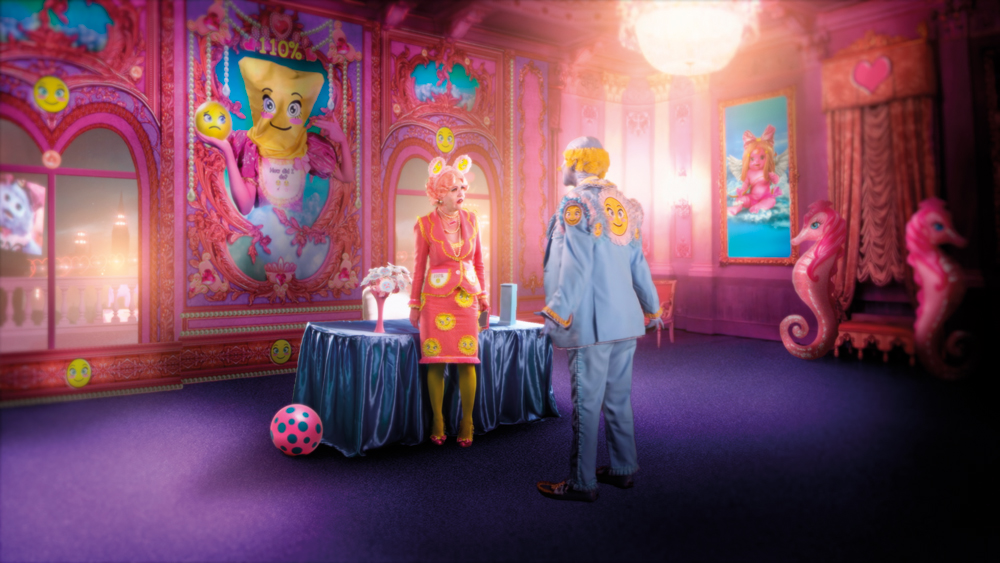 As with Maclean's earlier videos, Feed Me makes extensive use of green screen, computer animation, post-production and electronic music. Its cast of characters includes a snarling wolf-man in a fluffy bear suit, an aspiring pop diva with pigtails and cartoonish eyes, a money-hungry CEO with baby-blue skin, yellow hair and a sinister penchant for spying on young girls and a belligerent, bedridden granny from the Scottish highlands. These characters frequently speak their lines direct to camera, adding a confrontational element to the work's already overt sense of performativity. Though she is often unrecognizable beneath thick make-up and prosthetics, Maclean plays all the characters in her films. At times, she digitally clones and multiplies her image, filling the screen with hoards of marauding alter egos or, elsewhere, constructing meticulous tableaux that recall the compositional strategies of Renaissance painting.
Born in 1987, Maclean started working with video while studying painting at Edinburgh College of Art. Shifting from painting to film – from a static to a durational medium – allowed the artist more freely to combine her interests in role-play, costume and digital production in works of cinematic collage. The resulting videos retain a painterly sense of composition yet are structured by fluid, cut-and-paste approaches to genre: deliberately lurid pop culture mash-ups that make for exhilarating, bewildering viewing. With their abrupt shifts in tone and setting, featuring characters who swap roles and voices at will, Maclean's film produces an effect similar to that of 'channel hopping' through a bizarre spectrum of alternately dream-like and nightmarish, seductive and repulsive TV shows. Feed Me's gamut of mass-media tropes includes X Factor-style auditions, skin-cream ads, Disney-style sing-alongs and a soap opera – all of which are bundled up in the same sickeningly positive, unnervingly cutesy aesthetic.
Maclean's characters look like James Gillray drawings come to life, while their pendulous prosthetics and fake teeth resemble the rubber puppets of Spitting Image.
Feed Me is Maclean's first film to feature her own script. By contrast, those of her previous videos, such as Lolcats (2012) – which repurposes obscure foreign cinema and promo interviews with Katy Perry – are assembled from snippets of found audio. This bricolage technique extends to other areas of production. In her costumes – which are made using shop-bought props – fake breasts, baby bibs, rubber gloves and school dresses are spliced together in absurd and chimerical ways. In the green-screen backdrops of Over the Rainbow (2013), which Maclean concocted on Photoshop, ornate baroque interiors are brought into uneasy juxtaposition with the saccharine colour schemes of children's TV programmes. In Germs (2013), a female protagonist is subjected to a nightmarish sequence of advertising clichés before eventually meeting a sticky end, her body slicked with a red substance that could either be strawberry syrup or blood.
Despite their Rabelaisian exaggeration, Maclean's films are collaged from found objects: kids' toys, advertising clichés, stock narratives and political truisms. They are, as a result, at once entrancingly strange and disturbingly familiar. They exaggerate pop culture in order to reveal its underlying absurdities, heightening our awareness of reality rather than providing fanciful distraction from it. Influenced by Cindy Sherman's conceptual self-portraits, Maclean's work also warrants comparison with recent trends in US video art, notably the work of Shana Moulton and Ryan Trecartin. Both artists make virtuosic use of digital software such as Final Cut Pro and After Effects to twist direct-to-camera performances into visually complex works that present the artist as alter ego, the self as a kind of infinitely malleable material. Maclean, however, is distinguished by her affinity for a decidedly British genre: satire. Her characters often look like James Gillray drawings come to life, while their pendulous prosthetics and fake teeth resemble the rubber puppets of the British TV show Spitting Image. In films like The Lion and The Unicorn (2012) and A Whole New World (2014), she engages directly, if subversively, with Britain's colonial past and its national identity.
Feed Me, her most ambitious work to date, presents Western society as a world of stark contradictions. Smile Inc.'s senior management lives in a sprawling mansion, yet its customers occupy cramped, squalid dwellings and urban ruins: a vision of economic inequality barely more extreme than our own. Nuanced emotions are polarized into childlike affirmations of positivity ('I'm too happy!', 'Cute!' and '110%!') and negativity ('50%' and sad-face emojis). Companies like Facebook, Twitter and Google – Smile Inc.'s real-world equivalents – have developed similar methods for translating their users' subjective feelings into objective data. In the X Factor-styled scene, a prepubescent girl sings a sultry, lounge jazz version of 'If You're Happy and You Know It'; later in the film, she bursts into tears, revealing the previous performance to have been a hollow sham. For all their grotesquery, the most disturbing aspect of Maclean's extravagantly inventive films is how closely they resemble the world in which we already live.
Rachel Maclean lives in Glasgow, UK. Her work is currently included in 'British Art Show 8', various venues, Edinburgh, UK, until 8 May; it will then tour to Norwich Castle Museum and Art Gallery, UK, and John Hansard Gallery, Southampton, UK. Later this year, Maclean has solo exhibitions at Artpace, San Antonio, USA, HOME, Manchester, UK, and Rowing Projects, London.