The Frieze Library: Volume Five
With innovative publications on artists such as Mire Lee, Sung Tieu, and Mary Lovelace O'Neal, amongst others, the Frieze Library returns to The Shed in collaboration with the Thomas J. Watson Library, The Met and Gordon Robichaux
Following the success of previous iterations, Frieze is delighted to present the Frieze Library: Volume Five, in collaboration with the Thomas J. Watson Library, The Metropolitan Museum of Art and Gordon Robichaux.
The Frieze Library seeks to function as 'a curatorial collaboration between a fair, a magazine, a museum and a gallery', to quote Sam Gordon, co-founder of Gordon Robichaux gallery who originally conceived the idea.
Over the years, more than 300 publications have been submitted as part of the Frieze Library. At the close of the fair, the collection will be gifted to the Thomas J. Watson Library, the main research library of The Metropolitan Museum of Art, forming part of its permanent collection. Both physical publications and online PDFs are accepted to be a part of the collection, and online publications are catalogued and made available through Watsonline, the library's online catalogue.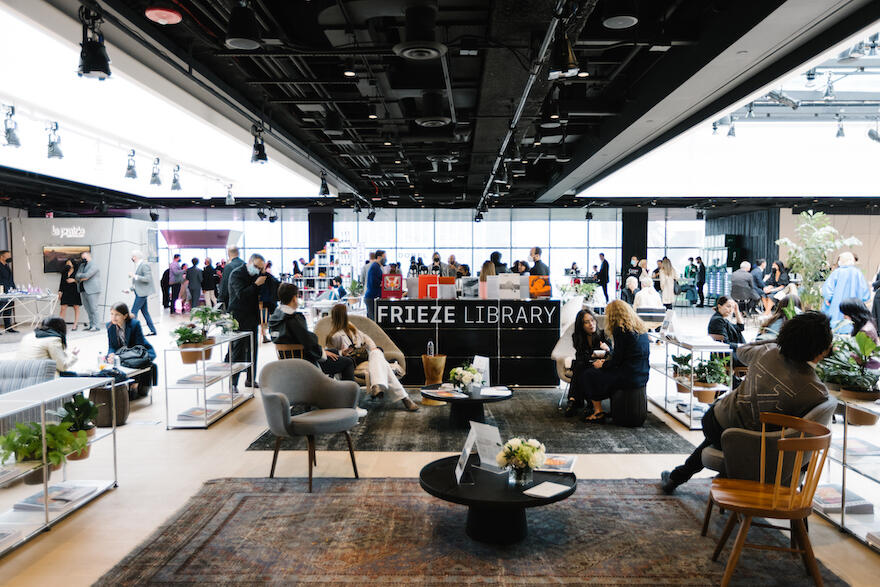 Galleries were invited to submit a title that they feel both echoes their fair presentation and speaks to the present moment. Together, the collection of volumes function as a kind of archive of the fair, offering a reflection of the present day as seen through the eyes of artists, writers, and art world professionals. This year's titles include innovative publications on artists such as Pamela Rosenkranz (Karma International), Sung Tieu (Emalin), Mary Lovelace O'Neal (Jenkins Johnson Gallery), Suzan Frecon (David Zwirner) and Mire Lee (Tina Kim Gallery), amongst others.
Visitors to the Frieze Library installation at the fair will receive a printed bibliography of publications, which will also published on frieze.com. The public will also be able to explore the collection in a dedicated section on Frieze Viewing Room from May 17th.
Main image: The Frieze Library, 2022. Photograph: Da Ping Luo
Further Information
Frieze New York returns to The Shed in Manhattan from May 17 to 21, 2023 and promises to be an unmissable event. With an unparalleled selection of galleries and artists, alongside a critically acclaimed curated program the fair is a highlight of the global art calendar.
Limited full price tickets are now on sale, buy yours now!
To keep up to date on all the latest news from Frieze, sign up to the Frieze newsletter at frieze.com, and follow @friezeofficial on Instagram, Twitter and Frieze Official on Facebook.