Frieze London 2019: 'Fascinatingly Inventive'
A round-up of what has been said about Frieze London 2019
The atmosphere in London this week has been electric and visitors from all over the world have really seen it at its best – from the great works shown at Frieze London and Frieze Masters to the fantastic exhibitions and events at museums and galleries across the city. -Victoria Siddall, Frieze Fairs
Frieze London 2019 has come to a close on Sunday 6 October, amid strong sales, record museum attendance and international media coverage.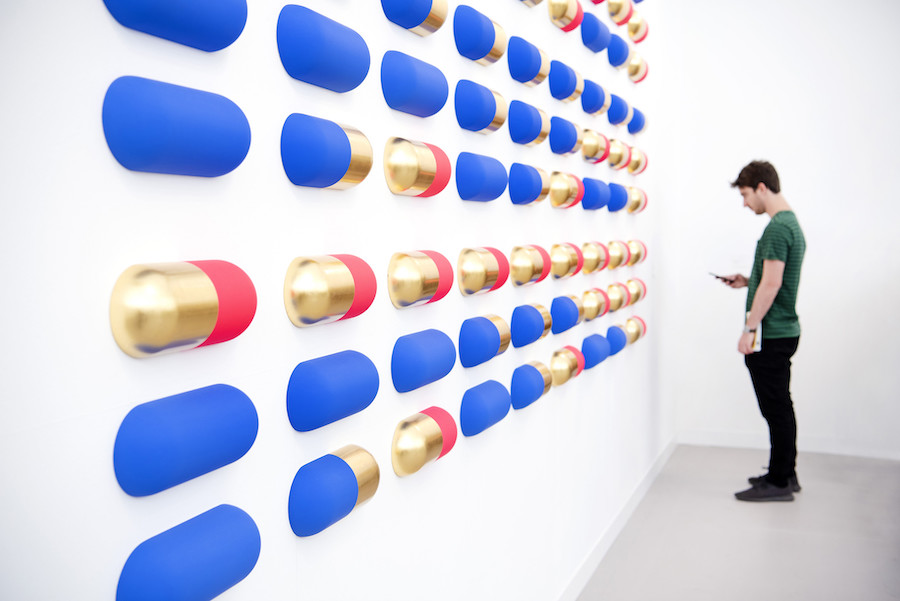 Here's what the press had to say about Frieze 
Frieze embodies the cultural melting pot that is London, while raising the discussion of contemporary art's significance in today's world – The Face
More than 165 galleries have set up their stands, and on them, you can see art made from iron, found rocks, melted glass and old televisions, all fascinatingly inventive – The New York Times
Where the serious blends with the light-hearted, the provocative with the amusing and the traditional with the groundbreaking. It presents artworks with the capacity to seize your attention and make you stop and linger as you absorb and interpret the artist's intentions – Forbes
For hardcore art fans, there's nothing that beats the fun of Frieze, where famous names rub against the stars of tomorrow – Time Out
Frieze London is upon us with a more uplifting and culturally diverse programme than ever. – GQ
Focus: 'unexpected, subversive and playful'
Focus, the fair's section dedicated to younger galleries returned to the fair, attracting strong interest from visitors, collectors and curators.
The Focus section remains the most diverse part of the fair: as unexpected, subversive, playful and politically and socially engaged as ever. – The Art Newspaper
Proyectos Ultravioleta was awared the Focus Stand Prize by an international jury of curators. Jurors commented that 'The solo presentation of Guatemalan artist Hellen Ascoli at the Proyectos Ultravioleta booth stands out with its subtle aesthetics, sophisticated revisiting of textile tradition, poetic abstraction of the body and layering of personal and political histories'.
Woven 
The 2019 new section Woven, curated by Cosmin Costinas, showcased the art of textile and weaving across different cultures and generations. Presentations of Mrinalini Mukherjee at Nature Morte, Cian Dayrit at 1335Mabini and Angela Su at Blindspot Gallery amongst others striked the public's interest.
The Woven section at the fair celebrates an art form that was long undervalued as a result of sexism and snobbery - The New York Times
Now, textile and fibre-based art, long marginalised thanks to its association with women's work and non-western cultures, is in the spotlight - The Financial Times
Museum Prizes and Aquisitions at the Fair
The Camden Arts Centre awarded artist Julien Creuzet from High Art with the 2019 Camden Arts Centre Emerging Artist Prize at Frieze and will be presented with a solo exhibition at the centre in 2020.
Acquistions by UK museums include works by Marc Camille Chaimowicz, Paulo Nazareth and Patrick Staff aquired for the UK national collection by the Frieze Tate Fund supported by Endeavor; and 11 works by Zanele Muholi purchased wtih the Contemporary Art Society Collections Fund for the Nottingham Castle & Art Gallery.
LIVE, the fair's programme of performances curated by Diana Campbell Betancourt also accompanied the fair with daily performances by Shezad Dawood, Sophie Jung, Yasmin Jahan Nupur, Khvay Samnang, Oskar Schlemmer, Cecilia Bengolea alongside installations by Carlos Amorales and William Forsythe. 
Watch Carlos Amorales presenting his installation at Frieze London here and Khvay Samnang's performance for LIVE here.
Here's what the galleries had to say about their experience at Frieze 
Frieze proved again the power of art and artists to bring people together. Our booth was a huge success for us and our first opportunity to show Sam Gilliam and Nina Katchadourian. The toughest thing about Frieze is resisting the urge to go shopping at other booths when you should be working at your own! - Marc Glimcher, CEO and President of Pace Gallery 
What stood out to us was not only the diversity of fair visitors, but also the diversity of collectors with whom we have conducted our sales. Whilst there was an initial apprehension in the art scene towards how the reality of Brexit might impact public interest in the fair and potential sales, the fair has withstood those tensions and provided an excellent platform for us. This is especially significant as it is our first year participating, and the overwhelming reception and favorable support towards the solo presentation of South Korean artist Do Ho Suh has been extremely encouraging. - Rita Targui, Gallery Director of STPI Workshop & Gallery
We have enjoyed ongoing curatorial engagement for our artists with UK institutions, which drove our decision to participate in Frieze London. Being at Frieze London has expanded meaningful conversations about the gallery's program with international institutions, collectors, and colleagues alike. And, in a time of market consolidation and stratification, it is heartening to be side by-side with our gallery peers, with many of whom we enjoy collaborations. In this way, under one tent, we can message to the public that ours is a unique industry with a common purpose: bringing visibility to the risk-taking, innovative artists of our time -Alexander Gray, Owner and Principal of Alexander Gray Associates
Frieze London will return 8-11 October 2020. See you next year!
To stay up to date with the fair's latest news, sign up to our newsletter and follow @friezeartfair on Instagram, Twitter and Facebook.