Frieze Week: Wednesday
Frieze New York 2017 opens this week. Plan every day around the city and the fair
Frieze New York opens its invitation-only Preview to visitors with access tomororw, Thursday 4. Check your invitation for access times, and review fair transport options so you're ready to go.
In the mean time, where to start your Frieze Week? First of all, make a visit to the highly anticipated 2017 Whitney Biennial – the first edition in the museum's Renzo Piano-designed Meatpacking District home. Chrissie Iles provides her insight into the role of this iconic institution here on frieze.com.
A walk on the nearby High Line takes in the outdoor exhibition 'Mutations', curated by Cecilia Alemani, Donald R. Mullen, Jr. Director & Chief Curator of High Line Art – who is also Curator of Frieze Projects New York. Watch a video about one aspect of her program, the Tribute to 'Il Teatro delle Mostre" (1968), a legendary performance event in Rome. Or check-out the program at venerable non-profit White Columns, who will also have a stand at the fair, showing works by Ed Baynard.
For a pit-stop, try neighborhood favorite Cookshop (156 10th Ave), or stock up at Chelsea Market (75 9th Ave).
For those tempted to zip over to Brooklyn while Downtown, the Public Art Fund is presenting Anish Kapoor's mesmerizing Descension in Brooklyn Bridge Park, part of the Fund's 40th anniversary program.
There are a number of openings across town tonight: 
Hannah Perry, Arsenale Contemporary, 214 Bowery, 6-9pm
Mathias Poledna, Buchholz, 17 E 82nd St, 6-8pm
Patricia Treib, Bureau, 178 Norfolk St, 6-8pm
Verne Dawson, Gavin Brown's enterprise, 291 Grand Street, 6-8pm
Lonnie Holley, James Fuentes, 55 Delancey St, 6-8pm
Invisible Man, Martos Gallery, 41 Elizabeth St, 6-8pm
Robert Longo, Metro Pictures, 519 W 24th St, 6-8pm
Jim Drain, Nathalie Karg, 291 Grand Street, 4th Floor, 6-8pm
Irving Penn, Pace/MacGill Gallery, 32 E 57th St, 9th Floor, 8-8pm
Martin Boyce, Tanya Bonakdar Gallery, 521 W 21st St, 6-8pm
For more current and soon-to-open shows in New York visit On View.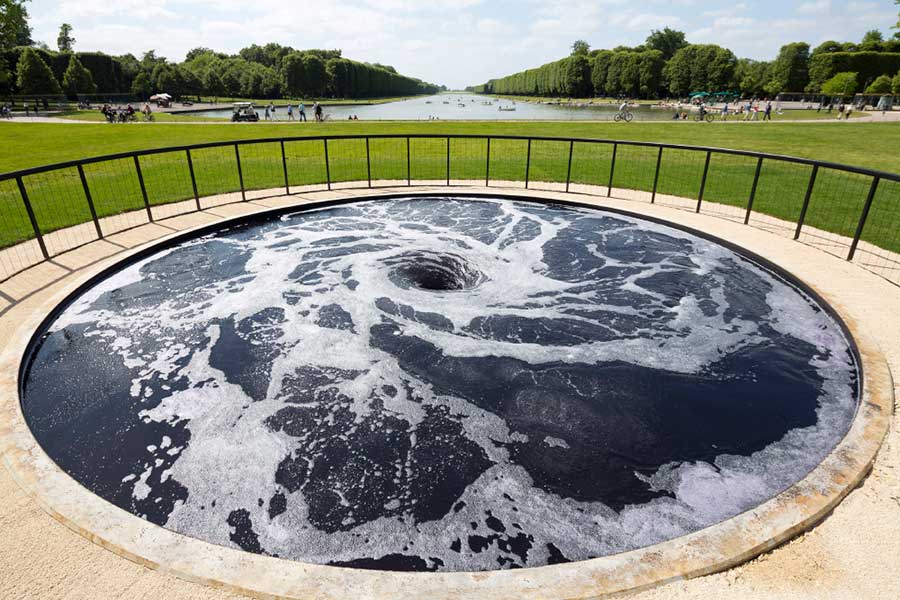 Ahead of preview day at Frieze New York tomorrow, writer Caroline Roux was given an exclusive insight into some of the most enticing works at the fair. Read more in her 'Up Close' feature. To go deeper into these works, or any area of collecting that intrigues you, book a Frieze Bespoke session, and enjoy the insights of your own art specialist.
Tickets for Frieze New York are available here.
The preview day for invited guests and accredited professionals is tomorrow, Thursday 4 May. Check your card or ticket for your entry time and see how to get the fair here.
Main image: Puppies Puppies, Liberty (Liberté), 2017, installation view at Whitney Museum of American Art within 'Whitney Biennial 2017'. Photograph: Matthew Carasella