George Clinton's Favorite Works from Frieze Los Angeles 2023
The revolutionary artist and musician selects his top picks, including iconic photography from Ming Smith and 'the most powerful and important artwork of our time' by Hank Willis Thomas
Julie Curtiss 
Lobster, 2020 
airbrushed acrylic and gouache on paper 
9.06" x 12.2" (23 cm x 31 cm) 
$ 22,000 
Presented by White Cube 
Julie Curtiss brings surrealism into the future. I have always loved surrealism, especially Salvador Dali and I immediately think of his lobster telephone. Curtiss paints her black Lobster in such a seductive way.
Hank Willis Thomas 
The Embrace, 2023 
polished bronze 
7.52" x 10" x 10" (19.1 cm x 25.4 cm x 25.4 cm) 
Edition of 50 plus 10 A.P. 
Reserved 
Presented by Pace Gallery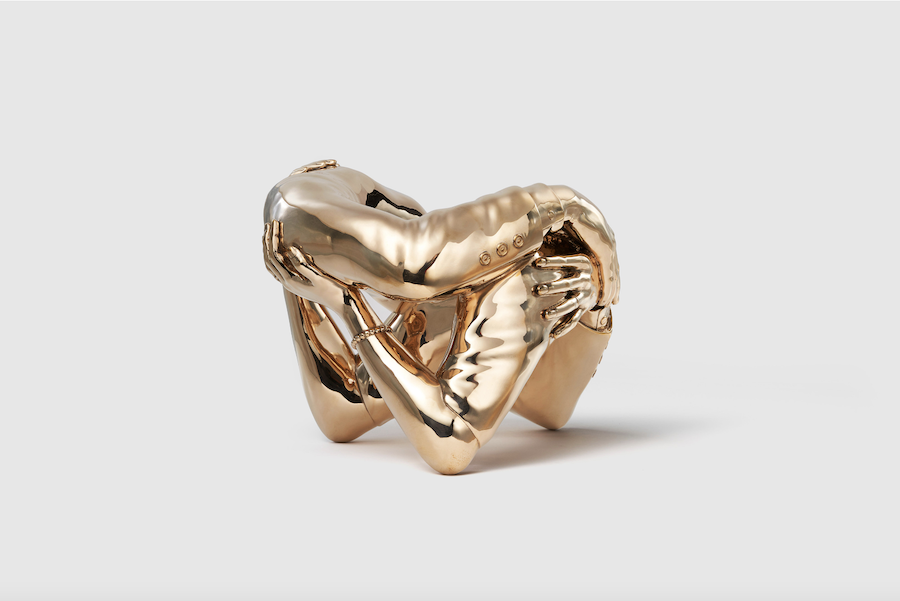 Hank Willis Thomas's Embrace is the most powerful and important artwork of our time. Thomas commemorates Martin Luther King and Coretta Scott King in a beautiful story of love and togetherness, shining light on their history as a couple while continuing a message of unity for the future.
Ming Smith 
Ed Love and Tina Turner, 1984 
archival pigment print 
24.02" x 35.98" (61 cm x 91.4 cm) 
$35,000 
Presented by Nicola Vassell Gallery 
I love how Ming Smith captured Tina's authority in this photo. I admire Ming Smith's work and her commitment to capture black life. Her photography is like music to me.
Otis Kwame Quaicoe 
Ahoufe, 2022 
oil and acrylic on panel 
47.99" x 35.98" (121.9 cm x 91.4 cm) 
Reserved 
Presented by Roberts Projects 
Otis Kwame Quaicoe's portrait Ahoufe is cool. I love the boldness of his subjects and the rich textures that he develops in his paintings.
Henry Taylor 
Untitled, 2022 
acrylic on canvas 
213.7 x 152.4 x 7.9 cm / 84 1/8 x 60 x 3 1/8 in 
Presented by Hauser & Wirth
I love the way Henry Taylor captures the essence of his subjects in his paintings. I look to him for inspiration and admire his compositions and gesture. His paintings are strong and authentic and always hit a chord with me.
Mark Bradford 
Shall Rest in Honor There, 2023 
mixed media on canvas 
184.1 x 244.5 x 5.4 cm / 72 1/2 x 96 1/4 x 2 1/8 in. 
Presented by Hauser & Wirth 
Mark Bradford's Shall Rest in Honor There is a history painting at its greatest. This painting seduces with rich gesture and shines light on the darkness of war. Mark keeps elevating the stories that have shaped the past.
About George Clinton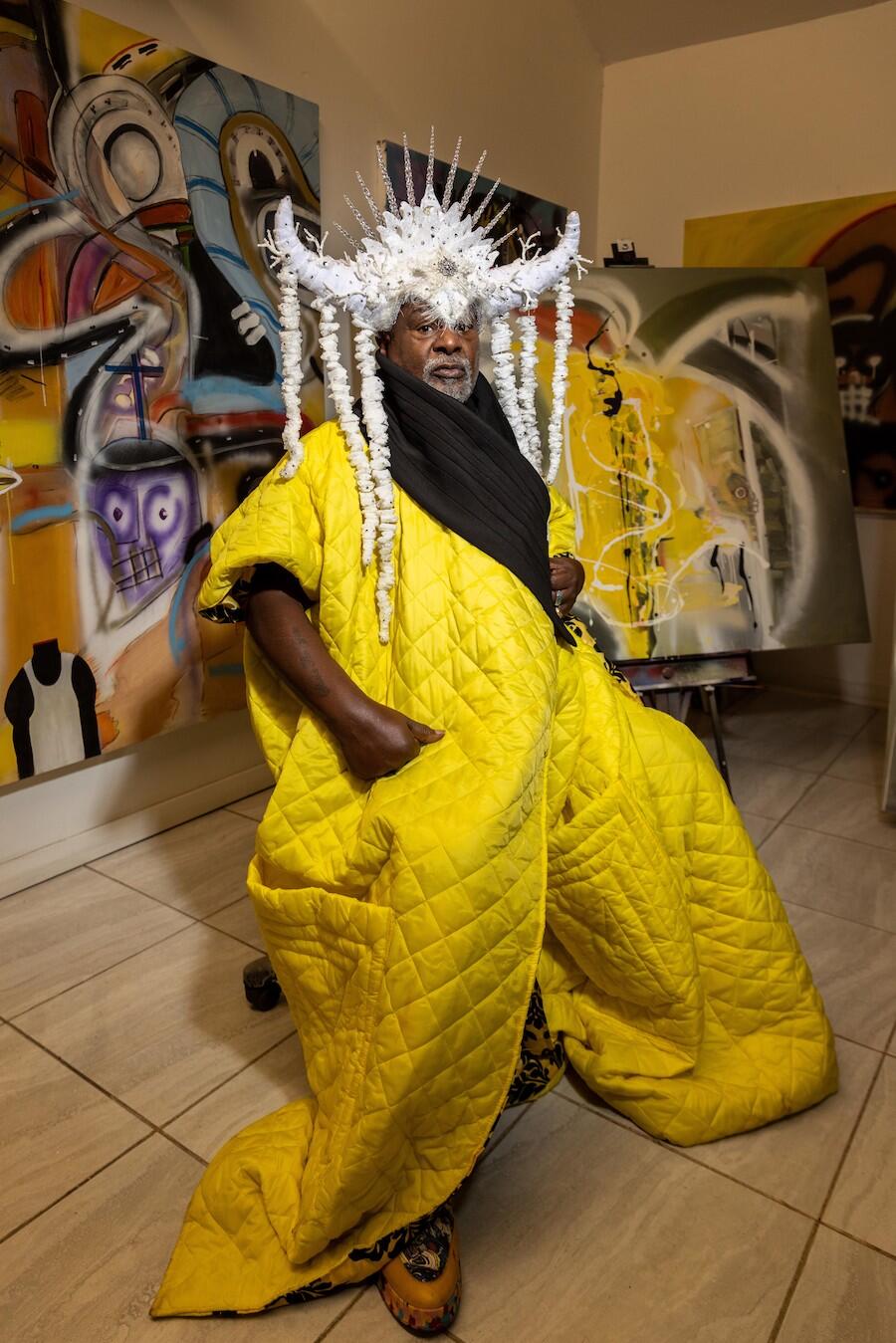 George Clinton is a revolutionary artist and musician. His sounds and visual sensibilities are part of the founding DNA of hip hop and urban culture, whilst his paintings include a fusion of acrylic, spray paint, text and collage, all layered on canvas. Clinton has had solo exhibitions at Jeffrey Deitch, Los Angeles; George Washington Carver Museum, Austin; The National Museum of African American Music, Nashville; and the Oakland Museum of Art. His iconic "Mothership" (centerpiece stage prop) for Parliament-Funkadelic is on permanent display at the Smithsonian National Museum of African American History and Culture in Washington DC. 
About Frieze Viewing Room
Frieze Viewing Room is a free digital platform, connecting global audiences with Frieze's galleries and artists.  
Opening to all from February 09–20, the Viewing Room offers fair visitors a preview of the wealth of gallery presentations coming to Frieze Los Angeles 2023, as well as the chance for audiences around the world to experience and acquire the artwork on show.
Main image: George Clinton in his studio. Courtesy: Lynsey Weatherspoon