Featured in
Master of Disguise: Ginny On Frederick
Sam Moore profiles the shape-shifting gallery space in London that has become an imaginarium for ambitious early-career artists
London's emerging artists and gallerists have long contended with rising rents and a diminishing number of spaces. In this dossier, frieze profiles four new galleries — HOME, Ginny on Frederick, Guts Gallery and Queercircle — that are cultivating communities and flourishing amidst the city's many challenges.
Ginny on Frederick is a former shop unit opposite Smithfield Meat Market in Clerkenwell, east London, that's capable of shapeshifting. 'Frederick' refers to founder and curator Freddie Powell's original space on Frederick Terrace in Hackney, which closed during the first pandemic lockdown in 2020; 'Ginny' is his mum's name. The anachronistic signage above the door of the current space reads 'Sunset Sandwich Bar II: Hot & Cold Food to Take Away', exemplifying what makes the gallery so compelling: it's idiosyncratic, hiding in plain sight. 
Despite rising living costs making it increasingly risky to support fledgling artists, Powell dares to embrace the new. In 2021, Jack O'Brien's 'Waiting for the Sun to Kill Me' loaded the white, tiled unit with the tense, inviting potential of cruising. His sculptures – made from socks, wires and stretched-out shirts – suggested the space was a shower or a gay bathhouse. Whereas in Eva Gold's 2022 exhibition 'The Last Cowboys', hanging leather jackets and liminal signage from a roadhouse or motel – bearing phrases such as '24 HOUR' and 'OPEN LATE' – created a lonely, filmic atmosphere, in which the past and future lingered as uneasy bedfellows. 
For Alex Margo Arden's 2022 show, 'All Clear', the facade of the shop was emblazoned with red block letters that advertised their 'BIGGEST, BEST & CHEAPEST SALE' alongside a reminder that 'as part of development, some of the shops are closing'. Arden's declaration seemed to encapsulate the challenges of showing new work in London: the cost of living and producing art in the city combined with the often-rarefied structures that govern how artists establish themselves.  
There are common threads connecting the practitioners that Powell platforms. Their practices feel like they belong together: this is work that disrupts and redefines space and explores sexuality, identity and performativity. O'Brien's sculptures, which interrogate how queer desire can fetishize working-class aesthetics, feel like kindred spirits with Gold's leather jackets – other ghosts of masculinity. Gold's late-night signage connects perfectly to Arden's absurdist 'not closing down sale'. As the artists reinvent this former sandwich shop, the gallery offers something relatively rare: an opportunity for early-career artists to stage ambitious, albeit small, solo presentations in London.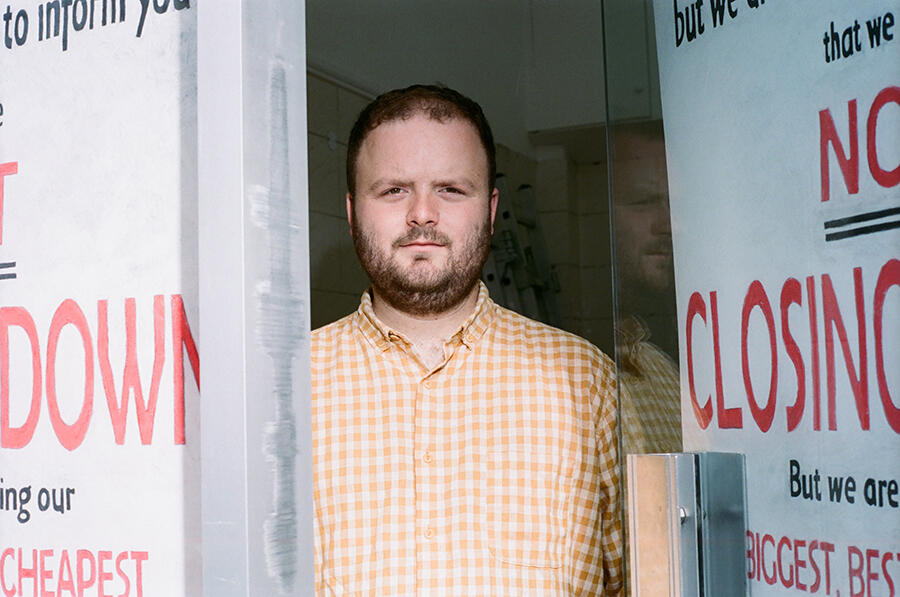 In the summer, Powell, under the rubric of Ginny on Frederick, curated an external exhibition at Lock Up International, a transient project space housed in storage units worldwide, founded by Lewis Teague Wright in 2015. 'To More Time', conceived as a group exhibition, offered three consecutive presentations – by O'Brien, Hunter Foster and Takuro Tamayama – that responded to Felix Gonzalez-Torres's Untitled (Perfect Lovers) (1991), a work in which two clocks, displayed side-by-side, fall out of sync over time. Here, Powell created a connection between the concerns of an influential historical queer artist and those of a younger generation. 
Meanwhile, around the gallery, the redevelopment of Smithfield Meat Market is underway. Segments of the current buildings will form a new home for the Museum of London, which is relocating from its purpose-built site at London Wall after 45 years. While the dual impact of Brexit and COVID-19 has knocked back the UK, Ginny on Frederick's focus on young artists offers a sense of promise. Powell is offering something often missing in the capital: support at a local level for artists. Ironically, given the gallery's precarious beginnings, the current location is an example of what the post-pandemic London art world might look like: gallerists occupying unconventional spaces while simultaneously trying to provide a platform for community and artistic development, even as the surrounding city continues to evolve.
This article first appeared in frieze issue 230 under the dossier headline 'New Kids on the Block'.
'Lewis Teague Wright: Floaters' is on view at Ginny on Frederick until 16 October.
Main image and thumbnail photo: Guy Bolongaro