Featured in
Give and Take/ Mixed Messages
Serpentine Gallery & Victoria and Albert Museum, London, UK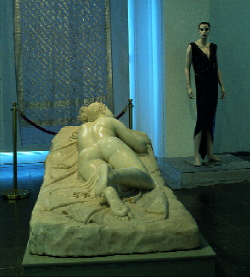 It's hard to imagine, but way back in the early 1990s an intervention in a museum's collection by a contemporary artist had the capacity to genuinely unnerve. It now seems as if half of England's dowdy municipal museums have let artists and guest curators into their vitrines, either to play with or critique their wares. I guess, though, the Victoria and Albert Museum is the Big One - the institution that, more than any other, symbolizes the British Empire. So perhaps it's not surprising that curator Lisa G. Corrin waxes giddily in the catalogue of 'Give and Take' at the prospect of venting 'fresh investigations', 'unruliness' and 'resistance to containment' on this 'embalmed', 'taxonomic', 'mind-numbing treasure-trove best experienced on roller blades and with
a portable CD player'.
Maybe the synergized institutions had roller-blading in mind when they decided to draw fluorescent red lines on the floor of the Victoria and Albert Museum, directing visitors from one contemporary art work to the next. Sure, it saved fine-combing five floors, for which I felt secretly grateful, but on reaching an art work at the end of a given line, the encounter was so scripted and trite that, to my embarrassment, I couldn't get the following exchange out my head: 'hello visitor' ... 'hello contemporary art work'. Free-standing, ventriloquistic information boards explained what each artist is like and how the art work in front you was interacting with its environment. The graphics and expositions had the effect of gathering all the contemporary art works together into the fairly conventional group exhibition it really was and elevating the lot onto an imaginary plane.
Occasionally the ways in which the art works were contextualised overrode this illusion. Andres Serrano's diaphanous White Christ (1989), for example, and his morbid, lurid works from the series 'The Morgue' (1992) back-projected a cinematic urgency onto obscure crucifixes and reliquaries from the Middle Ages. Often though, an art work's implicit cultural reference points were made too explicit, lending objects such as Jeff Koons' stainless steel bust Italian Woman (1986), which was placed in a Rococo boudoir, a sheepish air, as if ashamed of her own obviousness. Far better to have let Koons do his own Feng Shui in the Louis XV and XVI displays.
Of course the idea of curating contemporary art within historical collections follows from artists such as Fred Wilson, Renée Green and Hans Haacke appropriating the role of the curator. As a gesture derived from Duchamp's ready-mades it transforms everything around the intervention, at some level, into the artist's work. So when a curator adopts the role of the artist-as-curator it can't help coming across as reactionary (recuperation) or hubristic (as if to say 'I'm an artist too'). This charge was mitigated by the other half of the project, 'Mixed Messages', an exhibition of over 200 objects from the Victoria and Albert Museum which were masterfully assembled by Hans Haacke - who pretty much invented institutional interrogation - at the Serpentine.
The first gallery formed an antechamber harking back to the Imperial pomp of the Great Exhibition that took place 150 years ago in Paxton's Crystal Palace, within spitting distance of the Serpentine. Vases depicting Queen Victoria and Prince Albert were interrupted by cautionary signs of self-reflexivity, such as a heavy gilded mirror and a Cindy Sherman film still.
In the alcove galleries on either side, modern plastic dolls of the young and old Victoria were surrounded by photographs of her working-class subjects, many toiling away on the making of the Great Exhibition and its progeny, the South Kensington Museum (renamed the Victoria and Albert Museum). 
The dolls stood on customary Modern art gallery plinths, except that they were painted patriotic red and lined with blue velvet. 'Mixed Messages' abounded with similarly eccentric modes of display, such as mirror plates left raw, many a crooked picture, oddly angled vitrines, and objects displayed on their packing materials and crates. Not only did this expose the languages and mechanics of display (both Modernist and traditional), it also added to the sensation that the exhibition was a provisional statement whose meanings were under construction and whose constituent parts might move at any moment.
Haacke managed to catch you on the hop, rapidly flipping your perspective from, for example, the colonizer to the colonized, the Occident to Orient, feminine to masculine, then and now. Responses varied between curiosity, recollection, empathy, anger, laughter, guilt and desire. Somehow he even got away with a quadrant in the central gallery of two abstract and two figurative displays representing four world
religions (a Buddha, a Crucifix, a Torah and two Turkish carpets). At the centre was one of Michelangelo's dying slaves, an icon, apparently, of Humanism - or class war? homoerotics? - until you realised this too was provisional, the sculpture being a plaster copy no more definitive than the life-size 'David' outside Las Vegas' Caesar's Palace (and that at least is carved in Carrara marble).